Dream & Determination can OFFSET financial constraints
Story of Mithilesh, a journey from a small village in GAYA (District) to Indian Institute of Technology (IIT)
[FIITJEE's 'FORTUNATE 40' – A CSR initiative to help & support weaker section of society to go ahead and crack JEE(Main & Advanced) & other engineering entrance exams along with key milestone exams viz International Junior Science Olympiad (IJSO), Junior Science Talent Search Exam (JSTSE), National Talent Search Exam (NTSE), Senior Science Olympiad (Physics, Chemistry, Astronomy) & Kishore Vaigyanik Protsahan Yojana (KVPY)
Mithlesh Kumar (belonging to a humble background) – a student of 4 year integrated school program under Fortunate 40 batch at FIITJEE Punjabi Bagh centre, got an All India Rank of 981 in JEE Advanced – 2015.He had received 100% scholarship on FIITJEE coaching program & 100% scholarship on Hostel Charges.
Along with him, 5 more students from Fortunate 40 batch secured ranks in JEE Advanced 2015.
Entire batch of students got admission to other engineering colleges viz NIT, IIIT, Govt Engineering colleges etc.
This year, Fortunate-40 selection test is scheduled on 7th February 2016 for students of class VIII & X targeting JEE 2020 & JEE 2018 respectively. Selected students will be entitled  upto 100% scholarships on FIITJEE coaching programs and on hostel charges.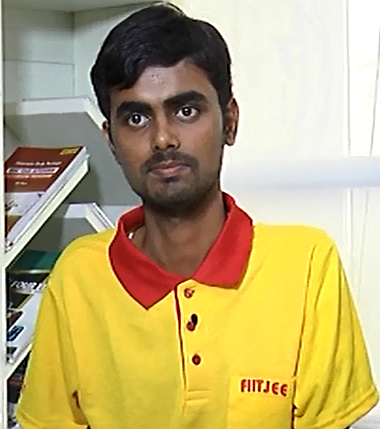 New Delhi:  Mithlesh was one amongst lakhs of students in India belonging to a very humble background. Mithlesh's father is a weaver by profession with household income less than Rs. 10,000 per month. He did not have the resources to support his son's education. As one would have believed that to study in the finest of colleges in India, lots of money is required. But, this did not deter Mithlesh from dreaming big and in setting even bigger goals. He was in class VIII when he decided to become an engineer and wanted to study at the IIT's.
The question is, was he able to turn his dream into reality? Well, the answer is YES.
Undeterred by his parent's financial constraint, Mithlesh started exploring options to pursue his dream. In the summer of 2011, Mithlesh discovered something which changed the course of his life forever. He came across an advertisement in the newspaper on FIITJEE's "Fortunate – 40" scheme (a social initiative to support meritorious students to chase their dream of becoming an engineer) and he immediately applied for it. Under Fortunate – 40, he wrote an entrance test scored very high marks and became entitled to pursue a coaching program called Supreme – a 4 year integrated school program which was fully sponsored by FIITJEE. Not only that, based on his competency, focus and determination he earned full scholarship on hostel & food charges – for a period of 4 years. And his journey towards his dream started with FIITJEE Punjabi Bagh Centre. Mithlesh cleared all important milestone exams during his career journey viz the Junior Science Talent Search Exam (JSTSE) in Class IX, National Talent Search Exam (NTSE) in Class X & Kishore Vaigyanik Protsahan Yojana in Class XI. He scored a decent 94% marks in the Board Exams as well. And finally, he wrote JEE Main & Advanced in 2015, securing All India Rank 981. This enabled him to join Computer Science at the Indian Institute of Technology, Kanpur and was able to realize his long cherished dream.
"I was quite determined to pursue engineering and that too from the IIT's from an early age. However I started doubting my aspiration looking at the challenges around me. Financial constraint was one big reason and secondly I hail from a small town near Gaya wherein not much coaching is available. It's only in one of those days that I came across an advertisement in newspaper called the Fortunate – 40, from FIITJEE. I got through an entrance test and my entire coaching, hostel & mess charges got sponsored by FIITJEE Punjabi Bagh. With FIITJEE's guidance today I made it to my dream IIT" said ecstatic Mithilesh Kumar.
From FIITJEE, total 16 students (under Fortunate 40 scheme) secured ranks within All India Rank – 10,000 in JEE Advanced 2015 out of which 6 were from FIITJEE Punjabi Bagh Centre's Fortunate 40 batch.  These students were Mithlesh Kumar (All India Rank – 981), Ravi Kumar (All India Rank – 1174), Dhanraj Kumar (All India Rank – 3153), Pritam Kumar (All India Rank – 3211), Balraj Kumar (All India Rank – 9034) & Rahul Singh (All India Rank – 9223).
Ideally, it is the dream of every student aspiring to carve a career in Engineering to seek an entry into the country's most prestigious engineering institution – that is "The Indian Institute of Technology" and other reputed colleges, India's leading coaching institute FIITJEE conducts FORTUNATE 40 (A CSR Initiative) for deserving students from economically weaker sections of the society to help them realize their dream. The aim is to provide best coaching to serious & deserving students who are from financially weaker sections, thus enabling them to achieve their goal and grab Top Ranks in JEE(Main & Advanced) and other Competitive Exams. This year Fortunate 40 selection test is scheduled on 7th February 2016. Interested students will be required to register for the test for FREE by filling up a form either Offline (by visiting any FIITJEE centre) or Online (by visiting www.fiitjeelogin.com) on or before 4th February 2016. The details on Fortunate 40 is available at  www.f40.fiitjee.com
FIITJEE has always supported meritorious and deserving students. In 2013, 3 students secured ranks in top 1000 in JEE Advanced with Amit Bishnoi securing the best rank of 463 and is currently pursuing Maths and Computing at IIT Delhi; in 2014 Babloo Kumar secured top rank and is currently studying Electrical Engineering at IIT Delhi"
"Fortunate 40 batch is created every year at each FIITJEE location across the country – which is a part of our social responsibility to ensure quality coaching is made available to students who are meritorious but economically deprived. Our focus across batches including Fortunate 40 is to help students to develop IQ, Logical Thinking & Analytical approach to studies from junior classes. We had introduced Aptitude & Mental Ability in our curriculum & in admission tests since inception. Our results stand testimony to this initiative in competitive exams like the Olympiads, NTSE, KVPY, JEE Main & Advanced. The Joint Admission Board (JAB) of the IIT's is contemplating on the idea of introducing Aptitude in the entrance test" said Mr. Partha Halder, B.Tech (Chemical Engineering) – Centre Head at FIITJEE, Punjabi Bagh centre, New Delhi.