Mumbai, 22shJune, 2018: SRL Diagnostics, India's largest and preferred diagnostics chain, has bagged the prestigious "Best Diagnostics Centre" award at the CNBC-TV18's prestigious India Healthcare & Wellness Awards 2017-18 held in Mumbai. Mr Arindam Haldar, CEO, SRL Diagnostics accepted the award on behalf of the company. This is the first time a diagnostics player has been conferred this award in the last eight years of the award's existence. The knowledge partner, for the awards, market research agency IMRB carried out extensive field work including ratings from consumers and doctors which was then used to create a shortlist for the scrutiny of the jury.
Mr. Arindam Haldar, CEO, SRL Diagnostics stated that, "It is a proud moment for us to receive this prestigious award in the presence of industry leaders. Once again SRL has been recognised as the leader in the field of healthcare for providing world-class diagnostic services. This award is a testament of hard work and dedication shown by our team to drive the boundaries of diagnostic industry aspiring for quality and creating value."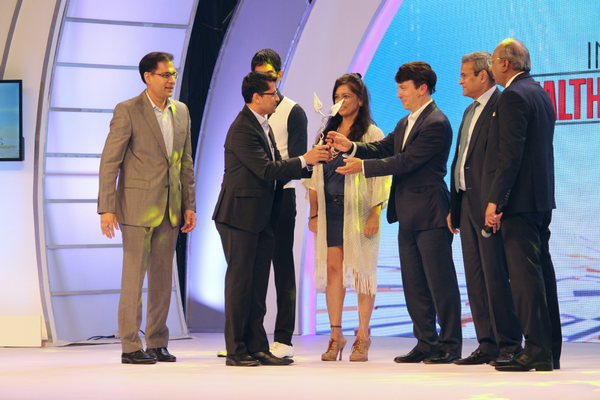 "SRL has been a visionary organization in the field of Diagnostics in India and our operations are focussed on advanced research, innovation and the customer-centric approach. We will continue to offer best of the diagnostic services by introducing comprehensive diagnostic portfolio, cutting-edge technologies, high quality standards," adds Mr. Haldar.
The jury comprised some of the biggest names in India's healthcare industry, including Mr KewalHanda, Chairman, Medybiz Pharma; Mr DG Shah, Secretary General, Indian Pharmaceutical Alliance; Mr A Vaidheesh, MD & VP, South Asia, GSK Pharmaceutical; and Dr. Sudarshan Ballal, Chairman & Medical Director, Manipal Health Enterprise.  This year the awards included a new category – Wellness, for which the jury included Mr Ryan Fernando, Chief Nutritionist, QUA Nutrition; Ms. Pooja Makhija, Nutritionist; Dr. Shikha Sharma, Nutritionist; and Ms Leena Mogre, Nutritionist.
The Special Invitee for this year's Awards ceremony is Mr. Daniel Kraft, MD, Faculty Chair for Medicine & Neuroscience, Singularity University & Founder and Chair Exponential Medicine, San Francisco, USA.
About SRL Diagnostics
Established in 1995, SRL is the largest diagnostics company in India with an impressive reach, providing superior quality diagnostics services to its customers via an efficient network of labs and collection points. The vision to create SRL Diagnostics was driven by the philosophy to provide high-quality accurate tests/outcomes at affordable prices to the masses. SRL is known for high ethical standards synonymous with 'TRUST' and every constituent of 'Team SRL' follows an immaculate value system. SRL Diagnostics has 376 networking laboratories; 24 radiology/imaging centres; 40 NABL-accredited labs; 4 CAP-accredited labs; and a footprint spanning more than 6316 collection points. The company has large labs in Dubai, Sri Lanka and Nepal, and about 70 collection points in various countries outside India. The veritable pioneer of medical diagnostics in India, SRL Diagnostics is imbued with a mission to deliver Gold Standard Diagnostic Services, both in Laboratory Medicine and Radiology, including high-end Imaging Services. SRL continues revolutionizing India's diagnostic services by introducing the most specialized technologies and innovative services.