In an attempt to strengthen its association with tourism sector in India, SriLankan Airlines, the national carrier of Sri Lanka and a member of the oneworld airline alliance, recently hosted the visiting delegates of TAAI (Travel Agents Association of India) in Colombo. They were in Sri Lanka to attend the annual conference of its North India chapter.
The grand evening witnessed a number of dance performances and unique cultural activities. The evening was  graced by  a host of distinguished guests, including  H. E. Mr Y. K. Sinha – High Commissioner of India to Sri Lanka, Mr Arindam Bagchi – Deputy High Commissioner, Esha Srivastava – First Secretary (Press, Information & Culture), Mr. Siva Ramachandran, Chief Commercial Officer of SriLankan Airlines, Mr. Saminda Perera, General Manager Marketing of SriLankan Airlines, Mr. Dimuthu Tennakoon, General Manager Commercial Operations of SriLankan Airlines, Mr Lalith De Silva, Regional Manager Indian Sub-Continent of SriLankan Airlines, Mr. Rajan Sehgal –Chairman TAAI and Members of TAAI Northern India chapter.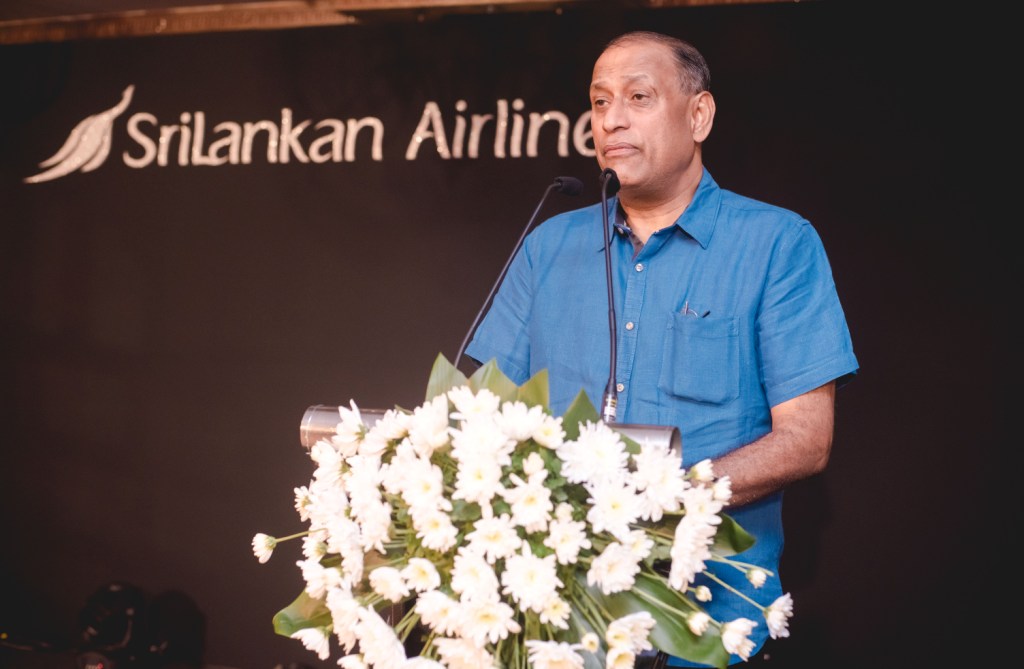 SriLankan Airlines' Manager- North India, Mr. Chinthaka Weerasinghe said, "We were delighted when the Northern India Chapter of TAAI chose Sri Lanka to host their annual conference at a time when Sri Lanka is fast becoming one of the most sought-after destinations among the Indian tourists. The tourist inflow from India shows a remarkable growth over the years and we are happy to extend our hospitality, convenient connectivity and specially designed packages to Indian travellers. The Northern Indian Region also happens to be the highest revenue generating region for Sri Lankan Airlines from a Pan India perspective. This is mainly due to the contribution of all our travel partners and we take this opportunity to thank them for their support."
Sri Lanka's potential as a strong leisure and MICE destination among Indian travellers was widely discussed among the dignitaries. The delegates also expressed their enthusiasm to promote Sri Lanka for heritage, pilgrimages and destination weddings.
With its strong presence in the Indian Sub-continent, SriLankan currently operates 100 weekly flights out of 11 key Indian cities, making it the obvious airline option for the Indian tourist, especially for large Pan India movement.
As oneworld member representing the South Asia region, SriLankan is also a part of the special fare programme, "South Asian Sub-Continent pass," which covers SriLankan's entire network of India and Male. This allows travellers to explore the diversity and vibrancy of the Indian Sub-continent.
Last year, Sri Lanka experienced the highest number of tourist arrivals in history with a figure exceeding 1.8 million. The number of arrivals from India has experienced a growth of 30 % with a figure of over 320,000. According to the half-yearly figure for 2016, India has generated the highest number of tourists arriving in Sri Lanka, which translates to 170,000 tourist arrivals, which is expected to exceed the 400,000 mark by the end of the year.
About SriLankan Airlines:
SriLankan Airlines, the national carrier for Sri Lanka and a member of the oneworld alliance, is an award-winning airline with a firm reputation as a global leader in service, comfort, safety, reliability, and punctuality. Launched in 1979, the airline's hub is located at Bandaranaike International Airport in Colombo providing convenient connections to its global network (including codeshare partners) of 100 destinations in 48 countries around the world. Its direct route map covers major cities across the Europe, Middle East, India, South East Asia and the Far East. The Airline operates an all Airbus fleet of 21 aircraft, including a state-of-the-art A330-300 fleet on its medium and long haul operations.
Awards include World's Friendliest Cabin Staff by Skytrax, Best Full-Service Airline- Asia by Future Travel Awards, APEX Award for Service Excellence, Best Airline in South Asia from Travel Trade Gazette, World's Most Reliable Operator of Airbus A330s by Airbus Industry, and the Etihad Global Excellence Award for Best Regional Caterer. SriLankan has mutual code-share services with Etihad Airways, Qantas, Malaysia Airlines, Air Canada, Alitalia, Oman Air, Finnair, Asiana Airlines, Jetstar Asia, Japan Airlines, American Airlines, Ari Belin, NIKI and Mihin Lanka.