Smartly.Me – Best Smartphone & Android Apps Available only on the Google Play Store
Smartly.Me is the best personalized mobile shopping price comparison & app recommendation store
Bangalore – 22nd Dec 2015 – Smartly.Me was launched on the Google Play store on 15th October 2015 and has already close to 4000 downloads with a rating of 4.7.
Confused on which Android smartphone to buy? Not sure how to discover the right apps for you? Not sure how to get the best out of your smartphone? Smartly.Me helps you make the smart choice in your next smartphone purchase and discover the best apps, tips & tricks to make your smartphone smarter through personalized recommendations.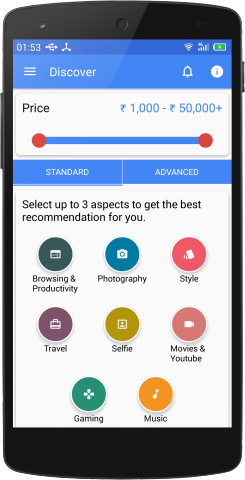 Smartphone Discovery:
The Android smartphone market in India is extremely crowded, making it hard for a person to choose his or her next phone. For example, there are more than 80 phones in the INR 15,000 to 20,000 price range, with similar specifications, making it extremely difficult to make the right choice. It is this clutter that Smartly.Me tries to clear, by ensuring that every user finds the right phone which matches the user's requriements.
Smartly.Me when installed on an Android phone, can within seconds, analyze the usage of the phone and through intelligent algorithms, predict the kind of persona that user is. This is then followed by a set of personalized smartphone recommendations, with relevant justification. All this happens in less than a minute.
Statistics show that friends & family play an important role in purchase decisions. Smartly.Me understands this trust factor, and facilitates discovery of phones owned by friends and get their qualitative and usage related feedback, before making the purchase decision. All it takes to do this, is just the click of a button.
If a user wants to specifically search for phones based on some criterion, Smartly.Me has it covered too. A persona based search is supported, which allows the user to define what kind of persona he or she is – for example, gamer and music  – and get the top phones that best suit such a persona.
To complete the purchase decision, Smartly.Me provides price drop alerts, nearby service center information, upcoming launches, news & reviews,  and chat with experts.
App Discovery:
With millions of apps & games available, it is very difficult to find the right ones for a user. Based on the user's persona, Smartly.Me provides a curated list of the best and popular apps & games to the user. Similarly, users are also provided with news, tips & tricks to get the best out of their smartphone.
Salient Features:
Personalized recommendations of smartphones based on user's persona. Ex: For a Photographer persona, aspects related to camera and associated parameters are of higher priority while recommending the phones.
Personalized app and game recommendations to make the user's smartphone reflect his/her persona and interests. Ex: A selfie lover would be recommended new and popular apps to enhance the selfie experience.
Personalized news and tricks to assist the user in making his/her smartphone experience awesome. Ex: Android M users would get tips on how to explore new/hidden features.
In depth research on smartphones. This is facilitated by various tools like detailed device specs comparison, unique features according to latest trends, latest news/reviews about the product & chat with experts.
Persona based discovery of smartphones and advanced modes of filtering to cater to specific need of user based on his/her requirements.
Price drop notifications, price comparison from various ecommerce partners in order to get the best price and offers.
Discover phones owned by friends and get trusted recommendations as well as usage related feedback from them to make the right decision on the next smartphone.
Dynamic scoring and ranking of devices based on user's requirements and unique value proposition of each device in accordance with the requirements, with detailed justification, for faster decision making.
Information on service centers, near the user's location, to eliminate the anxiety about after sales service, before the purchase decision.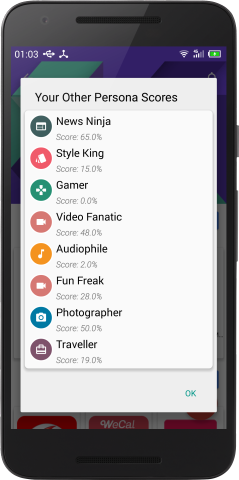 Smartly.Me is a free application for Android based phones and is available for download on the Google Play store. Smartly.Me intends to become a one-stop solution for all aspects related to smartphones and future updates would enable chatting between owners and potential buyers, as well as in-house detailed technical reviews of smartphones, thus making the purchase decision a transparent and an unbiased one.
Google Play store link – https://play.google.com/store/apps/details?id=com.mobiorbitlabs.smartknit
Website – http://www.smartly.me
Blog – http://tech.smartly.me
Testimonials:
Raju PP (http://techpp.com) – One of the top technology bloggers in India                                                                               "Simple idea but super cool execution. Extremely useful for people lost with so many options for smartphones these days and handy for bloggers to filter down smartphones based on requirements."
Company:
Mobiorbit Labs Pvt. Ltd is a Bengaluru based startup, currently bootstrapped by its founders – Palash Patil, Muralidhar Rajan & Santosh Prabhu. The founders have been working together for more than a decade and have handled varied roles from engineering, roadmap planning, QA, project management to post sales support in the Indian mobile industry.
The team has already filed 5 patents with the Indian PTO related to the Smartly.Me product.