For consumers who want to write or visualize their ideas on an iPad, the Bamboo Sketch is a smart stylus that allows users to draw on their iOS devices like they would with a pen and paper.
TOKYO, 2017 /PRNewswire/ — Today Wacom announced Bamboo Sketch, a new smart stylus for iOS devices. Aimed at people who think visually, the new stylus provides a customizable and natural pen-on-screen experience. Designed by Wacom, the digital stylus leader, this smart stylus complements the user experience. Visual thinkers can personalize their Bamboo Sketch by choosing a soft or firm nib, and by customizing the buttons so favorite commands are at their fingertips.
"Visual thinkers who use an iPad or iPhone for their notes and sketches require a pen that offers precision and individualization," said Mike Gay, Senior Vice President of the Wacom Consumer Business Unit. "Bamboo Sketch offers an advanced writing and drawing experience for those whose first instinct is to reach for a pen and paper as soon as inspiration strikes."
With Bamboo Sketch's incredible pressure sensitivity, consumers can write and draw in a way that looks and feels like a pen on paper. When paired with select apps, the smart stylus boasts 2,048 levels of pressure sensitivity. For visual thinkers on the go, it's easy to store and transport the new smart stylus in a neat travel case that carries the pen, replacement nibs, and USB charging unit, so users can sketch and draw anywhere.
Users also don't need to worry about recharging the battery, since after being connected to the iPad or iPhone via Bluetooth®, battery life lasts up to 15 hours. As with the other members of the Bamboo stylus family, Wacom designed the Bamboo Sketch in an ergonomic triangular shape for a unique in-hand feel and comfort.
Integrated with Leading Apps
The Bamboo Sketch is fully integrated with leading apps for sketching and drawing, including Bamboo Paper, ArtRage, Autodesk® SketchBook®, Concepts and MediaBang Paint. When Bamboo Sketch is paired with these apps, visual thinkers can sketch ideas with precision similar to pen and paper. Wacom's Inkspace cloud service lets users store, shape and share their work.
Configuration, Pricing and Availability
Priced at $79.95 USD, Bamboo Sketch will be available online and in select retailers starting in June. Pricing around the world is € 89.90 EUR and £ 74.99 GBP.
Compatibility
For Bamboo Sketch compatibility, please visit www.wacom.com/comp.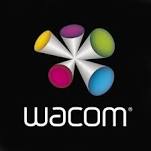 About Wacom
Founded in 1983, Wacom is a global company based in Japan (Tokyo Stock Exchange: 6727) with subsidiaries and affiliate offices around the world to support marketing and distribution in over 150 countries. Wacom's vision to bring people and technology closer together through natural interface technologies has made it the world's leading manufacturer of interactive pen tablets and displays as well as of digital styli and solutions for saving and processing digital signatures. The advanced technology of Wacom's intuitive input devices has been used to create some of the most exciting digital art, films, special effects, fashion and designs around the world and provides business and home users with their leading interface technology to express their personality. Please visit www.wacom.com for further information.