First unified brand for Singapore on the international front, built on an inside-out approach of what Singapore stands for
Singapore, 29 August 2017 – The Singapore Tourism Board (STB) and the Singapore Economic Development Board (EDB) have jointly unveiled a unified brand, Passion Made Possible, to market Singapore internationally for tourism and business purposes.
Launched officially in Singapore by Minister of Trade and Industry (Industry) Mr S. Iswaran, and supported by the Ministry of Communications and Information (MCI), the agencies' first joint brand is a bold move to put forth Singapore's unique attitude and mindset: a passionate, never-settling spirit of determination and enterprise that constantly pursues possibilities and reinvention.
Over the last five decades, Singapore has built a strong reputation as a global business and tourism hub, recognised for its quality infrastructure, safety, stability, connectedness and accessibility. However, global competition to attract tourists and investments has intensified, and the media landscape has become more crowded and complex. Visitors have become more discerning in their travel choices, seeking to immerse themselves in cultures and build deeper connections with destinations, while international businesses want to create new solutions that make a difference. The unified brand thus aims to communicate the country's value proposition in addressing these new needs of travellers and companies, and help Singapore stand out on the international stage.
G.B. Srithar, STB's Regional Director for South Asia, Middle East and Africa, said, "With Passion Made Possible, STB is presenting a brand that can tell a fuller Singapore story beyond just tourism. This brand articulates what we stand for as a country and supports the telling of many stories about this destination and its people. Singapore is a highly popular travel destination among travellers from UAE and welcomed more than 80,000 visitors from UAE in 2016.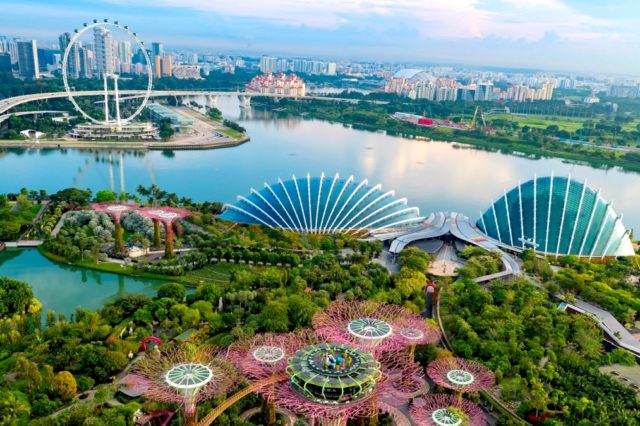 The unveiled brand will allow us to build a deeper and more personal connection between Singapore and our fans and friends in the UAE, even when they are not actively thinking about travel. This brand is in line with Quality Tourism as it will appeal to the more sophisticated tourists who are seeking more aspirational value propositions in their travel."
Singapore is Passion Made Possible
In the development of the unified brand, STB and EDB had embarked on qualitative and quantitative research with close to 4,500 respondents on what Singapore stands for, reaching out to residents, industry stakeholders, and international audiences in Singapore and across 10 countries[1]. Respondents shared that the themes of 'passion' and 'possibilities' best reflected the Singapore spirit: While 'possibilities' was strongly associated with Singapore as a destination, the 'passion' to strive was what drove these possibilities.
Passion Made Possible­ was thus derived to capture the spirit of the nation in a way that builds affinity, affiliation and top-of-mind recall for choosing Singapore as a destination to visit and invest in.  With the themes of 'passion' and 'possibilities' entrenched in Singapore's history and imbued in the nation's psyche, and told through stories of the people, Passion Made Possible is the embodiment of the country's track record and tenacity to fulfil passions and continually create new possibilities. By capturing the spirit of the nation, the brand will speak to Singaporeans and residents alike to build affinity and affiliation. For potential visitors and businesses, it will also help entrench stronger top-of-mind recall for choosing Singapore as a destination to visit and invest in.
A Unified Brand to Present Singapore to the World
With a different approach from previous brands of STB's YourSingapore and EDB's Future Ready Singapore, Passion Made Possible presents Singapore's attributes beyond tourism and business. This will provide the opportunity and platform for Singaporeans and residents to showcase their enterprising and persevering spirit to the world, and serve as a unifying brand for Singapore on the international front.
Hence, in addition to STB and EDB, it will be adopted by other statutory boards and agencies under the Ministry of Trade and Industry (MTI) and incorporated into their marketing campaigns and tradeshows when reaching out to international audiences.
Abdul Rahman Mohideen, Area Director, Middle East and Africa said, "STB's Middle East office in Dubai promotes Singapore as a vibrant holiday and business destination. With this new brand, we are excited to showcase the spirit of Singapore and allow visitors to discover and explore the different aspects of Singapore.  We will continue to work closely with our trade partners in organising promotions, social media activations and on-ground events to highlight what our visitors can enjoy in Singapore."
Trusted to Deliver: The SG Mark
The unified brand features a logo coined as the 'SG Mark'. It is an emblem of Singapore's attributes as a place that is always trusted to deliver, and can be applied as a trust mark or a trust stamp to connote quality and trust.
[1] The 10 countries include Japan, Indonesia, Malaysia, China, India, Australia, US, UK, Germany, Belgium.