Simmi Sood has been appointed as the Marketing Communication Manager of Hyatt Regency Gurgaon. Simmi comes with over 15 years of experience in the Media and Marketing space, and a strong background in communication and marketing.
She started her career with a media group Rajasthan Patrika and then moved to hospitality industry with Shangri – la Hotels and Resorts.
Her last assignment was at The Leela Ambience Gurgaon where she was involved  in conceptualizing designs and promotional plans to ensure maximum brand visibility and capture optimum market shares.
In her new capacity, Simmi Sood will develop, drive and oversee the marketing and communications functions for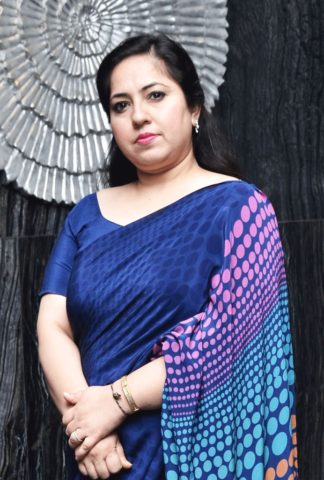 Hyatt Regency Gurgaon .She is responsible for developing and implementing marketing and public relations strategies to drive the positioning of the brand, business and performance goals.
On her appointment, Simmi Sood, said, "I am delighted to be a part of Hyatt Regency Gurgaon and look forward to this wonderful opportunity."
Apart from her work, Simmi loves spending time with her family and cooking.
About Hyatt Regency
Hyatt Regency hotels are conveniently located in urban, suburban, airport, convention and resort destinations around the world. Properties range in size up to 2,000 rooms, feature intimate and large meeting spaces, and offer a full range of services and dining options tailored to serve the needs of conventions, business travelers or resort vacationers. Hyatt Regency enables all guests – whether they are traveling to work, unwind or gather in celebration – to feel productive and revitalized.
About Hyatt Regency Gurgaon
Hyatt Regency Gurgaon is the first Hyatt property to open in Gurgaon and is the largest convention hotel in the city. The hotel houses the largest meetings and events space of over 40,000 sq. ft. and the highest inventory of 451 well appointed spacious guestrooms in the city. The hotel is strategically located off the Delhi-Jaipur National Highway 8 and is a 30 minute drive from Indira Gandhi International Airport. The hotel offers multiple dining options like Lavana, the signature restaurant serving authentic Awadhi cuisine, The Lounge, the perfect place to unwind with its comfortable and relaxing ambience, The Long Bar, a stylish  and casual bar and Kitchen District, featuring five open kitchens which work in harmony to form a unique culinary experience. There are also a number of recreational services available at the hotel including the Spa, the fully equipped fitness center and the relaxing outdoor pool. Reservations for Hyatt Regency Gurgaon may be made by calling (0124) 618-1234 or visiting http://gurgaon.regency.hyatt.com.