The most stylish way to say HELLO!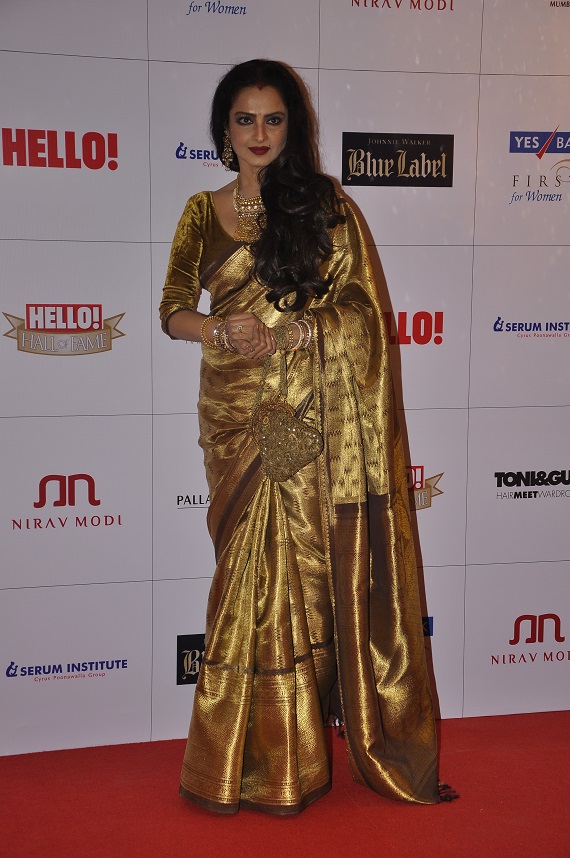 It happened on 24th November, at the Palladium Hotel, Mumbai. An evening that was the epitome of style and a truly luxurious melange of personalities representing the zenith of achievement across Royalty, Cinema, Business, Sports, Fashion, the Arts and Humanitarian endeavor.
India's most prestigious personality-based awards, the HELLO! Hall of Fame Awards, is the most highly-sought after invitation on the society register, year after year. Because when India's premiere lifestyle and people magazine says HELLO!, it means you have arrived.
All of three years ago, HELLO! magazine hosted its very first HELLO! Hall of Fame Awards. The idea was to bring the world of HELLO! alive in real time with the assembling of titans from all walks of society. Over the years, the awards have only gotten bigger, more luminous, more cutting edge.
This year too, saw a diverse range of achievers, from Entertainer and Superstar of the year: Shahrukh Khan, Timeless Icon: Rekha, Lifetime Achievement for Cinematic Excellence: Gulzaar Saab, Entertainer of the year (female): Deepika Padukone, Young Royal: Pradyot Singh, Rising Businessman: Abhishek Lodha, Businessman of the Year:  Anil Aggrawal, Sportsman of the Year: Leander Paes, Contribution to Fashion: Sabyasachi, Paresh Maity: Artist of the Year and many more.
Just like the magazine has become the place to get up-close and personal with the country's who's who, our awards edition, out in January, will bring you up-to-the-moment with our powerful roster of winners. 
These winners have been selected by our eminent jury featuring Shobhaa De, Gautam Singhania and Sanjay Kapoor along with the editor Ruchika Mehta; from a wide list of 60 odd nominees across all categories.
Ruchika Mehta, Editor HELLO!:

"The HELLO! HALL OF FAME AWARDS have become an institution in itself now. We are the most sought after and high profile personality-based awards in India. Our endeavour has been to felicitate personalities across different fields, and in our last four years we have had some of the best and biggest names as our award winners. The HELLO! Awards have set a benchmark in the industry, and we only hope to grow bigger each year"
Tarun Rai, CEO Worldwide Media Pvt. Ltd:
"The Hello! Hall of Fame Awards are unique. The award winners are those who have achieved fame because they are stars in their respective fields. Tonight, under one roof, we had stars from fields as diverse as business, arts, entertainment, sports and fashion. Hello! salutes these stars by welcoming them into its Hall of Fame"
Gayatri Ruia, Promoter & Director, Palladium Hotel, Mumbai:
"We are happy to launch our spectacular and opulent new ballroom floor at Palladium Hotel, Mumbai with the prestigious Hello! Hall of Fame Awards."
Naturally then, the stars did come out to play at this fourth HELLO! Hall of Fame Awards too. The glitzy VIP event saw a host of VIPs in attendance, which included Parmeshwar Godrej, 
Leander Paes, Ranveer Singh, Deepika Padukone, Abhishek Lodha, Anil Aggarwal of Vedanta, Sonakshi Sinha, Sushant Singh Rajput, Justice Sri Krishna, Abu Jani, Gautam Singhania, Aditya Puri (MD HDFC), Tikka Shatrujit Singh, Rana Kapoor of YES bank, Ajay Bijli of PVR Cinemas, Nirav Modi, the Poonawallas, among many other celebrated names. A toast to the jewels of India, in true HELLO! style.
About HELLO!: Since its arrival in India HELLO! has taken its readers right into the homes of celebrities and their lifestyles; not shying away from portraying them in light of their trials, triumphs, embracing their visions and dreams. HELLO! is a mirror to inspiring personalities across a broad spectrum, from the corporate to entertainment worlds, across Royalty, the Arts, Philanthropy, Sports, and more. It is the playground of everyone who puts India on the world map.
ABOUT WWM: India's largest publisher of lifestyle and special interest magazines
WWM has an enviable bouquet of brands & magazines in its roster, ranging from Indian favorites to international bestsellers. And it has grown at a rapid pace. From just four magazines in 2008, it has today 13 magazines and language editions. Besides iconic event properties like awards and various websites.