DAILY INDIA MEDIA RECOGNIZES 13 INDIAN STALWARTS WITH BHARATIYA MANAVATA VIKAS PURASKAR 2018
ü BMVP is for leaders who have contributed towards enhancing the cause of Human Development in India from various spheres including Politics, Business, Academics & Entertainment
29th August, 2018; New Delhi: Daily Indian Media recognized the contribution by 13 Indian Stalwarts from various spheres of Indian Life like Politics, Business, Academics and Entertainment, today at a glittering Awards Ceremony in New Delhi. Those recognized for their contribution to society and championing the cause of equity, humanity, social justice and human welfare include Shabana Azmi, Nandita Das, Yuvraj Singh, Ashutosh, Bibek Debroy, Uma Tuli, Flavia Agnes, Pramila Nesargi, Anita Ahuja, Lenin Raghuvanshi, Bezwada Wilson, Atul Satija and Pravin Patkar.
Power Brands: Bharatiya Manavata Vikas Puraskar (BMVP) is a distinctive initiative, a unique stage of some of the most powerful and humane minds from across the nation. BMVP is a platform created for leaders from the sphere of Politics, Business, Academics and Entertainment who have contributed towards enhancing the cause of human development in India.
These 13 national faces from various walks of life who were awarded with BMVP have built a brand of faith and hope through their conviction and actions while remaining committed to bring about a change in the society and championing the cause of equity, humanity, social justice and human welfare. In attendance to support, believe in and cherish change the nation needs, and its prime agents, would be the most luminous lights of this country including- Entrepreneurs, NGOs, CEOs, Politicians, Academicians, Media Giants, Sports and Film personalities, et al from around the nation.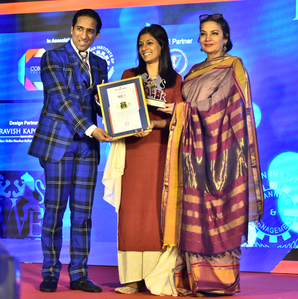 About Power Brands
Power Brands is not just a global standard of brand excellence and an ode to the glamour and sweat of Individual Brands, but has also over the years emerged as one of the greatest symbols of corporate commitment towards a better world.
On one hand, every year, on the basis of extensive researches in various continents and countries across the world, a list of the Most Recognisable Brands is brought out and only these brands that are pre announced and declared are offered the title of Power Brands. On the other hand ever year, leaders of this exclusive club of Power Brands, come together to join hands pledging their commitment towards a more equal world at forums like the London International Forum of Equality or the Power Brands Bharatiya Manavata Vikas Puraskar (Indian Human Development Awards).
Power Brands, in India has also started the most noble and unique initiative to bring about transparency in Bollywood Awards. The Power Brands Bollywood Film Journalist's Awards (PB BFJA) is the only award of its kind in Bollywood that recognises really deserving talent on the basis of online open ballot voting by  a jury of 15 plus respected film journalists of India. The award not only recognises the winners but also the associate winners in each category.
While the London International Forum for Equality ($5000 for each of the ten plus winners) and Bharatiya Manavata Vikas Puraskar (Rs. 50,000 to 5,00,000 for each of the 10 plus winners) always carried cash prize money, from the Year 2019 even the PB BFJA (between Rs. 20,000 and Rs. 50,000 for all the 56 winners) and the Global Power Brand Iconic Trendsetter Award ($50,000) at the Power Brands Global Summit for Business Trendsetters, USA will also be carrying cash prizes.
Thus, what sets Power Brands aside is it's genuine commitment to a better world as well genuine commitment to honouring real achievers based upon complete research and transparency – be it in the world of brands, personalities or cinema.
Over the years Power Brands/ BMVP awards have gone to the likes of Dr. Zlatko Matesa- 6th Prime Minister of Croatia, H. E. Dr. Mohammed Waheed Hassan, 5th President of the Maldives, Nobel Laureates- Muhammad Yunus & Leymah Roberta Gbowee, Bindeshwar Pathak, Medha Patkar, Swaminathan A Iyer, Gurcharan Das, Dr. Kiran Bedi, Dr. Devi Shetty, T N Seshan, E. Sreedharan, the Iron Lady Irom Sharmila Chanu, Kumar Sangakkara, Sushmita Sen, Y. C. Deveshwar, Pankaj Munjal… et al.