Hamburg: : Senvion SE, a wholly owned subsidiary of the Suzlon Group, the world's fifth-largest* manufacturer of wind turbines, installed the first offshore turbines for Nordsee Ost last week. The RWE offshore wind farm is located approximately 35 kilometres north of the island of Heligoland and is equipped with a total of 48 model 6.2M126 turbines. Each turbine has a rate power of 6.15 megawatts, enabling it to supply about 4,000 households with energy. After the planned completion in spring 2015, the Nordsee Ost offshore wind farm will have an installed capacity of approximately 295 MW, enough to supply around 300,000 households with power in a year. Nordsee Ost is thus one of the largest commercial wind power projects off the German coast.
Senvion is supplying all components for the wind turbines and the service platform cranes. At the moment, the hubs, rotor blades, nacelles, towers and other platform components are being preassembled as much as possible in the CT1 base harbour in Bremerhaven and loaded onto special ships to be transported to their destination. The installation of the turbines is to be completed this year; commissioning is scheduled from September.
For Nordsee Ost, the turbines are being erected at a water depth of 22 to 25 metres. With the turbines now installed, there are currently 93 Senvion offshore turbines in European waters. Together with the 16 turbines installed on land, Senvion now has experience with multi-megawatt turbines with a total operating life of 350 years – more than any other manufacturer.
Originally, Nordsee Ost was supposed to have been erected between 2011 and 2013; the first turbines were expected to go live in 2012. Due to delays in being connected to the grid, the go-ahead for the installation had to be postponed until now. Andreas Nauen, CEO of Senvion SE, says: "We are delighted that the first turbines for Nordsee Ost are now in the water! A successful energy revolution needs onshore and offshore and wind power in general needs reliable conditions. We consider the acceleration model currently included in Germany's Renewable Energy Act "EEG 2.0" as reasonable compensation that financing will build on."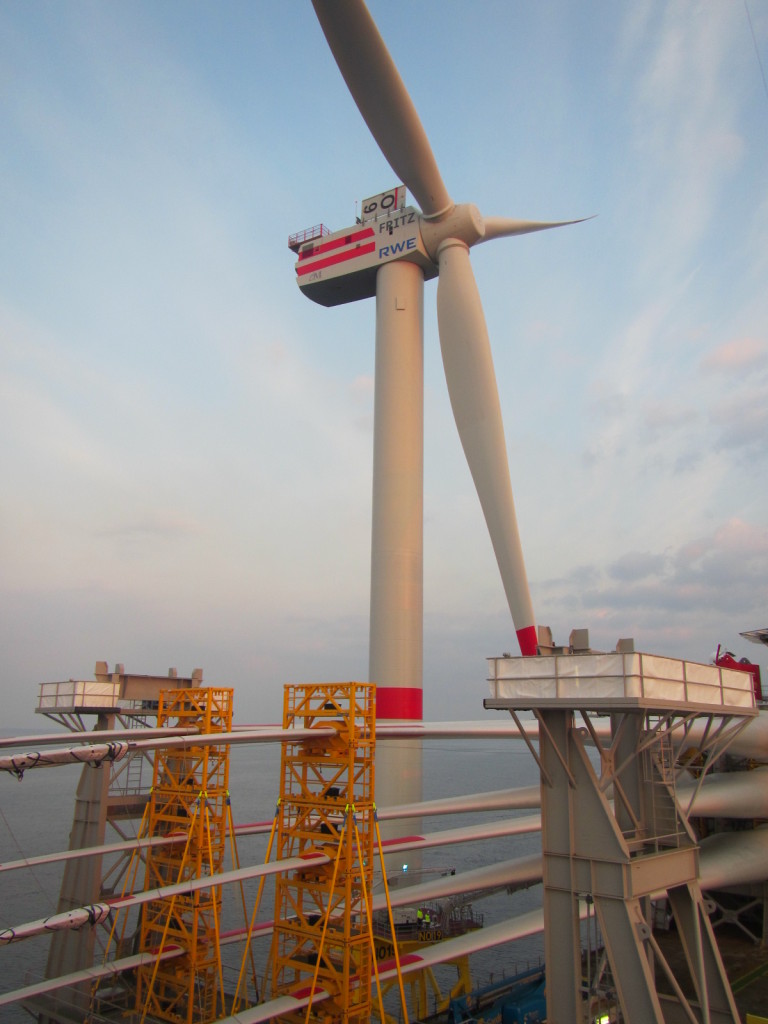 About Senvion:
Senvion SE, a wholly owned subsidiary of the Suzlon Group, is one of the world's leading manufacturers of onshore and offshore wind turbines. The international mechanical engineering company develops, produces and markets wind turbines for almost any location – with rated outputs of 1.8 MW to 6.15 MW and rotor diameters of 82 metres to 152 metres. Furthermore, the company offers its customers project specific solutions in the areas of turnkey, service and maintenance, transport and installation, as well as foundation planning and construction. The profitable and reliable systems are designed at the Senvion TechCenter in Osterrönfeld and manufactured at its plants in Husum (North Friesland), Trampe (Brandenburg) and Bremerhaven, as well as Portugal, India and China. With more than 3,300 employees worldwide, the company – headquartered in Hamburg – makes use of the experience gained from the manufacture and installation of more than 5,200 wind turbines around the world. Senvion is represented by distribution partners, subsidiaries and participations in European markets such as France, Belgium, the UK, Italy, Portugal, Sweden, and Poland as well as on a global level in the USA, China, Australia and Canada. Visit us at www.senvion.com
About Suzlon Group:
The Suzlon Group is ranked as the world's fifth largest* wind turbine supplier, in terms of cumulative installed capacity and marketshare, at the end of 2012. The company's global spread extends across Asia, Australia, Europe, Africa and North and South America with over 22,500 MW of wind energy capacity installed, operations across over 30 countries and a workforce of over 10,000. The Group offers one of the most comprehensive product portfolios – ranging from sub-megawatt onshore turbines at 600 Kilowatts (KW), to the world's largest commercially-available offshore turbine at 6.15 MW – with a vertically integrated, low-cost, manufacturing base. The Group – headquartered at Suzlon One Earth in Pune, India – comprises Suzlon Energy Limited and its subsidiaries, including Senvion SE. Visit us at www.suzlon.com
Source: *BTM Consult ApS – A part of Navigant Consulting – World Market Update 2012.