The P440 8X4 20.2 Cu.m U-BODY tipper offers increased payload carrying capacity and fuel efficiency in mining operations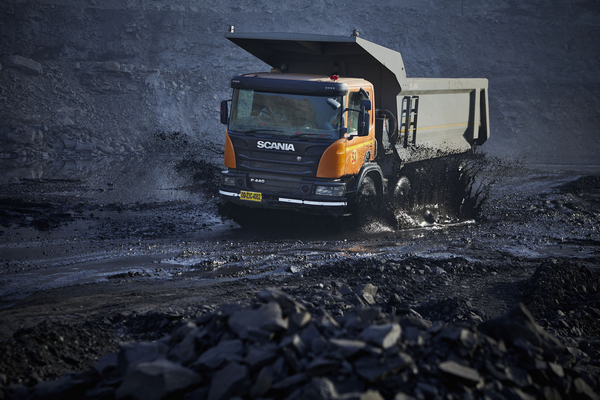 Hyderabad, 11 July 2017: Scania CV India Pvt. Ltd., the leading commercial vehicle and engine manufacturing company today launched the new P 440 8X4 20.2 Cu.m U-BODY tipper. The P 440 U-BODY tipper has been designed to increase the productivity of mining tippers and improve the Total Operating Economy.
Scania India is committed to building innovative and sustainable solutions that meet the specific requirements of different sectors and regions. The P440 tipper was designed to meet demanding conditions in the Indian subcontinent and offer maximum operational capacity and fuel efficiency. The "U" design for the tipper body is the first in its class for overburden removal application. The body's unparalleled combination of "U" design and superior wear resistant steel increases the payload carrying capacity by up to 5 percent while reducing the fuel consumption by almost 5 percent due to low self-weight of the tipper body. It also improves the stability of the vehicle by lowering the overall centre of gravity.
The P 440 U-BODY tipper comes with a mixture of time tested driveline and a new engine. It has a 13 litre, 440 HP engine and is capable of reaching peak torque at lower engine speed. It is BSIV compliant through Selective Catalytic Reduction (SCR) technology. This when coupled with Scania patented Opticruise® gear shift technology keeps the gear shifts to an optimal number and directly benefits the customer by improving fuel efficiency.
The Indian mining sector needs tough vehicles that can ply under the most demanding of situations. With this in mind, Scania put the P 440 U-BODY tipper through intense testing for over 12000 hours of operations in some of the most demanding mines in India, before launching it in the market. This level of intense testing on each field test tippers is testimony to Scania's commitment to ensuring product quality.
Speaking at the launch function, Mr. Raghavan Srinivasa, Director, Sales (Trucks) at Scania Commercial Vehicles India Pvt. Ltd. said, "We at Scania work to integrate sustainability into the core of the business. Scania leverages innovative thinking, develops partnerships and works extensively within the logistics flow to capture efficiencies and secure customer profitability. We are very confident that P 440 U-BODY tipper will deliver on our promise of driving even more value and profitability for our customers"
All Scania tippers also come with an option of choosing Fleet Management Services. This service enables the customer to remain in control of the fleet's performance by providing information such as fuel consumption, tipper idling time, driving behavior and tipper's position. When leveraged in conjunction with our Driver Coaching Program, the FMS ensures maximum productivity and profitability for the customer.
While talking about Scania's commitment to offering complete solution to customer Ms. Hanna Johansson, Director, Business Support, Scania Commercial Vehicles India Pvt. Ltd. (on behalf of Mr. Mikael Benje, Managing Director) said, "Scania India firmly believes in having a true partnership with our customers. Besides being a manufacturer of heavy trucks and buses, Scania is increasingly developing new ways of delivering customer value based on a full service offering that delivers lifecycle profitability."
About Scania India
Scania, which is celebrating 126 years of global innovation, is a leading manufacturer of premium commercial vehicles – heavy trucks, buses and coaches, as well as industrial and marine engines. The company offers a world-class service network and dealership in the markets and sells a broad range of service-related products and financial services.
In India, Scania has made its presence felt in the mining and construction segments since 2007 through its partnership with Larsen & Toubro (L&T). In 2011, Scania established the company, Scania Commercial Vehicles India Pvt Ltd., to strengthen its presence in the segment for buses,  trucks and engines.
Scania has two manufacturing facilities in India – one for trucks, and one for buses. Scania has more than 1,700 trucks and over 600 buses registered in the Indian market. The company has a current production capacity of 2,500 trucks and 1,000 buses.
Social, environmental and economic sustainability is at the core of Scania's offerings. All Scania vehicles have the capability to run on alternate fuels. Scania has world-class experience in mobility solutions, which run on biofuels, and the company has brought this unique offer to India. Scania handed over the first ethanol-run Green Bus in India to the city of Nagpur in August 2014. Scania sees itself as a. partner to the Indian Government's ambition of building sustainable urban mobility solutions for Smart Cities.
1