The best part of living in these times? We have Bollywood celebrities who know how to strike a balance between the nine yards of fabric and five inches of the heel! Sultry and sexy, these divas are the heartthrob of the nation and whenever they make an appearance in a saree; our hearts skip a few beats!
Awe-inspiring and breathtaking, these Bollywood actresses are giving us some serious #fashiongoals!
Let's have a look on these beautiful, bold and bright divas we totally can't get over!
Vidya Balan


She is the lady who made saree popular once again. In an interview, she mentioned how she tried to wear skirts and tunics while blacking out the details who she really is. She feels at home in a saree and she sure knows how to rock one. Be it a Kanjivaram or linen, she makes us go aww-damn-how-beautiful-she-is in one go!
In her view a saree is the best dress a woman can get since it is the perfect combination of sensuality and sensibility.
Rekha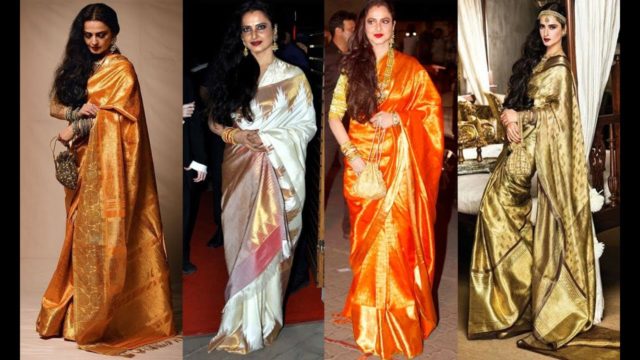 I can't remember seeing her in any other outfit other than a saree. Clad in the choicest of Kanjivaram in the public appearances she makes, she looks like a goddess radiating shine and spark! All the shingaar and jewellery, I deem her to be an epitome of Indianness.
Priyanka Chopra


I can't think of any other women fine tuning Indianness and modern styling to this perfection! Our 'Desi Girl' is an exemplary fashion icon who knows how to tread in the territory of fusion landscape and not to make it a fiasco! Check out the sultry blouse she has paired with a sequinned saree! Seriously, how many of us can think to carry this and rock it?
Deepika Padukone


She doesn't need an introduction when it comes to sheer acting prowess and ethnic styling. She looked like a princess in Bajirao and Padmavat. While I was swooning over her divalicious looks, I couldn't help wondering that how surreal she looks in the vibrant and bright colours. The intense shades of red matched with kundan and stone jewellery bring forth her feminine side really well.
Kangana Ranaut


I never thought of her as someone who could wear saree and look pretty in it. I have seen her in bikinis and bohemian dresses that look so gorgeous on her. However, it was the shots of her recent flick #manikarnika that make me change her opinion about her Indian looks and rightly so. She looks every bit a royal in those #rajwadi #silk sarees!
Kareena Kapoor Khan


We don't need to verify her credential as a fashion icon. Be it Punjabi salwar suit or a #saree, she looks fabulous in each style. From the chirpy character of Geet to her marriage to Saif Ali Khan, she has flaunted many shades and layers on her way!
The Patoudi bahu is muse of many designers and collections including #banarasisilk and linen saree.
Be it a fusion look or a traditional one, our Bollywood divas surely know how to rock a saree! Drop in the comments and let us know who your favourite #sareediva is! Also, let us know if you think somebody should be on this list, but is not!
Image Courtesy: Google
1