Miami, Fla. 13th June 2014; Shekhar Grover of Royal Caribbean International has been crowned Diageo Global Travel best cruise line bartender at a glamorous DIAGEO RESERVE WORLD CLASS™ final held last night in Miami. Judged by a panel of industry elites, Shekhar impressed with his incredible showmanship, inventive cocktail-making and unrivalled flair.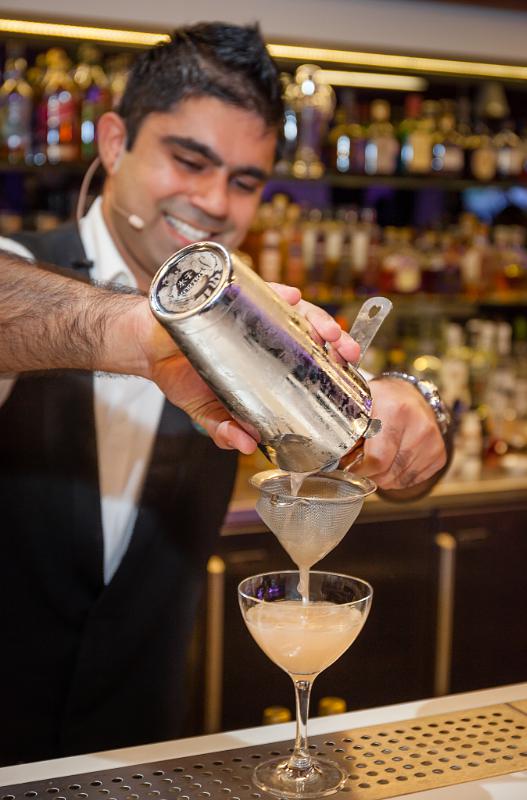 Shekhar presented his skills in front of the judges – Mario Seijo, World Class Global Winner for Latin America & Caribbean 2013; Enrique De Colsa, Master Distiller at DON JULIO® Tequila; and Arturo Savage, one of Diageo's Senior Reserve Ambassadors.
Shekhar, 27, from India, triumphed over 5,500 floating bartenders from four of the world's leading cruise lines: Princess Cruises, Norwegian Cruise Line, Royal Caribbean International and Celebrity Cruises, in the biggest year in global travel yet for DIAGEO RESERVE WORLD CLASS. He and fellow competitors were tested on different aspects of their craft, creativity and bartending knowledge. Shekhar excelled in the bar arena and enthralled judges with his signature serve inspired by this year's Mediterranean theme – 'French Royale' featuring CÎROC® Vodka.
The mixologist master will go forward to the star-studded DIAGEO RESERVE WORLD CLASS Bartender of the Year Global Final taking place 28th July – 1 August 2014 in London, to battle it out against 50 of the world's best bartenders for the coveted 'Bartender of the Year' title.
Shekhar, who is one of the Lead Bartenders on the Oasis of Seas, said: "I'm thrilled to win the WORLD CLASS Global Travel Final and I'm very excited to be going forward to represent cruise-line bartenders at one of the industry's most prestigious and respected mixology competitions. I've been inspired and challenged by many talented bartenders over the last few weeks and I'm really looking forward to using the skills and knowledge that I've developed through the program to wow the judges."
"We are very proud to have Shekhar as a member of the Royal Caribbean team," said Brian Abel, Vice President of Food & Beverage, Royal Caribbean International. "He is a very talented and dedicated barman who embodies Royal Caribbean's spirit of innovation and our world-renowned friendly and engaging GOLD Anchor Service. We wish Shekhar the very best of luck in July."
"We also would like to thank WORLD CLASS for training our bartenders in the art and science of creating unique, moment-defining drinks, using award-winning spirits from the DIAGEO RESERVE collection. Our partnership ensures that we provide our guests with amazing on-board fine drinking experiences."
If Shekhar is successful at the Global Final, securing the title of DIAGEO RESERVE WORLD CLASS Bartender of the Year, he will experience a life changing journey filled with new and exciting opportunities. Previous winners have become recognized industry leaders, travelling the globe as WORLD CLASS Ambassadors, participating in international high-profile events such as Petra Ecclestone's lavish wedding and consulting on the widely acclaimed James Bond film, Skyfall.
Shekhar is set to make an indelible mark at the upcoming DIAGEO RESERVE WORLD CLASS Bartender of the Year Global Final taking place 28th July – 1 August 2014 in London.
Follow the competition on Facebook at the 'Global WORLD CLASS Finals' page: www.facebook.com/WorldClass
Royal Caribbean International: Shekhar's signature serve: the 'French Royale'
Ingredients
CÎROC Vodka
Sauternes Dessert Wine
Fresh Grapes
Fresh Lime Juice
Crème De Cassis
Recipe: Muddle fresh grapes in a Shaker Glass, add fresh lime juice and sugar syrup
Then add CÎROC Vodka and dessert wine. Add a splash of Crème de Cassis and cubed ice. Shake all the ingredients well and double strain in a chilled martini glass
Glassware: Martini glass
Garnish: Cassis infused skinned black grape (soak overnight)
ABOUT DIAGEO RESERVE WORLD CLASS
Throughout the program, WORLD CLASS bartenders are trained using the collection of fine spirits from the Diageo Reserve luxury portfolio – JOHNNIE WALKER® BLUE LABEL™ Blended Scotch Whisky, JOHNNIE WALKER® PLATINUM LABEL™ Blended Scotch Whisky, JOHNNIE WALKER® GOLD LABEL RESERVE™ Blended Scotch Whisky, The SINGLETON™ Single Malt Scotch Whisky, CÎROC® Vodka, KETEL ONE® Vodka, TANQUERAY® No.TEN™ Gin, DON JULIO® Tequila, ZACAPA® Rum, BULLEIT™ Bourbon, and TALISKER™ Single Malt Scotch Whisky. All words and associated logos are trade marks.
DIAGEO RESERVE WORLD CLASS is transforming fine drinking experiences and cocktail culture around the world and in the home. One of the industry's largest, most credible investments in the luxury on trade, it discovers the next generation of bartending talent who set the latest mixology trends and bring these to the best bars worldwide. At the core is an outstanding, global training program and internationally recognized platform that elevates the craft of the bartender and builds careers in the industry culminating in an annual luxury landmark week where the DIAGEO RESERVE WORLD CLASS Bartender of the Year is announced. Launched in 2009, over 15,000 bartenders have been inspired and educated in the craft of mixology using the finest spirits in the DIAGEO RESERE collection.  A partnership and collaboration with gurus, media, partners and owners, DIAGEO RESERVE WORLD CLASS is widely recognized as a mark of sophistication and distinction of international fine drinking culture by bartenders and customers alike.
As an extension of the DIAGEO RESERVE WORLD CLASS training program, in 2011 Diageo launched the DiageoBarAcademy in Asia Pacific, the region's largest bartending course accredited by the Wine and Spirit Education Trust (WSET), which has trained 27,000 bartenders to date.
ABOUT DIAGEO
Diageo is the world's leading premium drinks business with an outstanding collection of beverage alcohol brands across spirits, beer and wine. These brands include Johnnie Walker, Crown Royal, JεB, Windsor, Buchanan's and Bushmills whiskies, Smirnoff, Cîroc and Ketel One vodkas, Baileys, Captain Morgan, Tanqueray and Guinness.
Diageo is a global company, with its products sold in more than 180 countries around the world. The company is listed on both the New York Stock Exchange (DEO) and the London Stock Exchange (DGE). For more information about Diageo, its people, brands, and performance, visit us at www.diageo.com. For our global resource that promotes responsible drinking through the sharing of best practice tools, information and initiatives, visit DRINKiQ.com.
Celebrating life, every day, everywhere.