Roger Dubuis, the brand that dares to be Rare, participated in an adrenaline filled motorsports-driven event in Tokyo featuring the high profi­le appearance of Excalibur "Cobalt Chrome" limited editions.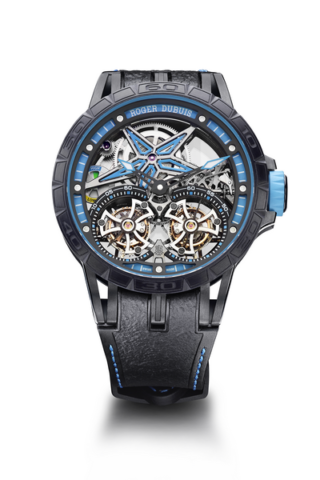 Roger Dubuis' daring Japanese debut took place at Tokyo's Cornes Shinonome Service Center II, the city's number one retailer of luxury supercars.
With its inherent contradiction to all that luxury watchmaking traditionally represents, the industrial feel of the garage-like surroundings offered the perfect "disruptive" setting for a luxury brand with close ties to the world of motorsports. A group of select guests enjoyed a testosterone-driven experience invigorated by Pirelli racing design elements including a dinner next to supercar repair lifts, as well as test drives around this unusual venue.
Pirelli is a pioneer in technical and industrial innovations and is the sole supplier of premium tyres to the world's ­flagship motorsports competitions. The "perfect ‑t" between Pirelli and Roger Dubuis is showcased with four limited edition Excalibur Spider Pirelli models –fitted with straps made from winning motorsports tyre rubber and featuring the distinctive tread profile.
The highlight of the show was the exclusive reveal of the Excalibur Cobalt Chrome timepieces. Cobalt Chrome Micro-Melt® is an ultra-pure, high-performance metal widely associated with aeronautics and astronomy that represents a first in the watch industry.… It vividly refl­ects Roger Dubuis' dedication to the "disruptive materials" that ideally match its progressive complications.
This chic yet adrenaline-filled event provided the ideal stage-setting for these timepieces, in which sleek blue good looks combine with a ruggedly virile edge. Behind the robustly designed watch exteriors lie feats of mechanical engineering packing a powerful punch. Leaping forth from the dial of the 28-piece Excalibur 42 Cobalt Micro- Melt® is the familiar astral skeleton of the bestselling Roger Dubuis Calibre RD820SQ. It is joined on this occasion by the gleaming bodywork of the Excalibur Quatuor Cobalt Micro-Melt®, the world premiere eight-piece limited edition launched at SIHH 2017 and powered by its emblematic hand-wound RD101 Quatuor movement.
About Roger Dubuis
Roger Dubuis has been at the forefront of contemporary Haute Horlogerie since 1995. Its audacious creations, firmly anchored in the 21st century, embody substantial expertise expressed through the finest watchmaking mechanisms combined with powerful and daring designs. Boldness and extravagance are the brand's signatures, and determination its driving force.
The Roger Dubuis collections Excalibur and Velvet are distributed worldwide through an exclusive sales network and boutiques. The quest for excellence, the long search for the right gesture, as well as the development of unique skills are all constants of the Geneva-based Swiss Maison.
1