in the category for Luxury Lodges Taking Adventure to New Extremes
June 2017: Meghauli Serai has been named one of Robb Report's 2017 Best of the Best winners. Meghauli Seraihas been selected as a winner of the Journeys category, in the Adventure Lodge subcategory, revealed in the June 2017 issue of Robb Report. The 29th annual Best of the Best Awards, which spotlights more than 150 brands across the luxury sector.
Located next to the UNESCO World Heritage Site of Chitwan National Park, Meghauli Serai offers the visitors an opportunity to experience rich diversity of wildlife and vegetation. The Park is especially renowned for its protection of one-horned rhinos, royal Bengal tiger and gharial. The Park also contains a Ramsar Site – Beeshazari Tal – in its buffer zone. A total of 68 species of mammals, 544 species of birds, 56 species of herpeto-fauna and 126 species of fish have been recorded in the Park.
"It is an outstanding honour for Meghauli Serai to be featured as the 'Best of the Best' in the luxury travel category by Robb Report. It is a unique and iconic property which takes experiential travel to new heights. We are proud of our partnership with the Taj Group in bringing the best in luxury travel to our discerning clientele,  said Rahul Chaudhary, Executive Director of Chaudhary Group and MD of CG Hotels and Resorts.
"Spacious villas with private plunge pools, a Jiva spa offering ancient wellness therapies, and an artefact-filled main lodge serving gourmet Tharu cuisine are all never-before-seen indulgences in this part of the world… complements to Meghauli Serai's guided excursions—among them tiger treks, safari drives, and river baths on elephant-back—they provide an experience miles beyond memorable," Robb Report says in its citation about Meghauli Serai.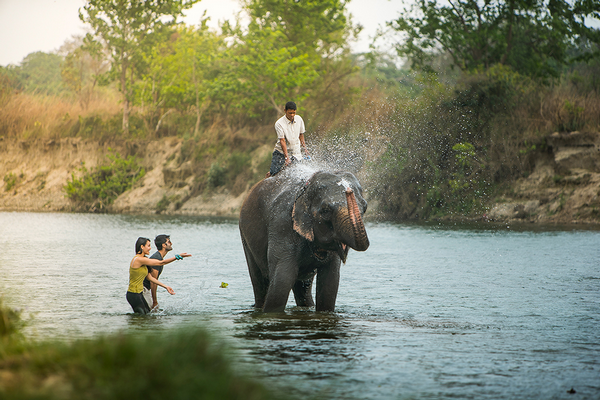 About CG Hotels & Resorts
CG Hotels & Resorts is an Asian hospitality chain comprises of 89 hotels across 65 destinations. CG Hotels & Resorts also has a proud history of successful joint ventures and investments with esteemed partners and brands such as the Taj Group, Alila, Jetwing, The Farm amongst others and continues to provide world class hospitality services, making it one of the most diversified hospitality groups. CG Hotels & Resort's hospitality portfolio consists of some of the most iconic properties globally in destinations such as Maldives, Sri-Lanka, Dubai, Philippines, China, Indonesia, New York, India and Nepal to name a few.
About CG Global
CG Corp Global is a transnational conglomerate with an exceptional legacy of 140 years. Present in over 30 countries with 76 brands, 122 companies and with an employee base of 10,000 people, it is Nepal's first and only billion dollar corporation that produces world class products, brands and services. The Group's notable areas of interests are FMCG, hospitality, banking, cement, integrated industrial parks, real estate, consumer electronics, telecom, education, energy, biotech, remittance, and retail to name a few. Apart from business, the Group is deeply involved in philanthropic activities through Chaudhary Foundation