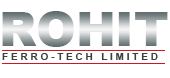 Kolkata December 30th , 2016: A sharp upturn in Chinese demand and price for ferrochrome is having a salutary impact on Indian ferro-chrome producers with latter increasing exports shipments,  Rohit Ferro-Tech Limited, Managing  Director, Ankit Patni said on Thursday.
"Improved Chinese demand and hardening of prices has led to Indian producers shifting focus from meeting domestic demand to overseas markets like China," Patni said.
"On average  six months ago domestic producers were able to market only half of their production of ferro chrome alloys in international markets, and improved international market dynamics has prompted several domestic producers to now offer  as much as 80% of production for international sales," he added.
He said that the  firming up of the ferrochrome market could gauged from the fact that prices of the alloy with 60% chrome content had on average increased to Rs 110,000 (about $1600) per ton at present from levels of around Rs 60,000 ( about $872), six months ago.
However, Patni  maintained that margin realizations from ferro chrome alloy sales, despite rise in prices, was being tempered by sharp rise in domestic prices of chrome ore.
It was pointed out that at the last auction for chrome ore [held once every two months]  price of the raw material had more than doubled to Rs 25,000 ($363) per ton compared to levels of around Rs ,10,000 ($145) prevailing at previously held auction of chrome ore.
However the sustainability of the current revival of the Indian ferro alloy industry would largely be hinged on  Indian producers ability to maintain their global cost competitiveness in face of severe challenges of high domestic power tariffs.
Power tariffs vary widely across various state and hence the cost of power in total cost of production of ferro alloys varies between 40-60% of total cost of production of the alloy depending on location of the production unit and source of electricity grid.
As such, Indian producers will continue to face substantial challenges in export markets, not least from Malaysia, which is emerging as a new, low-cost hub for manganese ferroalloy production and where power is available cheaply. The Indian power price for SiMn was $75.5 /MWh in 2015 and is projected to be $74.5 /MWh in 2016, whereas we expect Malaysia to average around $42.5 /MWh this year.
The Telangana government  was offering a subsidy on power tariff to textile and ferro alloys industries in the state. The power tariff being paid at present by spinning mills to Rs 2 per unit and that was also applicable for ferro alloy producers in the state.
Other state Governments such as West Bengal & Odisha should also provide similar subsidy on power tariff to make the existing ferro alloy unit cost competitive and viable.