Intuitive and innovative portable generator provides 100% clean energy with zero maintenance and interchangeable lithium-iron phosphate battery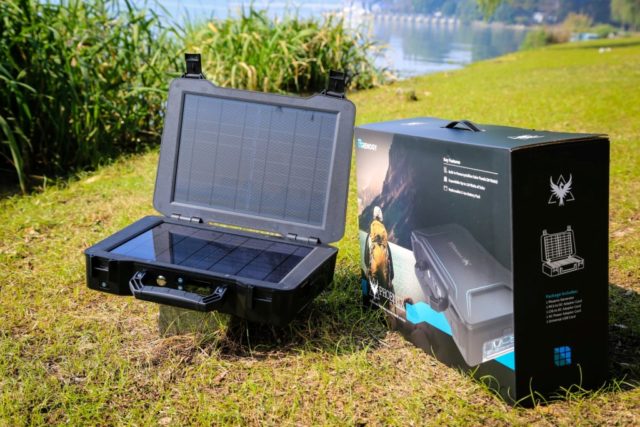 Ontario, Calif. – Feb. 7, 2017 – Renogy, a leading expert in renewable, non-traditional energy, unveils the Phoenix, a personal solar energy solution that transforms the power of the sun into easy-to-use dependable energy. The Phoenix is designed for mobile, off-grid applications and is ideal for emergencies. A compact, quiet and efficient portable solar generator, the Phoenix is ideal for both indoor and outdoor use.
Phoenix is a compact, lightweight back-up system that combines two highly efficient Renogy 10 Watt Monocrystalline Solar Panels and can expand up to 120 watts with additional PVs (Photovoltaics). The Phoenix can be charged three ways – the sun, standard home/office 120v outlet or an automobile 12v lighter outlet. Also, with the included replaceable 16Ah Li-ion(NMC) battery, the capability of limitless power is possible. The unit comes with a built-in sturdy and comfortable handle for easy portability and a high-quality LCD panel that shows remaining power and output usage.
The ideal power source for camping, tailgating or survivalist excursions, the waterproof Phoenix Briefcase allows a user to be in the most remote locations and always have access to unlimited power. Business travelers would also find benefits to always having enough power with them for hours of work or entertainment. Unlike conventional gas generators that use motors and discharges fumes, the Phoenix is 100% battery powered, making it safe for use indoors during emergencies or to reduce energy related expenses.
"Our vision has been very clear, we want to simplify solar power by making it affordable, reliable and easy to use," says Yi Li, CEO of Renogy. "We want to impact the world through clean and safe energy products that are appealing and plug-and-play."
The built-in 150 watt USB and AC/DC outputs are compatible with a full range of devices and appliances, allowing consumers to simultaneously charge and power multiple items including smartphones, TVs, laptops, small appliances, cameras, lamps and more.
The Phoenix Briefcase is launching exclusively on Amazon.com for a reduced price of $599 ($100 off MSRP).
For more information about Renogy and the Phoenix, visit www.renogy.com.
Phoenix Specs:
About Renogy
Renogy is a leading expert in renewable energy specializing in Solar. Founded in 2010, Renogy aims to revolutionize the renewable energy industry by offering reliable and cost-effective solutions that are consumer friendly, plug-and-play, and environmentally safe. Renogy's product lineup include specialized solar solutions for off-grid applications, residential, commercial, and industrial use.