The most prestigious award for design is the Red Dot Award! The Heng Lamp, with 49 individual LED lights, was an unequivocal winner of the award in the year 2016!
The Heng Lamp's most outstanding feature is the magical, magnetic mid-air switch. There are two wooden balls with magnets in them, and when you bring the lower one closer to the upper one, they connect, and lo and behold! There's warm, beautiful light streaming all around. Moreover, it's a delight to watch the two wooden balls levitate in thin air.
The product was designed in China and was successfully crowdfunded in the US previously. Now, thanks to Lav Gupta, a 25-year-old entrepreneur from Varanasi and India's de-facto crowdfunding platform for ideas, Fueladream.com, the Heng Lamp will be brought to India in the next few months and that too, at an unbelievable starting price of INR 2499.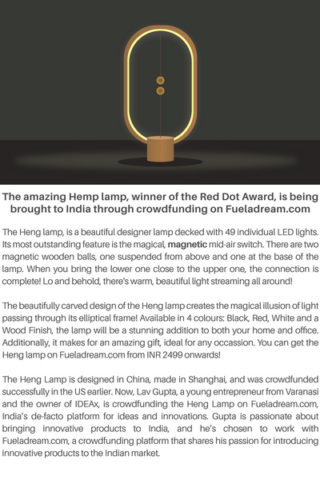 While Gupta's passion is to get innovative products to the Indian market, the team at Fueladream.com is committed to creating mutually beneficial associations between innovators and funders who are driven by passion and enable ideas to flourish in the country. It is truly about fuelling the dreams of individuals who strive to reach new heights.
Gupta's company, IDEAx, has received an authorisation from the makers of the Heng Lamp to receive pre-orders for the Heng Lamp through crowdfunding.
The Heng lamp is a show stopper and will be a fantastic addition to any space, be it a living room, a bedroom or even an office. In a world where design and aesthetics are so important, this lamp will stand out like a bright shining light!
The Heng lamp comes with a beautiful curved design, and it creates a magical illusion of light passing through the curves of the wooden frame. It has 49 6W LED light, and will function with anything between 100 and 250 Volts output (so will work anywhere in the world). The colour of the light will be 3500K (warm white).
The Heng lamp is priced so competitively thanks to crowdfunding. There is no dealer, no distributor, no middleman involved, making it a cost-effective operation.
Lav Gupta says, "I've come across several innovative products abroad. However, the Heng lamp is one of my favourites. Its pioneering design and lighting is indeed perfect for homes, offices and makes for a wonderful gift as well."
Ranganth Thota, Founder & CEO Fueladream.com says, "At Fueladream, we are always keen on supporting and encouraging innovations and the Heng Lamp is a beautiful product with a lot of potential. We are sure there will be many takers for the Heng lamp in India."