10th September 2018: The first Indian Photographer of Playboy Magazine, Mr. L. Ramachandran's Medley of Art Gallery Exhibition & Book Launch was curated by Dr. Ashrafi Bhagat. Ribbon Cutting Ritual was practiced by far-famed Cinematographer Mr. Ravi Varman at the Exhibition followed by Jarmo Pohjaneimi, the mentor of Mr. L. Ramachandran handing over the book to the famous Film Actor Vijay Sethupathi. Known Film Art Director Mr. Thota Tharini was present to congratulate Mr. Ramachandran. Mary Alejo, the Playmate model from Miami who has worked with various international brands, Noemi Kappel, the Playboy Model from Hungary especially in glamour and fashion shoots, Ena Friedrich, a Playboy Model, a Croatian celebrity, supermodel, actress, and anchor glamorized the event with their presence.
Medley of Art had a collection of artistic photographs that is a testimony of the immensity and intensity of art. It showcased the work of a visual artist who takes on multiple roles of a designer, art director, photographer and many more. These constructed photographs were works of art that have been conceptualized and put together by Ramachandran and his team with great planning and thought, each conveying a different story using elaborate props, expressive make- up, styling, light plays etc., The exhibit got an overwhelming response to showcase the journey through these various concepts that the artist holds close to his heart. Nude art has been celebrated in ancient India and unfortunately in present days has been looked upon as taboo. Ramachandran tries to break this stigma around nude art by subtly featuring his nude and semi-nude photographs using different mediums of expression such as clay, body paints, flowers, etc. His work showcased the female form in the purest sense.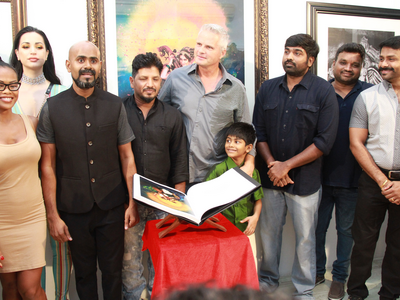 Nudity and nakedness is a part of the visual art, bringing out humanity with clarity, simplicity, strength, and beauty. The exhibition also is displayed in his recent series featuring transgender models, bringing in a sensitive awareness of the social reality of the community. Their marginalized presence in the society had preoccupied him for a long time, consequent to his study on gender and marginalization as a concern. Ramachandran has displayed many of his photographic series in galleries in U.S.A, Europe, and Asia, but this was the first time that he displayed these various series collectively in one space thereby giving an exclusivity to this exhibition. Most of these images have won prestigious awards and have gotten International recognition, a recent one being 'ATIM'S Top 60 Masters of Contemporary Art'.  Another recent achievement that is valued a lot by the artist is receiving a doctorate for his contribution in photography from the International Tamil University. Through this exhibition, these images of such high value were made accessible to students, art enthusiasts, art collectors, artists, photographers, and anyone looking to be inspired. The show was designed in such a way where the viewers were connected emotionally with the subject of L. Ramachandran's photography, making it a visually intense experience.
The book also titled Medley Of Art is the first book that Ramachandran was published despite having created close to six books of photography earlier, the reason being that the Medley Of Art is a culmination of various textures, techniques and concepts; something that the artist believes that the world must see. The Exhibition displays only selected works from the Medley of Art, but the book has the exclusive collection of all the photographic series. The Exhibition showcased some of the images from the book. These images have been showcased in galleries in U.S.A, Europe, and Asia. Most of these constructed photographs have been shot with International models, who have exclusively traveled overseas for this purpose, and have won several awards for its artistry.
Medley Of Art's versatile content containing various light techniques, color combinations, concepts, designs, styling would inspire and educate many in the field of art such as art enthusiasts, fine art students, photographers, art directors; from a corporate coffee table book to an educational book. L.Ramachandran strongly believes that anyone who views Medley Of Art will fall in love with it, provided they allow it. He is certainly overwhelmed with the way India has shown love and interest for the Exhibition & the Book.
L.Ramachandran: Transcending for Transforming Transgender Beauty
Transgender is defined as the people who have gender expression differs from their assigned natural gender. An effort made to touch upon the sensitive core of humanity, to bring into public domain an issue of gender particularly Transgender or Transwomen lies at the heart of a new suite of works developed by the photographer/artist L. Ramachandran. The famous playboy photographer has perfectly captured their expressions and marvelously pictured it in the frame. In his present suite of works, he has given a break to fashion photography, which concerned the representation of sensuous, opulent and vibrant female bodies to bring in a sensitive awareness of the social reality of so-called third gender or the transgender.  Their marginalized presence in society had preoccupied him for a long time, consequent to his study on gender and marginalization as a concern and issue which now needed focus to highlight their woes.
His efforts in this direction were consequent to reading a book written by the author Paal Suyambu that opened painful vistas on their lives, taking a decision to configure their circuits of experiences particularly of rejection and non-acceptance by the society in his photographic frames. Through the medium of photography, he desired to document their everyday travails by bringing about a correspondence between his concepts and the aesthetics of his materials.
He has a series named 'Bond' that supports this cause in which he says, "Bond in human relationships is characterized by emotions as affections and trust leading to confidence building and eventual happiness. A bond thus shared is a matter of soul where discrimination of any sort ceases to exist. Highlighting here the issues that the LGBT community faces. The models here radiate with happiness oblivious to society's judgment." The varied concepts related to 'Struggle for Freedom", "Multi Faces", "Posh Trans", "Adoration of Beauty", "Hopeless Soul", "Fantasy "Wedding", "Bond", "Transformation", "Angst, Anger and Pain", "Gothic", "Blossoming". These varied concepts were visualized by the artist/photographer insightfully, subjecting it to intellectual pondering juxtaposed with the metaphoric portrayal that made the process of visual reading not only complex but also enigmatic. With a strong core concept, the aesthetics had to be visualized; and it was here that Ramachandran established his credentials as an artist – planning and structuring the juxtapositions of colors, the textures, the appropriate props, and seminally the lighting, which was an emotive and expressive drawing tool
L.Ramachandran is a self-taught photographer who has a huge passion towards photography and arts. He is the first Playboy photographer from India.  He has recently received two prestigious awards, a doctorate for contribution in photography form international Tamil university and ATIM's top 60 Masters of the Contemporary award.
Link: Transgender Art Photos & Making Video:
https://wetransfer.com/downloads/fc751f84b43856152313538b318664ad20180910043253/78e84f93e34d284c476639a215b1b95b20180910043253/9ba7fb