7000 meters run/walk for 7000 rare diseases
Estimated 70 million rare disease patients in India
Mumbai, 19th February 2018: The Organization for Rare Diseases India (ORDI) a non-profit organization committed to addressing the challenges of the rare disease community in the country will hold the 1st edition of Race For 7 Mumbai on the 25th of February 2018 in Mumbai.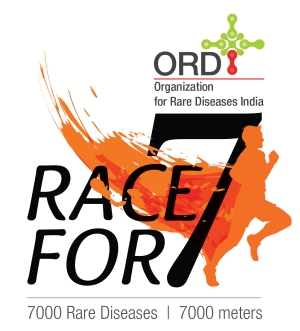 Race for 7 is a 7000-meter run/walk to raise awareness for 7000 known rare diseases which affect an estimated 70 million Indian patients. The event hopes to target 7000 participants, each to represent one of the seven thousand rare diseases.
Race for 7 will be flagged off at 6:30 am on Sunday, February 25th at We work Ground BKC. The event will witness participation by many patients who live with rare diseases alongside the public of Mumbai.
Come show your Care for Rare.
For registrations, visit: http://registration.racefor7.com/
What: RACE FOR 7
When: Sunday, 25th February
Time: 6:30 a.m
Where:  We work Ground BKC
About Organization for Rare Diseases India (ORDI):
Founded in Feb 2014, ORDI is a patient centered non-profit organization with the mission to improve health of patients with rare diseases across India through awareness, advocacy, collaborations and information dissemination. ORDI represents the collective voice of all patients with rare diseases in India to effect government policy making. ORDI has identified and taken on the grand challenges facing the rare diseases community in India and is committed to systematically and holistically addressing those challenges.
For more information, please visit www.racefor7.com  www.ordindia.org