---

This facility has been set up by OAT & IIL India Laboratories Pvt. Ltd., a joint venture co. of IIL and Japanese company OAT Agrio Co Ltd

OAT & IIL India Laboratories Pvt. Ltd. aims to invent new agro chemical molecules for India and International requirements, beneficial for important crops like soybean, cotton, wheat & rice
Insecticides (India) announces to observe September 25  as Crop Care Day to dedicate this facility to the farmers
New Delhi, September 25th, 2014:  Insecticides (India) Ltd., country's leading agrochemical company which manufactures and markets several popular and international brands, today announced the operationalization of its new Research and Development (R&D) facility at Chopanki, Rajasthan, which has been established in a joint venture with Japanese company OAT Agrio Co., Ltd.
Spread across 25,000 sq ft working area, the state-of-the art R&D centre of the JV Company, OAT & IIL India Laboratories Pvt. Ltd., will bring scientists of India and Japan under one roof to research and invent 2-3 agrochemical molecules to control pests, weeds, and diseases affecting important crops like soybean, cotton, wheat and rice across globe in next 3 years.
IIL had entered into a joint venture with Otsuka Agritechno Co., Ltd, now OAT Agrio Co., Ltd, for research and development of new agrochemical molecules in 2013. Situated adjacent to the company's Bhiwadi plant and set up at an investment of Rs 40 crores, the facility employs about 42 employees including chemists and biologists to synthesize and evaluate about 7, 000 compounds every year.
"It is momentous to see the operationalization of the facility. This is the first time that we have set up this kind of facility outside Japan which makes it all the more glorious for us. The coming together of the two companies has set the ball rolling for discovery of new molecules that will be beneficial for important crops like soybean, cotton, and wheat and rice world over. We are aiming to apply for 10 basic patents in the next three years and discover 2-3 new molecules," said Mr. Akihei Mori, President & CEO, OAT Agrio Co., Ltd.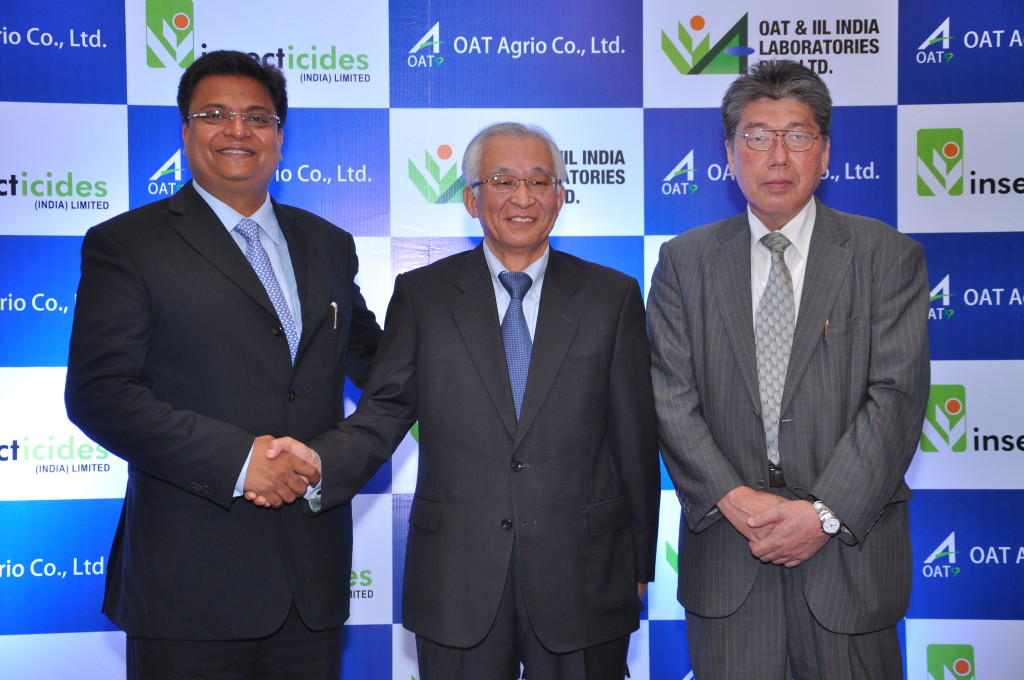 "Indian companies shy away from Research, as it is costly, risky and has long gestation period. This centre is one of its kinds where the research and invention of altogether new agro chemical molecules will be done for first time in India. I am sure that joining hands with OAT Agrio for this noble cause will really be able to make difference to farming community in India. We already have an In house R&D Centre which is recognized with DSIR and QC labs are NABL accredited, where the process of                off-patented, specialty and generic products by reverse engineering are developed. The world has 1055 agrochemical molecules and today India has just 250 agrochemical molecules, so there is a vast scope of developing technology in the country.  I am sure that this will help the Indian farmers to get the benefit of the latest technology at the most reasonable prices. To mark this golden day, we also propose a Crop Care Day, that will be observed by Insecticides (India) and the company will work towards the awareness among the farmers," said Mr. Rajesh Aggarwal, Managing Director, Insecticides (India) Ltd.
"India is distinct country in terms of the variety of soil conditions and the different climates it has across states. The examination and gauging of results of new molecules on different soil and climates become easy here. Being evenly spread across the country, IIL has an edge. With the operationalization of the JV facility, we look forward to achieving results that will prove fruitful for farmers across globe," said Dr. Tetsuya Imai, MD & CEO, OAT and IIL India Laboratories Pvt. Ltd.
The ultra modern JV facility consists of three synthetic laboratories, 2 air-conditioned green houses, three breeding rooms, two bio-assay rooms, growth chambers, dedicated sewage treatment plant (STP) among others. It is exclusively divided in Chemical and Biological departments and chemical laboratories confirm all the world-class norms with latest instruments like NMR and the Lab is designed and set by Kewaunee, USA.