Ransomware Cyber Attack Overview
On Friday 12th May 2017, news began to report a new ransomware named WannaCry which affecting organizations including at the NHS, Telefonica, Chinese Universities, the Russian Interior Ministry and other organizations over 150 countries. It's a kind of exploitative malware that sneaks into your network, encrypts your files and requests them for ransom. Early analysis showed that the ransomware spreading through an exploit called ENTERNALBLUE, which was leaked in April 2017 by a group called The Shadow Brokers. More than 230,000 computers infected with the ransomware and roughly $88,632.45 had been transferred.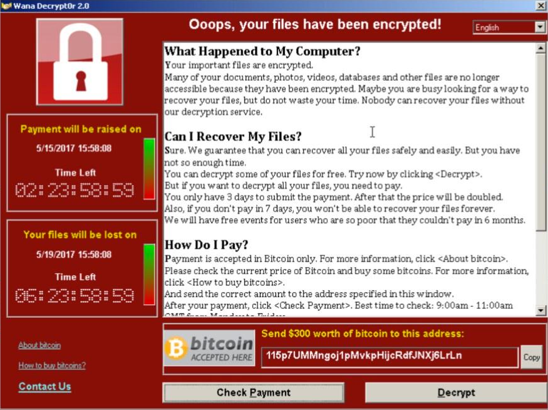 As you've noticed by now, ransomware is a type of malicious software that encrypts personal files and offers decryption keys in exchange for payment, especially paid via bitcoin. According to cyber security experts and the cyber situations, this kind of attack is getting more sophisticated. It has become a big threat to personal users and small and medium-sized enterprises. Although Wannacry ransomware is sweeping the world, it's not the first extensive known malware extortion attack. Reveton, CryptoLocker, CryptoWall, CryptoLocker.F and TorrentLocker are notable examples.
How to Use AOMEI Backupper Free to Protect Against Ransomware
To prevent your data and files from ransomware, you'd better make a backup of your system or the important files. Fortunately, AOMEI Tech. has released a new free edition – AOMEI Backupper Free – special for protecting against ransomware like WannaCry or Wanna Decryptor. It allows you to create system backup, file Backup, disk Backup, and partition backup to anti ransomware attacks in Windows 10, Windows 8.1/8, Windows 7, XP, Vista. With the pc backup software, you can prevent from serious data loss.
Finishing the installation of AOMEI Backupper Free, you will notice an information interface as the following: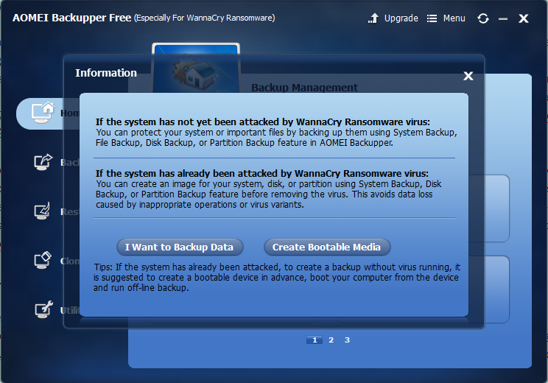 If your system hasn't been attacked by the WannaCry ransomware virus, you can protect your system and important files by backing up system and creating a system image to protect Windows and applications against ransomware, or backup entire hard disk (HDD), SSD or specified partitions to create an image file to prevent from WannaCry.
But if your system has already been attacked by WannaCry ransomware virus, you need to create an image for your system, disk, or important partition as well as to create a bootable device in advance to make your computer bootable from the device and the backup image.
Besides to create backup image, you can also try some useful guides like block port 445 if you are using Windows 7. Since AOMEI Backupper Free is 100% free backup and restore software for Windows 10/8.1/8/7/XP/Vista users, if you are using Windows server, you need to try the server backup software AOMEI Backupper Server.
Download AOMEI Backupper Free here to protect against WannaCry ransomware.
1