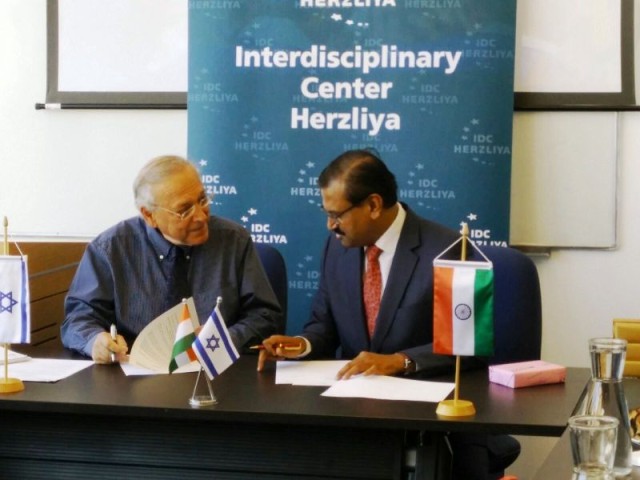 Developing knowledge and skills for a 'global mindset' in a 'global world'
In the fast paced arena of International Business Relations
Prin. L. N. Welingkar Institute of Management Development and Research (WeSchool) signs MoU with three leading Hi-tech Universities in Israel
To strengthen Indo-Israeli relations, Pranab Mukherjee, the first Indian president, is visiting the Jewish state next month. PM Narendra Modi is also planning his tour which is tentatively slated in the beginning of 2016. Leading educational institutes from India are making all efforts to strengthen Indo-Israeli alliance by taking them beyond diplomatic relations by signing MoU with leading Israeli Universities.
Welingkar Institute of Management Development and Research (WeSchool) has announced their collaboration with three Hi-Tec International Universities in Israel – Tel-Aviv University, Ben-Gurion University of Negev, and IDC Herzliya. WeSchool, a leading Indian B-School with campuses in Mumbai and Bengaluru has signed a 5 year MoU  with the Israeli Universities for seeking possibilities to enhance mutual academic exchanges that include a wide range of activities like – exchange of students, research scholars and faculty, exchange of academic information, materials and programs, joint research activities and publications, co-organizing joint conferences and workshops as well as international training, participation in seminars and academic programs, special short-term academic programmes,  research visits for students and scholarship plans of mutual interest.
While congratulating WeSchool  on this  international  collaboration, David Akov Consul General, Consulate General of Israel, Mumbai  said, "It gives us a great joy to learn that Welingkar Institute of Management has signed MOU with three leading universities/institutes in Israel viz. Tel-Aviv University, Ben Gurion University of the Negev and IDC Herzliya. It shows that education & research has become an important area in strengthening the flourishing Indo-Israel relations and the universities on both sides are equally eager to collaborate with each other. It was your first visit to Israel. I am sure there will be many more visits in the future to deepen the contacts WeSchool has made in Israel and I am sure that Israeli universities will reciprocate your efforts."
While sharing the details of the new initiative of the B-School, Prof Dr. Uday Salunkhe, Group Director, WeSchool, said "With India building closer ties with the country, a delegation of the top hi-tech universities from Israel, looking at developing working models with leading Indian Institutions had paid a visit to WeSchool to deliberate on collaborative projects of mutual interest during last year. We envision that WeSchool's alliance with Tel-Aviv University, Ben-Gurion University of Negev, and IDC Herzliya will provide our students with an international exposure connecting them with the culture of innovation, smart city initiatives, civic governance systems as well as start-up scenario that Israel has made a mark in. We believe that this power-packed combination will not only enhance the skill quotient and employability of our students manifold, but will also help them to attain the desired level of proficiency and boost their confidence to enter the competitive global entrepreneurial arena."
The collaboration with Israel Universities will broaden the horizon for Indian education and gather added global opportunities in the space of design, innovation and entrepreneurship. This academic collaboration will provide a blend of cultural exchange and artistic activities for students of both the nations. With bilateral trade between India and Israel standing at about $5 billion, a free trade agreement on the anvil and agreements in place for joint research program, these agreements are seen as bridges to further strengthen the education-sector collaboration between the two countries
About WeSchool
Among India's top business schools, WeSchool is a pioneering management education institution in India which emphasises on design-led innovative management education for shaping vision and mission of global citizen leadership. WeSchool strongly believe in integrating the philosophy of 'leadership' and 'innovation', and nurtures students with a holistic view on the socio-economic-political matters with a coherent and tactical approach towards problem solving. Keeping design and innovation its core, WeSchool endeavours to provide newer avenues to students towards achieving excellence in all sphere of life.
WeSchool has introduced several pioneering management programs in business design & innovation, e-business, retail, legal, healthcare. The institution constantly experiments with new pedagogical approaches to enhance student learning. The scope of curriculum has expanded to incorporate sciences and subjects such as anthropology, sociology as well as tools such as ethnography research with a strong focus on participant-centred learning and experiential learning.
WeSchool has partnered/associated with national and international design and innovation institution of repute to ideate and formulate path-breaking ideas in the field of technology, education, healthcare, renewable energy, etc. In the past, WeSchool has associated with MIT Media Lab, Harvard Business School, Stanford University, IDEO, etc.
And has collaborations with foreign Universities: Malardalen University (Sweden) ,Curtin University (Australia), Unitec Institute (New Zealand), Grant McEwan(Canada), Copenhagen University (Denmark), Lancaster University(UK), Otto Fredrich Universitat(Germany), Audencia Nantes(France), Jonkoping International Business School(Sweden) and Stuggart Media University(Germany)
About Israel Universities
Israel is known for its vivid culture and legacy of great scholars worldwide. In addition Israel has one of the most highly regarded higher education systems worldwide with universities ranked among the top 200 globally.
Ben-Gurion University of Negev, a 40+ year old institution works closely with the government and the municipality, the Israel Defence Forces, and leading multinational high-tech corporations on cyber research, education, and business development. This is their first international academic association in the Indian market.
Tel Aviv University (TAU) is one the prestigious universities currently ranked among top 150 universities globally for their academics. The joint association will commend a platform for Indian students to experience the heritage culture and academic excellence of the nation. Tel Aviv University (TAU) has partnered with renowned Indian universities such as Indian Institute of Management, Ahmedabad; Indian School of Business, Hyderabad; and Jindal Global Law School for their exchange programs.
IDC Herzliya is a dream realized; an academic institution that changed the face of higher education in Israel and became a successful, pioneering model and a source of inspiration. Founded by renowned Israeli Professor Uriel Reichman in 1994, IDC Herzliya is a non-profit organization modelled after Ivy League universities in the U.S. In the twenty years since its establishment, IDC Herzliya's success has drawn both international recognition and some of the finest lecturers and researchers from around the world to the University's doorstep.