Industry veterans congregated to discuss key challenges and trends in Business Analytics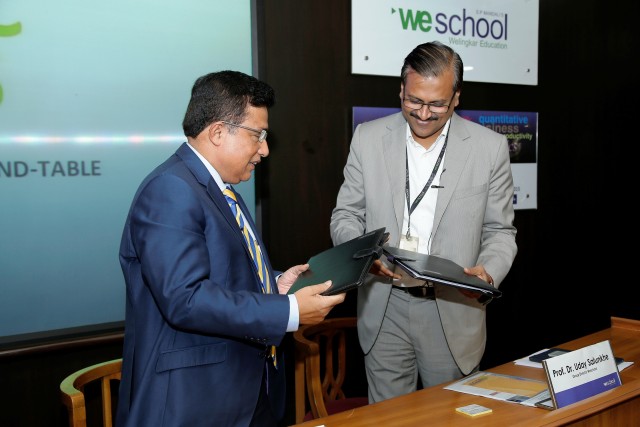 Mumbai, November 3rd 2015 Prin L.N. Welingkar Institute of Management Development and Research (WeSchool) and SAS Institute (India) Pvt. Ltd. today signed an MOU announcing strategic knowledge partnership to collaborate and provide training for students and faculty in the area of Business Analytics.
Mr. Sudipta K. Sen, Regional Director, South-East Asia, Vice Chairman and Member of Board at SAS Institute (India) Pvt Ltd and Prof Dr Uday Salunkhe, Group Director, WeSchool exchanged book of collaboration and congratulated each other to the joint initiative of bringing industry and academia together to nurture talent in Business Analytics.
Analytics has gained prominence in light of increased competition and unprecedented challenges faced by most of the companies. As economy evolves and business and economics continue to change, many companies are using analytics to create a competitive edge. This generates a large pool of opportunities for upcoming talent in diverse sectors like banking and financial services, FMCG and consumer durables, retail and e-commerce, health-care and pharma, airline and telecom. The fast growing acceptance has made Business Analytics, one of the most pursued career option and young professionals are in search of fast-track modes to learn and enhance their skills. Industry also faces a huge demand for trained professionals who can take the business ahead with expertise in Analytics.
With this objective, WeSchool has partnered with SAS India to enable students to seek career advancement in analytics. The joint-initiative will facilitate students to formalize and solve problems that business managers and economists face in their working lives. The aim is to bridge the skill gap and produce industry ready professional with industry collaboration and guidance.
WeSchool had started a course on Analytics in the academic year 2012-13. Prof Dr Uday Salunkhe, Group Director, WeSchool said, "With this industry collaboration, we plan to take our initiative forward and bring in industry expertise. We intend to offer joint-programs that enable young professionals build expertise to compete at the global level. WeSchool has been a pioneer in bringing programs such as Design and Innovation that provide students new career opportunities. The partnership with SAS for offering Business Analytics programs will address several challenges faced by the industry and create a rich talent pool. This will also enrich the existing verticals we have such as programs in retail, healthcare, banking, rural and others. WeSchool's Roundtable Series, a multiple stakeholder forum on various key topics has provided interesting and real-time food for thought and action. The one on Business Analytics has particularly opened up many real issues that the Institute will work on with the industry. I am glad we had participation from senior and experience industry professionals from HDFC Bank, Accenture, TATA AIG, PWC, Yes Bank, Axis Bank and others who participated actively."
"The joint partnership will act as a catalyst to support and encourage students who are keen to pursue their career in Business Analytics. We aim at reducing on the job training by creating industry oriented programs in collaboration with institutes like WeSchool. This would enable  the industry to hire talent that can face the real-time challenges from the beginning ", says Mr. Sudipta Sen, Regional Director, South-East Asia and Vice-Chairman, Member of Board, SAS Institute (India) Pvt Ltd. "With this strategic-partnership, we wish to work along with WeSchool and provide industry support in nurturing young talent in Business Analytics. This in-turn benefits us as an employer looking for competitive resource. The joint-collaboration will work along on lines of setting-up curriculum, enabling software's for student training, working on current industry case-studies and seek perspective to bring a change."
To celebrate the collaboration, WeSchool along with SAS India conducted a round-table conclave WAC2015 to bring together the practitioners and users of business analytics on a single platform to discuss the future of business analytic. Eminent industry experts from corporate such as HDFC Bank, Accenture, TATA AIG, PWC, Yes Bank, Axis Bank participated to discuss key trends and challenges faced by companies in analytics.