Buyers of Unit in Sweet Homes' Ajman Uptown project will be eligible for citizenship in the twin-island nation under CIP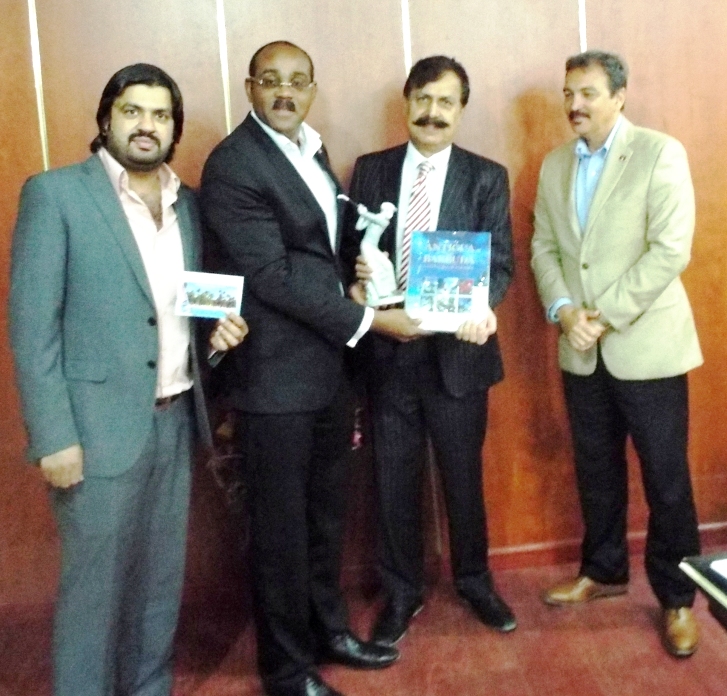 December 09, 2014
Top officials of Sweet Homes Holdings (SHH), a leading UAE-based developer and multi-service provider to the real estate sector, recently met with visiting dignitaries from the twin-island nation of Antigua and Barbuda. Antigua and Barbuda is a sovereign island-nation lying between the Caribbean Sea and the Atlantic Ocean. The high-ranking officials travelled to Ajman in order to discuss potential opportunities and projects between the two entities. Abdul Sattar Dero, Chairman and Fahad Sattar Dero, Managing Director welcomed His Excellency (H.E.) Gaston Browne, Antiguan and Barbudian Prime Minister, and the Honourable Charles Fernandez, Antiguan and Barbudian Foreign Minister on 27th Oct, 2014.
During his visit to the Ajman Uptown project, H.E. Browne announced that as part of the move to further reinforce ties and explore strategic opportunities between the two sides, individual investors of the Ajman Uptown project will be eligible for citizenship in Antigua and Barbuda, subject to due diligence, the payment of fees and other monies.
Upon invitation, from the Prime Minister, the delegation from Sweet Homes Holdings visited Antigua and Barbuda during the month of November 2014. The Government of Antigua and Barbuda formally agreed to extend its territorial jurisdiction to include the Ajman Uptown project pursuant to Section 42 of the Finance Administration Act 2006, the primary purpose of this undertaking is to provide a funding contribution of US $ 200,000/- by successful applicants for Citizenship, to the National Development Fund (NDF) under the Citizenship by Investment Project (CIP) law. Wherein it was agreed that the buyers of the units of the "Ajman Uptown Project" will be eligible for citizenship of Antigua and Barbuda (subject to due diligence and approvals by CIP unit of the Government of Antigua and Barbuda) under CIP, NDF for each principal applicant, including spouse, dependent children and dependent parents over 65 years of age, who form part of the applicant's family.
"Antigua and Barbuda is a twin-island nation lying between the Caribbean Sea and the Atlantic Ocean. There are several benefits if you buy property in Ajman Uptown, you save a lot". Its citizens' can travel visa-free or get visa on arrival in 125 countries and territories all over the world. We are anticipating interest of several nationalities to make use of this limited time bound offer. Overall, we are receiving and expecting a good response. Ajman Uptown is the first project in the GCC region that allows a property investor to get a Citizenship of another country." said Mr. Fahad Dero.
Ajman Uptown, spreads over 3.5 million square feet of land next to Sheikh Mohammed bin Zayed Road and Emirates City, comprises 1,504 villas and townhouses, a shopping and apartments. Work on 300 villas has been nearly completed. "We are planning to handover phase one (300 villas) by March 2015," he says, mentioning, the company is aiming to hand over the entire villas (1,504) in three more phases.
By reciprocating the gesture of good will, Sweet Homes is also exploring the investment opportunities in the twin island countries in order to provide similar types of services to who ever wants real estate units or seeks Business investments in Antigua & Barbuda under CIP or for investments in order to achieve healthy incomes and profits.
"We are among the few private developers in Ajman who have survived the global financial crisis. "We have worked with our investors all through these years, reducing their liabilities by offering them consolidation schemes. The Ajman property market has revived and we are getting a lot of enquiries these days. We are now working to fulfill our commitments," Mr. Dero concluded.