17th July, 2018, Mumbai– One of the leading fashion lingerie brand, PrettySecrets opened its doors for its customers at the posh South Mumbai area, Kemps Corner on 14th July, 2018. This is their first store in South Mumbai.
As part of the store launch the brand had a launch party with their top customers, 4 brand ambassadors, bloggers and contest winners. They got to avail a special launch offer along with the end of season sale offers. All guests got to meet the 4 brand ambassadors of PrettySecrets along with lingerie styling advice from them and special goodie bag.
The offline store will offer a complete range of products across categories like lingerie, nightwear, activewear and swimwear, all of it at reasonable price points. The brand has always aimed at the young, confident and stylish women of today who is always looking at redefining the basic lingerie.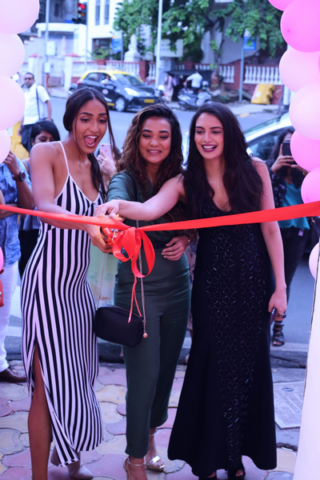 On the occasion of the launch Mr. Karan Behal, Founder & CEO, PrettySecrets (MTC Ecom Pvt Ltd.) said, "After the success of PrettySecrets.com, we decided to go multi-channel to provide our customers a unified shopping experience. Since, the intimate nature of the category requires a specific sales environment and sadly the unorganized market does not do 100 percent justice in providing the perfect lingerie shopping experience, we decided to launch our own brand outlets. With our this store launch, we hope we can facilitate our customers nearby to that area for a seamless shopping experience closer to their homes."
Currently PrettySecrets has 7 stores in Mumbai and 25 stores across Pan India making them one of the fastest growing brands in the lingerie segment in the country.
Check out PrettySecrets at:
About:
PrettySecrets founded by Karan Behal in 2011, is the fastest growing lingerie brands in India. The brand's portfolio consists of 1200+ products including lingerie, nightwear, activewear and swimwear. The products are unique due to their great fabric, quality, comfort coupled with uncompromising style and fashion aesthetics. PrettySecrets' target group is from 18 – 35 years of age, young, stylish, confident, independent and has an uncompromising no-nonsense attitude. In a span of five years, PrettySecrets has raised multiple round of private equity investment from prominent investors. The brand has successfully launched 25 stores since April 2017  across 14 cities and our .com reach is 21000.
1