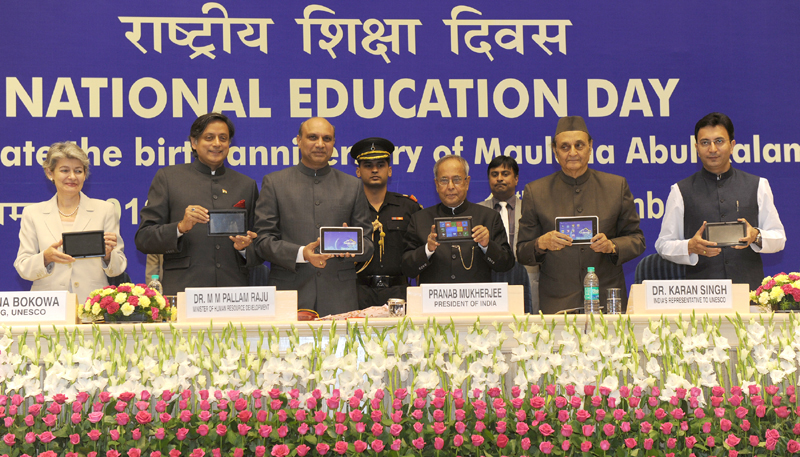 The President of India, Shri Pranab Mukherjee took the occasion of National Education Day to release and dedicate to the nation, the innovative and modestly-priced Aakash Version 2.0 tablet in New Delhi today.
Unveiled in the presence of Dr. M.M. Pallam Raju, Union Minister of Human Resource Development, Sh Jitin Prasada and Dr Shashi Tharoor, Ministers of State for Human Resource Development, Aakash Version 2.0 is a full-fledged tablet computer . IIT Bombay along with the Ministry of Human Resource Development has created several useful educational applications for the tablet. Teachers and students in the remotest corners of India can join a classroom and benefit from lectures delivered by the best teachers.
Some of the initiatives in technology-enabled education that can run on Aakash Version 2.0 tablet include Ten Thousand Teachers Training Programme – a live video interaction with participants , Clicker applications for real time feedback in country-wide classroom, Daisy Books for differently-abled students, NCERT content , GNU Khata- an accounting package for barefoot accountants in rural areas and Scholarship Portal integrated with Aadhar.
On National Education Day, which is also the 124th birth anniversary of Independent India's first Education Minister , Maulana Abul Kalam Azad, rich tributes were paid to the great freedom fighter and eminent educationist.
President Mukherjee recalled the great visionary and extolled his exemplary contribution to nation –building, promoting secularism and particularly his indelible imprints in the field of education and culture. Sh Mukherjee also appreciated the launch of UNESCO's Mahatma Gandhi Institute of Education for Peace and Sustainable Development, which is the first Category-I Institute of India to be set up in entire Asia.
Crediting Maulana Azad for laying the foundations of India's education system, Dr M M Pallam Raju said The Right of Children to Free and Compulsory Education Act (2009) is indeed a major step forward in concretizing Maulana's vision of free and compulsory education for all. He said we need to promote research and innovation in our institutions and create the right educational eco-system because in a knowledge economy, the wealth of a nation will not be measured in terms of its natural resources but in terms of its human capital. The Minister said even more important than development of job skills is the need to develop appropriate values of tolerance, non-violence, secularism and humanism amongst children and youth.
Pointing out that educational indicators for SC, ST, Minorities, Girls, OBCs and persons with disabilities show much lower levels in comparison to the general population, Sh Jitin Prasada, Minister of State for HRD said we need to understand the importance of enhancing educational participation by all sections of our society which is significant for achieving overall growth and development.
Drawing attention to a world undergoing several unprecedented changes in almost every sphere of human life, Dr Shashi Tharoor, Minister of State for HRD said it is all the more imperative that India bring about far-reaching educational reforms to cope with these dynamic challenges.
Dr. Karan Singh, India's designated Representative to UNESCO, and Ms. Irina Bokova, Director-General UNESCO also spoke on the occasion. On the occasion, a brochure on Mahatma Gandhi Institute of Education for Peace and Sustainable Development was also released.