The Press Institute of India (PII), Chennai, and the International Committee of the Red Cross (ICRC), New Delhi, are together organising a competition for the best three articles on a humanitarian subject.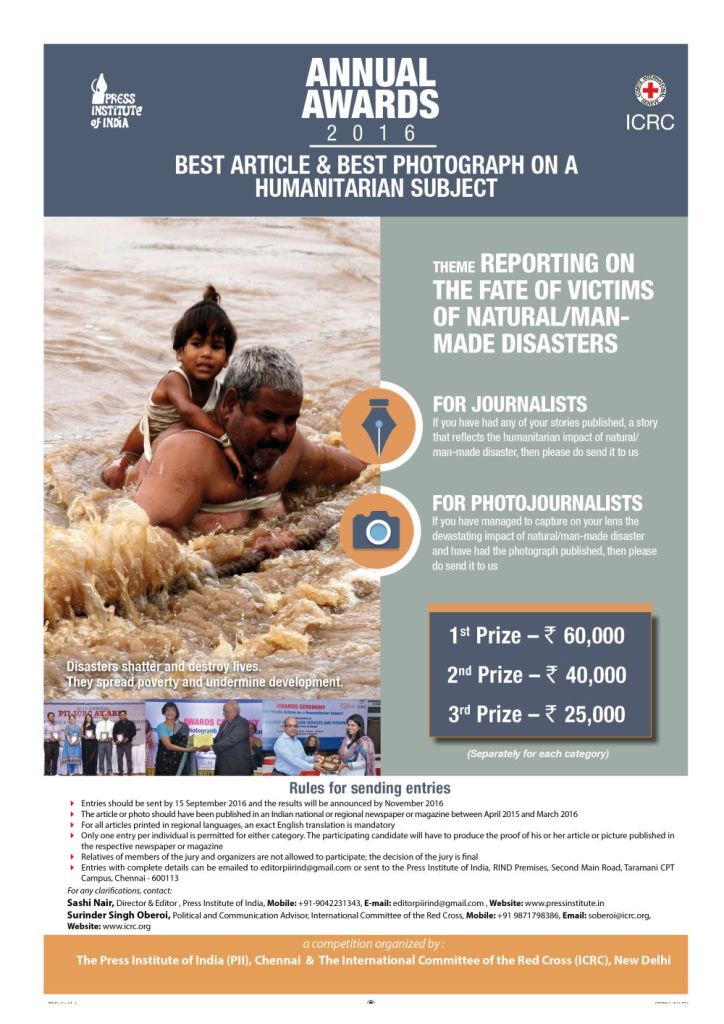 This year too, we have extended the competition to the area of photography, and prizes are being offered for the best three photographs as well.
The article or photograph should have been published in an Indian national or regional newspaper or magazine between April 2015 and March 2016 and can be in English or in any Indian language. 
The participating candidate will have to produce proof of his or her article having been published.
The theme for this year is REPORTING ON THE FATE OF VICTIMS OF NATURAL/ MAN-MADE DISASTERS. 
The top three prizes in each category are worth Rs 60000, Rs 40000 and Rs 25000, respectively.
Last year's prize winners for the Best Articles were Neha Dixit (Outlook), Shazia Yousuf (Women's Feature Service), and Priyanka Borpujari (The Times of India) and Saurabh Yadav (The Hindu BusinessLine). 
In the Best Photograph category, photojournalist Biju Boro of Asomiya Pratidin and Rishabh Jain of Dainik Bhaskar, jointly received the third prize. The first and the second prizes in the Photograph category were not awarded.