Prenatal Classes for Mothers to Be
Paras Bliss Hospital, Panchkula organizes prenatal classes to help, guide and educate women planning pregnancy
Prenatal classes help women planning for pregnancy to opt healthy and safe approach to pregnancy, childbirth and early parenting practice
The classes cover wide variety of subjects including need for pre-conception tests, pre and post pregnancy, nutrition and prenatal yoga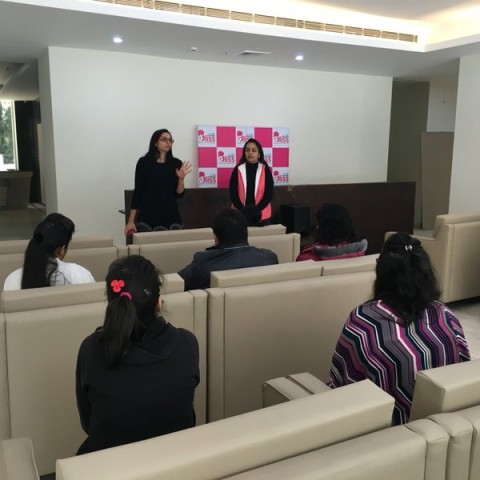 Panchkula, January 19, 2016: Pregnancy is the most cherished period in a woman's life. While the woman has the responsibility to bring a new life into the world, her body undergoes dramatic changes and stress. This calls for special care and expert advice on right nutrition, exercise, and efforts needed to ensure a healthy pregnancy.
Not just during pregnancy, couples also need careful guidance, precautions and preparation before conception to ensure there are no complications for the child.
In a bid to help women planning to take the next step towards motherhood, specialists at Paras Bliss Hospital for Mother & Child organized special prenatal classes today with the aim to help would-be mothers prepare for conception, pregnancy, labor, birth, and early parenthood.
"The prenatal classes initiative by Paras Bliss envisions to serve as a resource for information about what to expect and what choices are available during the childbearing years. In today's world timelines and hectic lifestyle we want to hold your hand to experience healthy and happy pregnancy. Women today are much better aware as well as inquisitive and have many questions regarding healthy conception and pregnancy. With a lot of information available on the Internet, they sometimes get confused and look for experts to answer their queries. We want to educate women about comprehensive pre-conception and pre-natal care. In addition, we want to promote a natural, healthy and safe approach to pregnancy, childbirth and early parenting practices," said Dr. Rishi Mangat, Centre Head, Paras Bliss Hospital.
Open to everyone, the prenatal classes attracted participation of over 100 women. The session was conducted in three sessions in the hospital premises and addressing multiple concerns of pregnancy including nutrition, weight management, and importance of aerobics, yoga and other fitness training.
First session, taken by Dr Shilva, Consultant Obs & Gynae, Paras Bliss Hospital focused on history of concern. The participants were educated about the importance of staying healthy before pregnancy as it has a direct impact on the health during pregnancy. The session further talked about preconception program that benefits women by reducing risks, promoting healthy lifestyle and improve readiness for pregnancy.
"Deciding to get pregnant is a major decision. Conceiving is not an easy process and requires both health and mind to be prepared to take the leap. Therefore, while it is important to maintain health during pregnancy, it is equally important to remain in good health before pregnancy as well. A major part of the nutrition given to the body during pregnancy is partaken by the fetus. Therefore, it becomes important for a woman to store her nutrition much in advance before she decides to get pregnant. Likewise, it is important for a woman to stay healthy and take nutritional food before she gets pregnant," said Dr Shilva, Consultant Obs & Gynae, Paras Bliss Hospital.
The second session was conducted in Yoga and was taken by Ms. Parmila Sharma, HOD Physiotherapy Paras Bliss. During the session the doctor highlighted the benefits of yoga as it helps to breathe deeply and relax, as you face the physical demands of labor, birth, and motherhood.
In third session, Ms. Gunjan Pannu, Chief Clinical Dietician, Paras Bliss Hospital enlightened participants about importance of nutrition and health pre and post pregnancy. During the session, she highlighted on the importance of nutrition as it helps to determine fetal growth and therefore size and health of infant at birth.
"With awareness and will to conceive and deliver healthily, the trend of prenatal classes is gaining pace in India. The classes help women who are planning to get pregnant understand the nuances of pregnancy. These classes teach the would-be mothers about pregnancy, labor, delivery, postpartum recovery and baby care. At Paras Bliss Hospital, Panchkula, the thrust to organize the class was to equip such women with the technical know-how, physical fitness and emotional competence to embrace the experience of childbirth in a confident and positive manner," said Dr. Rishi Mangat, Centre Head, Paras Bliss Hospital.
With the classes, the prime focus of the hospital was to promote happy health in females and happy birthing. The classes helped the participant women gain knowledge about the pre pregnancy and post pregnancy health.