Kaspersky Lab recognizes Paladion for its innovation and leadership qualities for winning an advanced security intelligence project from a leading UAE bank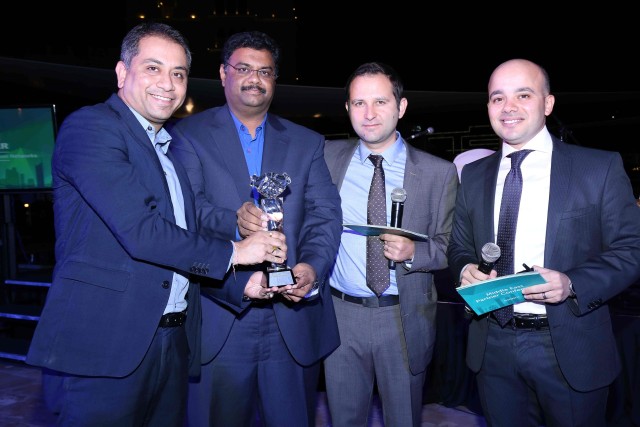 Dubai, UAE; 23rdFebruary 2016: Paladion, a specialized information risk-management provider, announced today that it was named Enterprise Partner of the Year 2015 by Kaspersky Lab. The awards ceremony took place at The Ritz Carlton, Abu Dhabi.
Paladion is a robust managed security service provider with over a decade of experience, and a top performing partner for Kaspersky in the region that delivers comprehensive security solutions to its customers. Paladion assists its partners in the implementation of cyber security with minimum interference to established processes by leveraging its industry-wide experience and extensive portfolio of services.
"We are overjoyed to have achieved the distinction, especially for successfully winning an advanced security intelligence project from a leading bank in the UAE. The project involved implementing Threat Intelligence Platform which will collect, collate, analyze and report the threat information from multiple sources around the globe focusing on threats pertaining to the bank using Kaspersky Threat Intelligence Solution," said Amit Roy, VP & Regional Sales Head-ME & Africa at Paladion.
"We look forward to continuing this successful partnership well into the future. Kaspersky Lab's advanced security platform has always enabled us to provide best-of-breed security solutions and services to manage and mitigate cyber risks effectively for the enterprises in the region," stated Roy.
"The award that Paladion has received at our Partner Conference event is a well-deserved one: they have realized the security intelligence project on a very high level. We greatly value such great job of our partners! We are sure that with our award-winning security solutions and services combined with expertise and professionalism of our partners there will be a lot more of such successful projects meeting the needs of our customers", said OvanesMikhaylov, Managing Director in the Middle East, Kaspersky Lab
About Paladion
Paladion Networks is a specialized partner for information risk management providing end-to-end services and solutions in the US, Europe, Asia and the Middle East. Paladion is rated and has been recognized and awarded by Gartner, Asian Banker, and Red Herring, amongst others.
For over 15 years, Paladion has been actively managing information risks for over 700 customers. Paladion provides a complete spectrum of information risk management comprising of security assurance, compliance, governance, monitoring, security analytics and security management services to large and medium-sized organizations. Paladion is also actively involved in several information risk management research forums and has authored many books on the same. With a staff of over 800 dedicated security experts, Paladion has 6 Security Operations Centers (SOCs) across the world.
Please visit www.paladion.net for more information.