Brighter for longer, Maintenance-free with flexible installation
July 25th, 2017 Mumbai, India –In early ISE 2017, Optoma demonstrated this new ProScene model, ZU510T in its Innovation zone. It features a floor to ceiling high-resolution edge-blended projection by using four 5,500 lumen ZU510T projectors installed at various orientations, presenting an eye-catching display on site.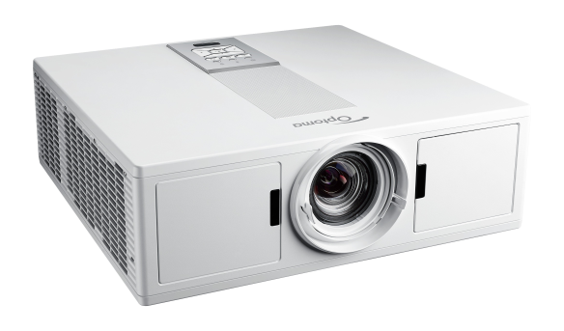 The new Optoma ProScene WUXGA 5,500 lumen compact laser projector, the ZU510T, features Optoma's new DuraCore Laser Technology with 30,000 hours light source in full brightness mode. With a light-source lifetime at 50% longer than most of its peers, the ZU510T is the ultimate choice for installation and commercial market projection solution.
This industry-leading lifetime, 30,000 hours, is achieved by using Optoma's new DuraCore technology, implementing advanced laser diode cooling techniques and an innovative dust resistant design. Remarkably, even after 5,000 hours the ZU510T brightness shows virtually no change, which in our experience is unique in the projector industry for this class of projector.
"The fixed lens ZU510T offers all the benefits of Optoma's laser technology in a smaller chassis." Gordon Wu, Assistant Vice President at Optoma APAC, commented. "Committed to fully serving all the possible and potential projecting applications, including business, education, mobile, home entertainment, etc., Optoma is devoted to making your business more efficient, learning more attractive, and life more enjoyable. The ZU510T will enable us to further accelerate our growth in this sector and will consolidate Optoma's position as a market leader."
Key Features – ZU510T
30,000 hours maintenance-free laser light source at full brightness
Exceptional brightness maintenance
Dust resistant – Independently tested, IP5X certification for total reliability
Superior colour – 99% Rec. 709 colour gamut coverage
Versatile installation with ProConnect and HDBaseT
About Optoma
Optoma is a world leading designer and manufacturer of projection and audio products for business, education, professional audio/video and home entertainment.
With our business philosophy of dedication, professionalism and efficiency which bring synergy to corporate vision, comprehensive product categories and flexible marketing strategy, Optoma has received global recognition from customers and media.
Vertically-integrated from its parent company, Coretronic Group, Optoma has focused on projection system development and marketing since it was established. With full competency of resource distributing and controlling in the value added chain, Optoma is the true pioneer in the world of projection technology.
The extensive product range includes projectors for portable, fixed installation and home theater projectors. Committed to fully serve the business/education, home, mobile/entertainment, Optoma is devoted to make your business more efficient, learning more attractive, and life more enjoyable.
The Optoma Group has continental headquarters in Asia, Europe, and USA.
asia.optoma.com