New Delhi, march 14th, 2017 – The ever-evolving global smartphone brand OPPO today announced the launch of its new dual selfie camera F3 Plus of F3 series across five markets on 23rd March 2017. At the heart of the F3 Series is OPPO's first-ever dual selfie camera for the "Selfie Expert" which can capture high-quality images in a 16MP main-camera and 8MP sub-camera.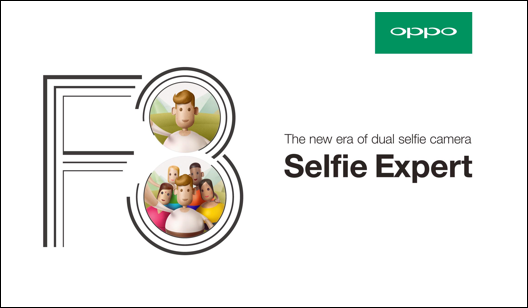 OPPO will simultaneously launch F3 Plus of the F3 Series in five key markets – India, Indonesia, Myanmar, the Philippines and Vietnam. Large advertisements were also displayed on landmark buildings in Indonesia, Myanmar, and Vietnam with highlight being in Times Square, New York.
Sky Li, OPPO Global Vice President and President of OPPO India, said, "At OPPO, product innovation drives everything that we do, and it is our key brand value. The F3 Series will take selfie technology onto another level as well as it sets new trends. We are confident it will be a great success and will set a standard that others will follow."
OPPO, with a presence in 28 markets, was the No.2 smartphone manufacturer in emerging Southeast Asia with 13.2% market share and the fourth-largest smartphone brand globally in 2016, according to latest reports from IDC. In India, OPPO has successfully grown its offline market share from 1.2% in December, 2015 to 10.9% according to market research firm, GfK. Much of the success was attributed to the sales of OPPO's 'Selfie Expert' Series of smartphones – the F1, F1 Series and F1s.
About OPPO
At OPPO we design, manufacture, and promote our own products, combining innovative technology with unique design, to ensure our customers always receive the best.
After entering the mobile phone market in 2008, OPPO quickly expanded into overseas markets a year later. OPPO mobile phones are currently available in over 20 markets, with the brand already registered in 140 countries as of late 2015.
OPPO is the official global partner of International Cricket Council (ICC) starting 2016 and has also entered a three-year partnership with Football Club Barcelona, Spain. OPPO has Bollywood heartthrobs Hrithik Roshan and Sonam Kapoor as its South Asia Region brand ambassadors and Yuvraj Singh as its First Sport Ambassador. The leading smartphone brand made its entry into the Indian market in early 2014. OPPO Mobiles India Pvt. Ltd. currently has commercial presence in major cities and regions of India. With its growing presence, OPPO aims to provide beautifully designed phones and a flawless camera experience to the young consumers.
But OPPO doesn't stop there. Using our passion for design and commitment to new technologies, OPPO has made a big impact in the audio-visual market by offering world-renowned, premium Blu-ray players in the United States and across Europe.
Copyright © 2016 OPPO. Any information contained in this press release may be subject to change without prior notice. For our products and services, the only provisions for guarantee are stated in the warranties that accompany those products and services. Content in this press release do not constitute additional warranties. OPPO shall not be liable for any technical and editorial errors or omissions contained herein.
For more information, please visit:
Website: http://www.oppo.com/in
Twitter: @oppomobileindia
Facebook: https://www.facebook.com/oppomobileindia