Destinations include Sydney, Mykonos, and Auckland
Sydney – May 2, 2018: onefinestay, the world's leading luxury private rental brand, part of the AccorHotels family today announced major additions to its luxury portfolio of global destinations, including over 22 luxury homes in Sydney, plus the first ever all villa resort, on the Greek island of Mykonos.
With onefinestay's further  expansion into Australia, travellers are now assured of a secure, luxury private rental alternative with 24/7 professional service and tailored experiences. Following Sydney's entry into the home rental market space, Melbourne will offer over 20 homes with more than 10 Queensland properties around Noosa joining in late June, enhancing the growing portfolio in Australia.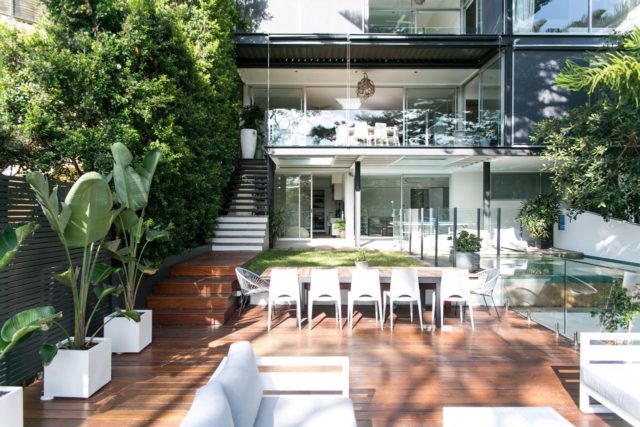 In Sydney, beachfront homes across the eastern suburbs, lower North Shore and Northern Beaches are the epitome of grace and style, chosen for their character, space and comfort, with many designed by award winning architects or showcasing original Australian features. Sweeping views of iconic beaches, or a property with the buzz of Potts Point or the CBD, the portfolio also presents corporate ready one bedroom apartments in Woollahra, and smaller homes, some with famous historic family ties.
In Melbourne expect to see CBD city apartments, fastidiously kept Victorian terrace homes, and a range of 1-5 bedroom homes, to be a "home away from home" available for the F1 Grand Prix, Australian Open tennis championships or a foodies delight and cultural getaway. Out of the city, look for homes towards the Great Ocean Road, the Mornington and Bellarine Peninsulars, and the world class Yarra valley wine trail.
It is the first major presence for onefinestay in the APAC region, and beginning in June, onefinestay will offer over 30 private rentals in New Zealand, specifically in Auckland, Queenstown and Wanaka, operated by local, on-the-ground teams to provide the luxury onefinestay amenities and the personalised service that guests love.
In the northern hemisphere, onefinestay has arrived in sun-drenched Mykonos, with a first-of-its-kind offering for the brand, a resort collection of 10 villas overlooking a secluded bay on the south-west coast of the island. It's the only private retreat of its kind on Mykonos – the homes are equipped with luxurious features like infinity pools, a private dock and a helipad, as well as onefinestay's signature service with concierge available on-site 24/7.
"Our newest destinations are a dream come true for sun-seeking leisure travellers and those with discerning tastes and cultural appetites," said Javier Cedillo-Espin, CEO of onefinestay.
"These new locations expand our global footprint by a great margin, and allow us to offer new and incredible experiences to our guests, as well as create a new model in the luxury private rental world, with our very first resort in Mykonos." Cedillo-Espin continues.
The addition of these new markets  adds to tonefinestay's Endless Summer collection including Bali, the French Riviera, Los Angeles, the Hamptons, Mexico, the Caribbean and Hawaii.
Additionally, it bolsters the company's expanding portfolio of more than 10,000 homes across 200 destinations around the globe. Starting May 1, 2018, homes in both markets of Sydney and Mykonos, have been available for booking at www.onefinestay.com
This announcement closely follows AccorHotels' announcement opening up onefinestay's portfolio to its Le Club members who can now access its luxury portfolio of homes around the world, or burn Le Club points on bookings, as well as accessing its concierge programme, Higher Living, which launched earlier in 2018.
About onefinestay
onefinestay is the leading luxury private rental brand that redefines hospitality for discerning travelers by offering individualised stays and services in carefully curated homes all around the world. onefinestay's portfolio includes more than 10,000 of the best homes – beachside villas, mountain ski chalets, historic country mansions – all around the world. With each stay, onefinestay guarantees professional service and individualised experiences, delivered by a dedicated team of Travel Advisors and a network of partners across over 200 destinations.
About Higher Living Concierge Service
The service grants all guests access to onefinestay's brand of services and experiences. Launched in March, this is the company's first formal guest relationship programme, and it's also a first-of-its-kind for the industry, as it is available to guests for a whole year after their stay. With the launch of Higher Living the company has made the new programme standard for all guests, starting with their first stay, and extending into their lives. Throughout the year, via a mobile concierge developed leveraging onefinestay's sister company John Paul's expertise in the space, guests will be given access to individualised travel and lifestyle services that they'll be able to use during and after their stay, with concierges on hand to answer guests travel and lifestyle needs, for example:
Restaurant reservations and theatre tickets
Chef or in-home entertainment booking
Day-trip and excursion coordination
The more often guests stay with onefinestay, the more valuable and curated Higher Living will become to their travel and at-home lives. And as the programme is powered by onefinestay's unique model of high-touch, curated service and its global network of hospitality, dining, and experiential vendors and service professionals allowing them to handle all arrangements to exacting specifications – anywhere in the world.
 To book, learn more, or enquire please visit:
1