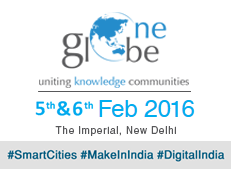 Conference to host session, which will deliberate on ideas between  principals and counsellors from leading Indian schools
New Delhi, January 13, 2016: One Globe: Uniting Knowledge Communities is all set to host the fourth edition of BrainGain Magazine's Breakfast Roundtable on "Knowledge Exchange: Foreign Universities for Indian Students". The session is on February 6, 2016 at the Imperial Hotel, New Delhi. India's leading annual conference, One Globe explores the intersection of technology, innovation, smart cities, skills, regional collaboration and education and their role in building a 21st century knowledge economy.
Talking about the Breakfast Roundtable, Mr. Harjiv Singh, Convener, One Globe 2016 conference, and founder and CEO, Salwan Media, said, "The Breakfast Roundtable is an exchange of knowledge and ideas between distinguished academicians, which furthers the purpose of the annual One Globe Conference. It provides a platform for exchange of ideas and experiences between educationists, counsellors and principals of leading schools and colleges in India and abroad."
Leading academicians attending the session this year are Lt. Gen. Surendra Kulkarni, Principal, The Mayo College; Dr. D.R. Saini, Principal, DPS R.K. Puram; Mr. Pramod Sharma, Principal, Genesis Global School; Ms Kaye Jacob, Principal, The Heritage School, Gurgaon; Mr. Ashok Pandey, Principal, Ahlcon International School; Mr. Mahesh Prasad, Principal, Step by Step School; Ms Sunita Nagpal, Principal, DPS Sushant Lok; Ms Meenakshi Bhakuni, GD Goenka Public School, Dwarka; and Ms Anuradha Joshi, Principal, Sardar Patel Vidyalaya School.
The Breakfast Roundtable apart, One Globe will host a complimentary "Study abroad information" session for students, parents and teachers and provide them a unique platform to interact with the representatives of leading foreign institutions .This will cover a multitude of topics such as getting into the Ivy Leagues, planning for higher education in the US, standardized tests — best practices and benefits in college admissions, MOOCs, financing studies abroad, preparing for admission tests, and so on.
"The session will not only help students navigate their way through the lengthy processes of applications and university, but also in deciding the varsity and course structures that are best suited for them," Mr. Singh adds.
Distinguished academicians from leading institutions have been actively involved with the Breakfast Roundtable in the past and have provided insights into topics such as K-12, role of schools to address the various challenges faced by students, as well as the importance of grades and test scores for applications to foreign universities.

ABOUT BrainGain Magazine
Braingainmag.com (www.braingainmag.com) is India's leading online Study Abroad magazine for students, parents, and mid-career professionals in South Asia. We are the definitive source of information for anyone interested in exploring and learning about Study Abroad opportunities outside South Asia. Our primary target audience is between the ages of 16 and 25. We provide content to guide students and parents through the decision-making process when exploring options to study abroad. The topics covered help readers understand fields of study, admissions, financing, specific countries, regions or cities, student life, scholarships, job prospects for chosen fields, socio-cultural environments, safety and visa issues. Told through lively interviews, photos, videos and podcasts, we provide an interactive platform that helps students chase their dreams.
ABOUT ONE GLOBE CONFERENCE
The annual One Globe: Uniting Knowledge Communities Conference, organized by Salwan Media Ventures, brings together global thought leaders to discuss how we build a 21st century knowledge economy in India and South Asia. It is India's leading conference exploring the intersection of technology, innovation, smart cities, skills, regional collaboration and education and their role in building a 21st century knowledge economy. Connect with us on Facebook, Twitter, YouTube and LinkedIn.