Ombré Lane has recently launched its e-commerce portal, ombrelane.com, for women. Founded by Management Graduate from Wharton, Shweta Sharma, who brings her experience of working in the online space, Ombre Lane is a niche brand that focuses primarily on western wear co-ordinates for women. The brand manufactures the garments and retails it online as well. Ombre Lane aims to capture the market share of western wear for women, which is currently poised to grow at 18% in the next two years. A BCG-Facebook survey shows that women constitute 39% of online shoppers in India, with it growing to 48% by 2020. The brand is also making a social impact with a give-back for every product bought.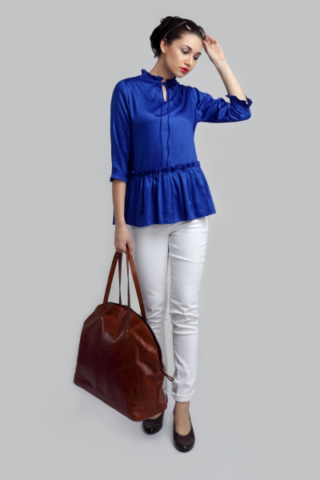 Ombre Lane has tied up with the NGO Goonj, to use proceeds from the sale of each garment to buy saris for rural women in India, many of whom have less than 4 garments in a lifetime.
About Ombré Lane:
Ombré Lane is a versatile fashion brand founded to cater to the fashion needs of modern working women in India.
We aim to provide a beautiful and fashion forward work wardrobe to the diligent working women and the talented lady bosses. We also want to utilize our platform to do good for our fellow women. For every product you buy at Ombré Lane, we distribute a piece of clothing to those who need it the most.
Buying workwear has never been an easy task and both online and offline outlets have failed to satisfy the modern working Indian woman. After all, the working women of India must have more variety than those plain boring shirts that hide our personality and subdue our femininity. Moreover, one can't really wear the widely available vibrant casuals at board meetings and career defining presentations.
We later discovered that we are not the only ones facing this dilemma. On the contrary, the entire community of working women is being deprived of premium quality and trendy workwear. So, we decided to do something about it. With the mission of providing the Indian working women with a versatile, comfy, and sharp yet feminine wardrobe using premium quality fabrics that they could carry from the meeting room to their countless social engagements and daily life chores, Ombré Lane began its fashion journey.
Ombré Lane believes that the women do not need to go the extra mile and pay exuberant costs for beautiful and stylish workwear choices. Our clothing initiative isn't just limited to working women in modern India, we also want to take a stand for the women in rural areas, who are forced to spend their entire lives in no more than 4 saris.
For every clothing item bought from Ombré Lane, we contribute a saree to improve the lifestyles of the women living in the interior pockets of rural India. We have partnered with the award winning voluntary organization – Goonj – to help us in this mission.
We are driven to create softly feminine, fashion-forward, and versatile workwear that is just in line with the modern, sophisticated, and beautiful women in India.