New Delhi, November 16, 2015: On November 15th, Om Books International and BollyGoods launched popular VJ and model Maria Goretti's debut book From My Kitchen To Yours, at Living Room at The Mansion, Hyatt Regency Delhi. The launch saw Maria Goretti and actor Arshad Warsi in conversation with Delhi's fifty power couples about the dynamics between couples in a kitchen space, over champagne lunch. The talk was moderated by Tisca Chopra.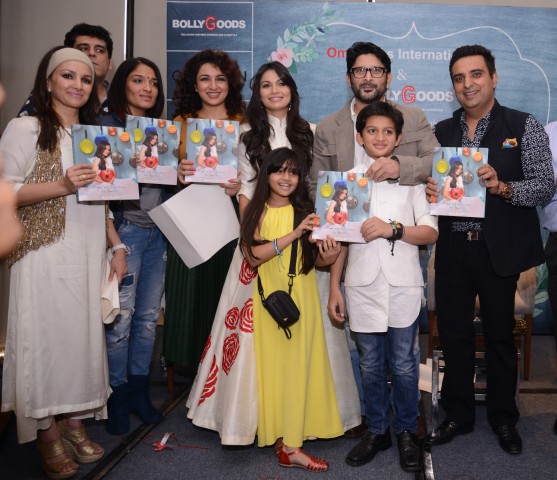 BollyGoods, a one-of-its-kind platform that promotes celebrity lifestyle and their inherited aesthetics, is all geared up this season to give you a peek into the world of the celluloid born. BollyGoods held its 1st edition in New Delhi that primarily focused on a spectrum of celluloid inspired themes on art, lifestyle and fashion.
From My Kitchen To Yours: Food, Love And Other Ingredients celebrates how Maria Goretti lives her life, with memorable recipes from her mother's East-Indian spreads, aromas from her grandmother's kitchen, and the food that she has seen, touched and tasted over her many travels across India, and the world, as a VJ with MTV. Add to that, all those delicious dishes she has eaten at her friends' homes, especially those sinful desserts that she loved, which she tried and tried till she got them right. Divided into monthly menus with soups, salads, starters, non-vegetarian and vegetarian main course dishes, and desserts, the recipes are simple and delicious. With a foreword by actress and politician Jaya Bachchan, the book presents a six-course meal layout for each month, and easy-to-make recipes with ingredients readily available in any home kitchen. It contains an array of both vegetarian and non-vegetarian recipes.
Ajay Mago, Publisher, Om Books International said on the occasion, 'A couple of years ago, I happened to go through Maria's blog and was certain that she could put together a unique book redolent not only with the flavours of her rich cultural moorings, but also with those picked up along her journeys across India and beyond. And each page of this book reflects that vibrant repository and crossroad of cuisines that foodies like myself live for, cooked, as she avers, with Love as the key ingredient.'
Promila Jain Bahri, Founder and Director, BollyGoods added, 'My favourite from Maria's book is the Strawberry Salad – its healthy, looks yummy and is low on calories. The one thing I've learnt from this vivacious celebrity couple is that the heart is important in whatever you do.'
Ravish Kapoor said, 'It has been an absolute pleasure to associate with BollyGoods and Om Books International for the book launch of Maria Goretti. Making personalised invitations for a prestigious event like this was an exceptional experience.'
About the Author: Maria Goretti
Maria Goretti is an Economics graduate, who studied Fashion Design. She worked as a dancer and, because of her talent, was snapped up for a number of advertisements. She has modeled for Coca-Cola, Liril, Close up and Volkswagen Beetle, to name a few. She spent five and a half years as a VJ for MTV, interviewing and touring with musicians from around the world, including Bryan Adams, Enrique Iglesias, UB40, Abba, Ricky Martin, Ronan Keating, Peter Andre and Pentagram. She hosted the 2000 MTV Video Music Awards for India from the Radio City Music Hall in New York.
Maria was an anchor and a roaming presenter for the ICC Champions Trophy in Sri Lanka in 2002 and the 2003 Cricket World Cup in South Africa. After making many disastrous dinners for friends who were willing guinea pigs, Maria realised that mastering food was her true calling. In 2011, Maria cleared, with distinction, the Cordon Bleu certificate course in food and baking at the Tante Marie School of Cookery, UK, run by Gordon Ramsay. She writes a food blog that has recipes, slice-of-life stories and poetry.
About Om Books International
Om Books International is one of the largest English language trade publishers in the Indian subcontinent and has been a leading force in the Indian publishing and retail industry for several years. Recently, it celebrated 55 years of operations in retailing and distribution.
Headquartered in Noida, OBI has a varied publishing list: cinema, biography, memoir, mind-body-spirit, photo essay, art, architecture, lifestyle, fiction—commercial and literary, to name just some categories. Its best-selling titles include Two Mothers and Other Stories and Faction by Khalid Mohamed; Still Reading Khan by Mushtaq Shiekh; Shah Rukh Can by Mushtaq Shiekh; AR Rahman: The Spirit of Music, an authorised conversational biography by Nasreen Munni Kabir, Mohammed Rafi: Golden Voice of the Silver Screen by Sujata Dev, I Hate Bollywood by Rohit Khilnani, Housefull: The Golden Age of Hindi Cinema and Delhi: 4 Shows by Ziya Us Salam; Delhi: Contrasts and Confluence and Mumbai: Where Dreams Never Die by Raghu Rai (with lead essays by William Dalrymple and Vir Sanghi, respectively).
Amongst its forthcoming titles are two authorised biographies: Shatrughan Sinha: Anything but Khamosh by Bharathi S Pradhan and Shammi Kapoor: The Untold Tale by Rauf Ahmed.
OBI has an equally strong and varied children's publishing programme under its imprint OmKidz.
About BollyGoods
BollyGoods is the brainchild of PROMILA JAIN BAHRI who is a New Delhi based entrepreneur. She is multitalented, charismatic and accomplished personality with her own sophisticated style. She combines her creative flair with entrepreneurial drive and business acumen. The ability to conceive original, compelling new concepts – is a hallmark of everything Promila does. Li'l Tomatoes, Gallery Of Galleries & Vande Mataram– Re Strung a single that brought home a strong gender message that "Mother, through you we become men of tomorrow" are all spearheaded by Promila. Artist Aloud recognized and awarded Vandemataram in categories of the Best Video & the Best Group. She is an active member of the Bharat Soka Gakkai and works for empowering individuals for lasting peace for inner change to global change. Her mentor is Dr. Daisaku Ikeda.
BollyGoods is a unique platform that promotes celluloid inspired Fashion, Art & Lifestyle.
Within this celluloid world, creativity goes beyond acting, scripts and music to lifestyle, design, art and costume, rustling up an imagery that is unique and only possible in this realm where real meets reel. It promotes the hugely talented stars & their family who are accomplished designers in their own stream. Besides the cinema born, BollyGoods also presents the works of fashion designers, jewelers, couturiers, artists and graphic designers who cater to the world of cinema.
BollyGoods has an array of events lined up till March 2016 with the 2nd Edition happening in London. Before that many interesting events promoting celebrity beauty, mind and soul are planned out.
About Hyatt Regency Delhi
Hyatt Regency Delhi is situated in the commercial hub of New Delhi and is strategically located within 20 minutes' drive of Indira Gandhi international and domestic airport. The 507 rooms and suites are equipped with modern amenities and complimentary internet access to support business needs. All seven floors offer a panoramic view of the city and the landscaped gardens. For the food connoisseurs, the hotel offers a range of dining and entertainment experience at the award-winning restaurants including: Café – an all-day dining restaurant; The China Kitchen – the authentic Chinese restaurant; La Piazza for traditional Italian, TK'S Oriental Grill serving Far East Oriental cuisine, Polo Lounge the traditional lounge bar and Sidewalk the European style- pastry and confectionary store.
The hotel offers a host of leisure facilities at the Club Olympus Spa and Fitness which includes facilities such as a spa, a unisex salon, fitness centre and an outdoor swimming pool.
In addition, the hotel also offers more than 2,955 square metres/32,050 square feet of meeting spacewith a combination of function, form and technology to suit every business or social event requirements.
Space includes:
        Energising new event space – Oval room at The Mansion with a stylised open show kitchen
        A pillar-free Mansion's Ballroom divisible into three parts
       A combination of boardrooms
       Soon to be opened Mansion's Living Rooms or unique meeting spaces.
For more information, please visit delhi.regency.hyatt.