Mumbai, 29th August, 2017: An annual collection of jewellery to celebrate ones spiritual side, ORRA has launched its Nav-Siddheshwari collection of pendants. Set in 18k gold, this time themed around Indian goddesses, the collection celebrates the spirit of feminine divinity. Abundant with symbolism of her immense strengths of creation, nurturing and transformation, ORRA divulges in her spiritual likeness to Indian goddesses with this collection. From Saraswati to Laxmi, Parvati, Durga and Radha, it is a recognition of the strengths that she draws from each of them.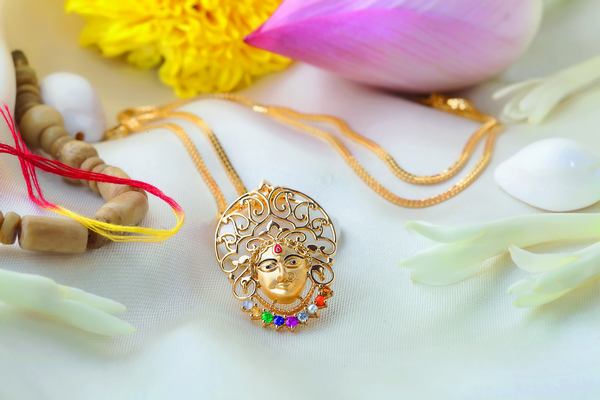 Comprising of pendant designs studded with nava-graha gemstones, each represents the key attributes of womanhood namely Lakshmi symbolizing prosperity and spiritual liberation, Saraswati a symbol of knowledge and wisdom, Parvati for her sacrifice & motherhood, Durga looked up to for valour & protection and Radha a dedication of unconditional love and spiritual excellence. The nine gemstones on the other hand symbolize the nine grahas of the universe: ruby (Sun), pearl (Moon), red coral (Mars), emerald (Mercury), yellow sapphire (Jupiter), diamond (Venus), blue sapphire (Saturn), hessonite (rahu) and cat's eye (ketu). In addition, each pendant has been dedicatedly adorned with the symbol associated to each of the goddesses. From the swan to the lotus, or baby Ganesha resting in Maa Parvathi's lap, each one evokes devotion from the depths of the heart.
A perfect gift devoted to that special woman in your life, the Nav-Siddheshwari collection is available across all the 32 stores of ORRA in 21 cities. Patrons can also log onto www.orra.co.in to get a glimpse of this latest collection.
About ORRA:
ORRA is one of India's finest jewellery retail chains, having spread its glow with 32 stores across 21 cities. It has been at the forefront of design leadership and product innovation with 5 global design centres in Tokyo, Hong Kong, Antwerp, Mumbai and New York.
ORRA's designs are handcrafted to perfection by master craftsmen who have inherited the centuries old legacy of jewellery-making. ORRA has a host of collections set with brilliantly cut diamonds. While Belgian diamonds have been ORRA's specialty, the addition of 22kt gold jewellery in select 17 stores makes ORRA a one stop destination for today's women jewellery needs, offering them the best of designs in an ambience that matches their discerning senses.
While solitaires are available in a variety of cuts and sizes, the key to its stunning beauty lies in its cut. This has been proven right with the introduction of the ORRA Crown Star diamond a stunning solitaire with 73 facets. These facets are aligned in perfect proportion to provide maximum brilliance. The accuracy with which the diamond is cut gives it an unmatched brilliance.
Facebook: https://www.facebook.com/ORRAJewellery
Twitter: https://twitter.com/ORRAJewellery
Instagram: https://www.instagram.com/orrajewellery/
1