BOLD A ND INTERSTELLAR
THE NEW URBANEARS SPRING/SUMMER 2017 COLOR COLLECTION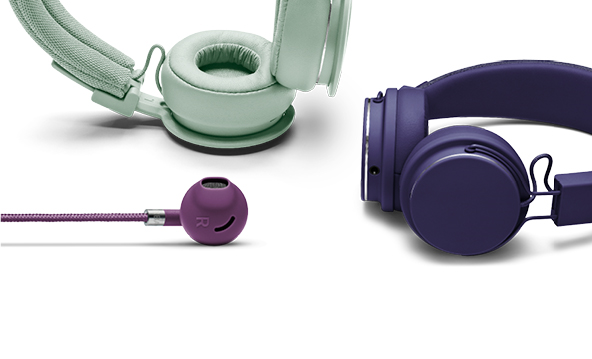 STOCKHOLM, SWEDEN  Feb. 28, 2017  Take a trip to that secret spot above the city and aim your telescope at the stars. Urbanears SS17 colorways take inspiration from bold shades of cosmic dust. Put your ears in contact with Comet Green, Cosmos Purple or Eclipse Blue and you might tune in to new interplanetary sounds. Or just discover a really nice pair of headphones.
Headphone models to be released in the new spring/summer colors include Plattan 2 ($50), Plattan ADV Wireless ($119), and Sumpan ($49). Available now at select Urbanears retailers worldwide, and online at urbanears.com.
COMET GREEN
Bright like the dusty tail of a shooting star, this curious pastel will give you any thrill you seek. Wear headphones in Comet Green to add a surprising color burst to your everyday monochrome, or amuse your ears with unlikely tales of little green men.
COSMOS PURPLE
If you ever wondered what life is like beyond the earths solar system, you might find your answers in a pair of Cosmos Purple headphones. Deep and wise like the eye of a nebula, this color is bound to bring a strange new order to your earthly ways.
ECLIPSE BLUE
You dont need a pinhole projector to lay your eyes on this Eclipse Blue. Comfortable in its own gemlike shadow, this shade is as hypnotic to look at as it is to wear. Turn up your favorite transitory sounds and get ready for a whole new orbit of change.
THE URBANEARS COLOR CYCLE
Besides the five standard Urbanears shades (Indigo, Tomato, Black, Dark Grey, and White), six seasonal colors join the mix every year. That's three for Fall/Winter, and three for Spring/Summer. Some make a one-time appearance, while others hang around much longer. No matter what, you'll always have a fresh palette to pick from. Find your favorites and match everything from the color of your mood to the aura of your shoelaces. Watch out for the occasional special edition too.
ABOUT URBANEARS
In the present, recently known as the future, Urbanears strives to create magic where people and technology meet  a task the company tackles passionately with human centered design and innovation. Founded in Stockholm, Sweden during a time before pocket computers (2008), Urbanears has grown to see their headphones spread like wildfire all over the world. Today Urbanears can still be found in their hometown of Stockholm, creating electronic gizmos and a kaleidoscope of their beloved headphones, only in a slightly bigger office.