~ Inorbit mall hosts Navi Mumbai Cyclothon with the support of Cycling Federation of India, Navi Mumbai Municipal Corporation, Navi Mumbai Traffic Police and Maharashtra Tourism Development Corporation~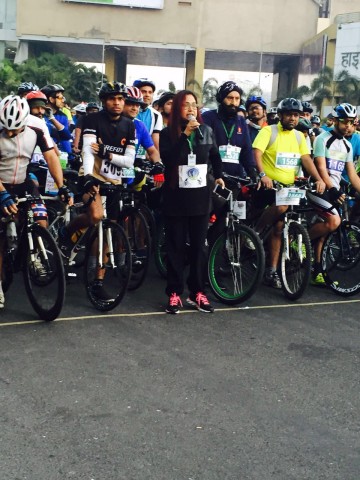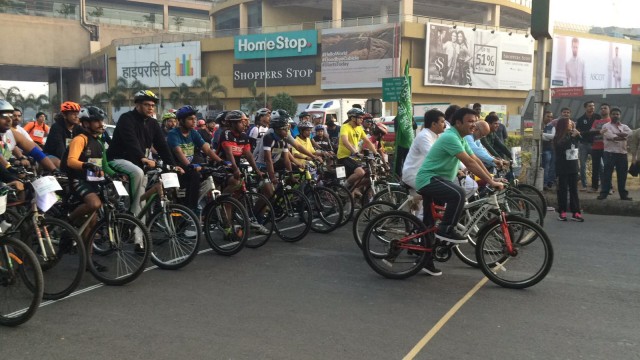 Mumbai, February 2016 – Inorbit Mall in association with Cycling Federation of India, Navi Mumbai Municipal Corporation, Navi Mumbai Traffic Police and Maharashtra Tourism Development Corporation hosted the first edition of Navi Mumbai Cyclothon on 7th February 2016. The event witnessed a massive participation of over 500 cyclists spreading the message of a cleaner and healthier city. Shri Sudhakar Sonawane, Mayor of Navi Mumbai and Shri Dinesh Waghmare, Commissioner flagged off the Cyclothon from Inorbit mall Vashi creating a cycling revolution round the city. Also present at the event were Eminent Cyclists like Aastad Palkhiwala, Rajendra Soni, Miten Thakkar, Dr. Amol Ganla and Dr. Hitendra Mahajan.
The participants cycled for causes like Citizenship, Education, Environment, Food & Hunger, Finance & Innovation, Girls & Women, Health, Water & Sanitation. Not only local residents of Navi Mumbai but also social cause organizations like Many social cause organizations and associations like the Lions International, MBA Foundation, Green Practices, Aasra Helpline, Indian Medical Association, FM Zone, HR Shapers, Navi Mumbai Press actively participated at the event.
Apart from spreading awareness about these causes the participants also competed for the first three positions and this competition was adjudged by a team of officials from state cycling association. Amandeep Singh from Mumbai won the first prize in the 20 KM Elite Race – Multi Gear Category while Ram Jadhav of Sangli won the first prize in the single gear category. Dhruv Shah won the first prize in the 10 KM Go Josh Challenger race.
It is also due to the support from reputed brands like Just Bingge, RedFM, Gatorade, Hypercity, Chai Garam and Avignyata Inc., that Navi Mumbai Cyclothon has been a huge success.
Expressing his views on this initiative, Mr. Puneet Varma, AVP, Marketing and Corporate Communications, Inorbit Malls said, "Pollution and global warming has been a serious concern these days and this is a small step taken by team Inorbit to bring a change in the environment. This first edition of Cyclothon has been very inspiring for us with residents of Navi Mumbai and other dignitaries showing great enthusiasm towards such an event. We also thank the brands associated with the cause."
About Inorbit Malls:
Inorbit Malls, a group company of the K. Raheja Corp, was initiated with an objective to not just create physical structures but also to influence lifestyles. Inorbit Malls, committed to setting benchmarks in retailing in India, provides an excellent walk through experience for customers. Inorbit Malls combine the knowledge of the Indian Consumer and a changing Indian market scenario in locating, designing, planning and managing retail environments.
Inorbit Malls began their journey by opening its first mall at Malad to the public in early 2004, in Mumbai. Since then, Inorbit has repeated its success with world class malls in Vashi – Navi Mumbai, Cyberabad – Hyderabad, Viman Nagar – Pune, Whitefield – Bangalore & Gorwa Road – Vadodara. The malls have universal class and appeal and seek to provide a one-stop destination for fashion, lifestyle, food, and entertainment leading to an international experience.