National Institute of Fashion Technology was set-up in the year 1986 under the aegis of Ministry of Textiles, Government of India. Since its inception, NIFT has set a benchmark in fashion education, emerging as a premier institute of design, management and technology. Today, through a network of 15 professionally managed centers, NIFT has set academic standards and has excelled in thought leadership with its unique integration of creative genius with technological competence. Parliament of India conferred Statutory Status to NIFT by passing NIFT Act 2006 thus empowering the institute to award degrees & other academic distinctions. It is the first premier institute in the world to award its own undergraduate & postgraduate degrees in the field of fashion education.
The Convocation of National Institute of Fashion Technology–New Delhi and Patna Centre was held on 28thNovember 2012 at Sirifort Auditorium, New Delhi. In an impressive ceremony the Chief Guest, Shri Venu Srinivasan, Chairman, Board of Governors-NIFT awarded Degrees to the graduating students of the class of 2012 in august presence of Shri N K Singh, Hon'ble M.P Rajya Sabha & Member, Board of Governors-NIFT and Shri Prem Kumar Gera, IAS, Director General-NIFT. The distinguished members from Board of Governors, NIFT, leaders from the Indian fashion industry and faculty members of NIFT were also a part of this momentous occasion.
Prof. Monika Gupta, Director-NIFT appraised the gathering that over the last few years, NIFT has undertaken strategic steps to forge international linkages with International schools of repute. Currently, NIFT has 26 MOUs with foreign fashion schools for student & faculty exchange, conferences, seminars and exhibitions. Prof. Monika Gupta, while presenting the annual Academic Report, recounted the journey of NIFT through expansion, extension and benchmarking in fashion education.
Built into the academic curriculum are internship, industry visits, outbound programmes as well as real life projects, seminars and interactions which provide opportunities for students to appreciate and understand the working of the industry. The institute also undertakes research and consultancy projects for the industry with its expertise in Design, Management and Technology at strategic and operational levels. The students get the opportunity to work in stimulating environment with industry projects focusing on integrative abilities that use skills ranking from technical expertise to creative exposure.
As an attempt to inculcate social awareness, the Craft Cluster Project has been woven into the Academic Calendar. Understanding the social responsibility towards this sector, the NIFT students continue to contribute to the clusters through design intervention and product diversification. Highlighting NIFT's contributions to the development of fashion education and industry in India, the Director further added that NIFT takes pride in its pioneering role, not only in sensitizing the environment but also professionalizing in making the industry more professional and in putting India on the centre stage of world fashion.
Shri Sanjay Shrivastava, Director-Patna Centre presented the academic report for the NIFT Patna centre. In all, 307 graduates of 10 streams of study from Delhi Centre and 56 graduates of 2 streams from Patna Centres of study were awarded Degrees. Shri Venu Srinivasan, Chairman, Board of Governors -NIFT delivered the convocation address and called upon the students to uphold the tradition of excellence inculcated in NIFT while they carved out brilliant careers for themselves in their chosen fields. Shri N K Singh, Hon'ble M.P Rajya Sabha & Member, Board of Governors-NIFT addressed the gathering and congratulated the graduating students.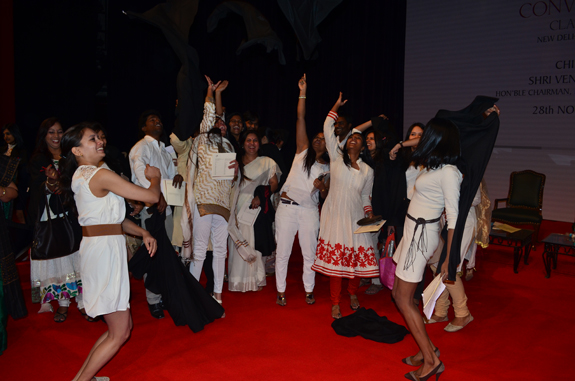 Shri Sanjay Shrivastava, Director-Patna Centre presented the Vote of Thanks.