Additionally imparts Digital Literacy skills to 2000+ people from underserved communities
Bangalore, 8th Dec 2017: NASSCOM Foundation today announced the culmination of its first year of training under the unique 'Centre of Excellence for Persons with Disabilities' programme in Bangalore. This first Centre of Excellence, funded by Conduent Business Services India LLP (Conduent India), has successfully imparted employability skills to 100+ Persons with Disabilities (PwDs).Conduent India's partnership with NASSCOM also supported delivery of digital literacy for 2000+ people from underserved communities. The latter was executed through two new Digital Literacy centres set up for this initiative.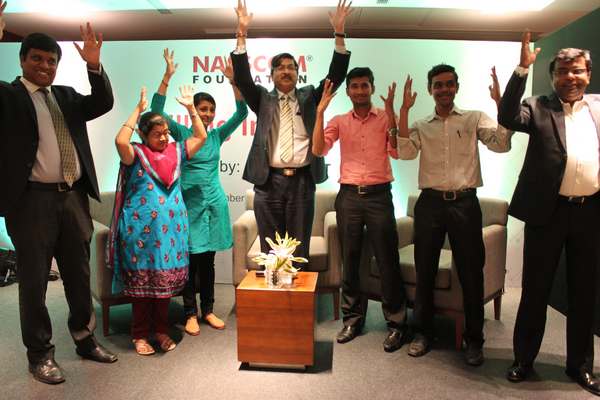 The first of its kind 'Centre of Excellence for Persons with Disabilities' trained PwDs on industry specific finance and accounting skills; basic communications and life skills. Conduent India's support was instrumental in reaching out to the intended beneficiaries – who were persons with speech and hearing impairments and orthopaedic disabilities. Each centre has been equipped with special facilities to cater for people with different disabilities. The training was conducted with the help of sign language interpreters provided by the training partners – V-Shesh.
From the 100 students trained, over 64 have already been placed with organizations like CISCO, Synchrony Financial, Infrahedge Services, Amazon, Equitas, Vindhya Infomedia.The students who are not placed are being provided ample opportunities to get job offers through various placement drives and job fairs being conducted by the Foundation.
The digital training centres are located at RT Nagar and Annasandra Palyaand focus on delivering digital literacy skills to people from the underserved communities around their respective localities. These digital literacy efforts, managed under the National Digital Literacy Mission and conducted on the ground by implementation partners Saint Paul's Women's Education Society, represent a far-sighted, dynamic and integrated platform of digital literacy awareness, education and capacity building programmes. Such initiatives help rural communities to fully participate in the global digital economy. Supported by Conduent India, the trained beneficiaries are now able to send emails, connect on social media, purchase from ecommerce websites, and even leverage the internet to avail various government services such as registering for Aadhaar cards, ration cards, and PAN cards amongst others.
Speaking on the completion of the first year of both programmes, Lokesh Prasad, CEO,Conduent India said, "At Conduent we believe that inclusivity is critical to overall societal development. Conduent India supports various initiatives through Shram Daan (volunteering time) and sponsorships that directly impact literacy and awareness for underserved communities including children, women, PwDs and other minority groups. These programmes cater to providing beneficiaries with access to new opportunities which will result in an empowered and inclusive society"
He further added "It is heartening to see that the Skills for PwDs and Digital Literacy Programmes have touched so many lives.We are honoured to have been able topartner with NASSCOM and V-Shesh on these initiatives. I congratulate and thank both our partners for the incredible work they have undertaken and the impact they have made towards improving quality of life of PwDs and underserved communities."
NASSCOM Foundation's CEO, Mr. Shrikant Sinha, said. "As we gear up to celebrate the 1st anniversary for the Rights for Persons with Disabilities Act, we are glad to announce that with the support of Conduent India, we have been able to train over 100 PwDs in Skills which enable them to not just get a job but a career. With more than half of the trained beneficiaries already placed, we are proud to announce that the industry has been welcoming the skilled PwD workforce with open arms.We are thankful to Conduent India to come forward in full support for this initiative and encourage more corporates to collaborate with us towards making PwDs employment ready."
About NASSCOM Foundation
NASSCOM Foundation is a leading non-profit organization driving technology for good.  The Foundation's work is just as expansive and evolutionary as the potential that technology and corporate India entail. Drawing strength from its parent body NASSCOM, the Foundation works closely with four major stakeholders: NASSCOM member companies, NGOs, emerging social enterprises, and the government to foster a strategic relationship between technology and development. NASSCOM Foundation's core initiatives include working for persons with disabilities, fostering innovative solutions for social good, creating unique skilling models for underserved communities, and digital literacy where it is the industry partner to the Govt. of India's National Digital Literacy Mission (NDLM / DiSHA)
For more information, visit www.nasscomfoundation.org
About Conduent:
Conduent (NYSE: CNDT) is the world's largest provider of diversified business services with leading capabilities in transaction processing, automation and analytics. The company's global workforce is dedicated to helping its large and diverse client base deliver quality services to the people they serve. These clients include 76 of the Fortune 100 companies and over 500 government entities.
Conduent's differentiated offerings touch millions of lives every day, including two-thirds of all insured patients in the U.S. and nearly nine million people who travel through toll systems daily.  Whether it is digital payments, claims processing, benefit administration, automated tolling, customer care or distributed learning – Conduent manages and modernizes these interactions to create value for both its clients and their constituents.
Conduent India's more than 10,000 employees, based in Bangalore, Kochi, Gurgaon, Noida, Indore, Chennai,Hyderabad and Pune,  are engaged in delivering business process services for human resources, total outsourcing, litigation, transportation, workers' compensation and more. Conduent Labs India, in Bangalore, works closely with leaders across Conduent to help develop, evaluate, and commercialise innovations that help our clients capitalise on disruptive changes in technology, business and society.
Learn more at www.conduent.com