Kolkata, 12 July 2017: Commemorating 25 years of pioneering the Self Help Group Bank linkage programme in the country, the 36th Foundation Day of NABARD was celebrated today by West Bengal Regional Office at Indian Council for Cultural Relations, Kolkata. The chief guest of the Foundation Day celebration was Shri Purnendu Basu, Hon'ble Agriculture Minister, Govt. of WB.
Shri A K Raybarman, CGM, NABARD welcomed the dignitaries and participants and briefly outlined the glorious journey made by NABARD over the years. The Hon'ble Agriculture Minister appreciated the role played by NABARD in West Bengal in creation of rural infrastructure, increasing short term and long term lending, strengthening micro credit movement, financial inclusion and sustainable livelihood options for farmers in partnership with State Governments, Bankers and other stakeholders.
Shri A K Raybarman, CGM, West Bengal highlighted the journey of 36 years & initiatives taken to promote rural development in West Bengal. Shri H. K. Dwivedi, Principal Secretary Finance Dept., GoWB, Mrs. Rekha G. Warriar, RD, RBI, Shri A K Pradhan, ED, UBI, Shri Partha Pratim Sengupta, CGM, SBI were the other dignitaries who attended the function and spoke on the occasion and complimented the efforts of NABARD in overall development and economic growth of the state. Senior Bankers from Commercial Banks, RRBs & Cooperative Banks, senior Government Officials, members of SHGs & Farmers' Clubs, NGOs also attended.
The role played by Govt. of West Bengal and other partners i.e. Banks, NGOs, farmers & rural partcipants in effective implementation of various schemes & initiatives of NABARD, was also acknowledged. Further, on this occasion some of the Farmers' Clubs, SHGs (Self Help Groups), SHPIs, JLGs, NGOs and Banks were felicitated in recognition of excellent efforts and contribution in their respective fields.
NABARD West Bengal has been playing pioneering role in undertaking various developmental initiatives viz., Tribal Development Projects-'Wadi', Watershed Development, promoting climate resilient agriculture, pilot project on potato value chain management, agri produce aggregation and its marketing through producer organisations, SHG-bank linkage and JLG programme to facilitate sustainable livelihood opportunities for farmers in the rural area and address issues of agrarian distress. As part of digitization of SHGs, NABARD has launched E- Shakti project in Paschim Medinipur district and through concerted efforts by the implementing agencies and local administration, 13052 SHGs were digitized in Paschim Medinipur and data of 450 SHGs were made live on mobile handsets. This is expected to boost credit linkage of SHGs in the State.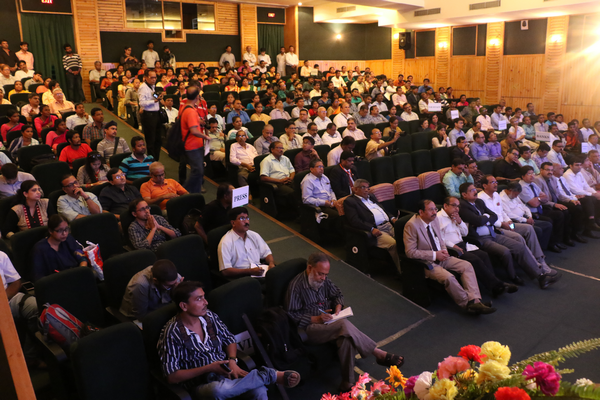 About NABARD (West Bengal Regional Office):
Since inception NABARD, West Bengal Regional Office has been contributing to the development of the State with a strong focus on infrastructure, farm and off-farm activities. For effective implementation of various developmental schemes and coordination with various agencies, NABARD has District Development Managers (DDM) in the districts. NABARD has been providing concessional refinance to financial institutions for augmenting credit flow to agriculture.Infrastructure development in agriculture and related sectors of the state was equally pursued through Govt. of West Bengal under RIDF and Warehousing Infrastructure Fund.  Around 4000 no of completed RIDF projects are envisaged to result in creation of road length of 18702 km, bridge length of 22885 meter, irrigation potential of 11.58 lakh hectare, besides creation of employment (recurring & nonrecurring), access to market & hospitals. With exclusive focus on development of storage facility for agricultural produce, Cold Storages, Godwons, Krishak Bazars have been supported envisaging creation of storage potential of 10.16 lakh MT.
2