First NBFC to extend the money transfer service from India to another country
Kochi, 15th December, 2015: Muthoot Finance Ltd, the flagship company of Muthoot Group launched money remittance services between Indo Nepal Corridor. For this initiative Muthoot Finance has collaborated with the Nepal based Prabhu Bank Ltd's Indian arm Prabhu Money Transfer Pvt Ltd.
With this, Muthoot Finance becomes the first NBFC company to extend the money transfer services from India to another country.
With a very minimal amount of Rs 200, a Nepali migrant can now transfer money instantly from any of the 4200 branches of Muthoot Finance to their families in Nepal without opening any bank account in India.
This facility is expected to benefit 4 million migrants, which are prominent in business cities of India like Delhi, Mumbai, Kolkata and Bangalore and also in the states of Punjab and Uttar Pradesh.
Prabhu Bank Ltd, a leading bank through its 112 branches and 7000 outlets in Nepal, will facilitate the smooth process of money transfer instantly.
Speaking at the occasion, Mr. George Alexander Muthoot, Managing Director, Muthoot Finance Ltd said, "It is yet another feather on the cap of Muthoot Group which is always extending the need based services to the people. Through this initiative, the Nepali workforce will have a simpler way of transferring money to their families and friends."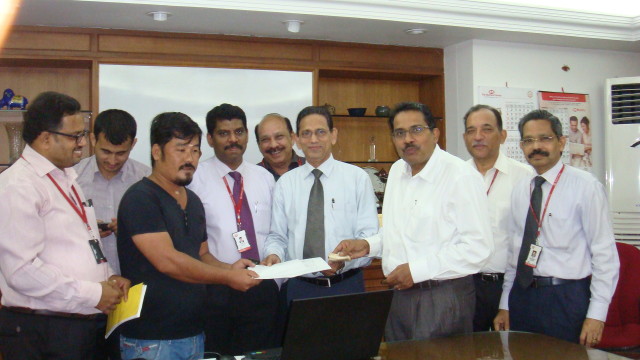 About Muthoot Finance Ltd:
Muthoot Finance Limited is the largest gold financing company in India in terms of loan portfolio. The company is a "Systemically Important Non-deposit taking NBFC" head quartered in the southern Indian state of Kerala. Operating history of Muthoot Finance has evolved over a period of 76 years since M George Muthoot (the father of our Promoters) founded a gold loan business in 1939 under the heritage of a trading business established by his father, Ninan Mathai Muthoot, in 1887.
The company provides personal and business loans secured by gold jewellery. Gold Loans are primarily given to individuals who possess gold jewellery but could not access formal credit within a reasonable time, or to whom credit may not be available at all to meet unanticipated or other short-term liquidity requirements.
The company is listed on both National Stock Exchange and Bombay Stock Exchange.