ICC Cricket World Cup Trophy exhibited at a well-attended event in Mumbai, graced by Bharat Ratna Sachin Tendulkar
Mumbai, February 09, 2015: MRF Limited (MRF), India's largest tyre manufacturer and amongst the top 16 largest tyre manufacturers in the world, today launched ZSPORT, special World Cup edition tyre. The tyre was unveiled at a grand event hosted by MRF in the city which was graced by Bharat Ratna Sachin Tendulkar. The audience also got an exclusive glimpse of the prestigious ICC Cricket World Cup Trophy that was unveiled at the event. MRF is a Global Partner of the ICC Cricket World Cup (CWC) 2015.
The new range of tyres by MRF, a first globally, also sports a special ICC World Cup logo. The tyre is designed to deliver excellent performance and is a product that has been launched for cricket lovers across the nation who, it is hoped, will see it as a prized acquisition.  This tyre can be fitted on over 25 models of cars in the mid and premium segment, in India.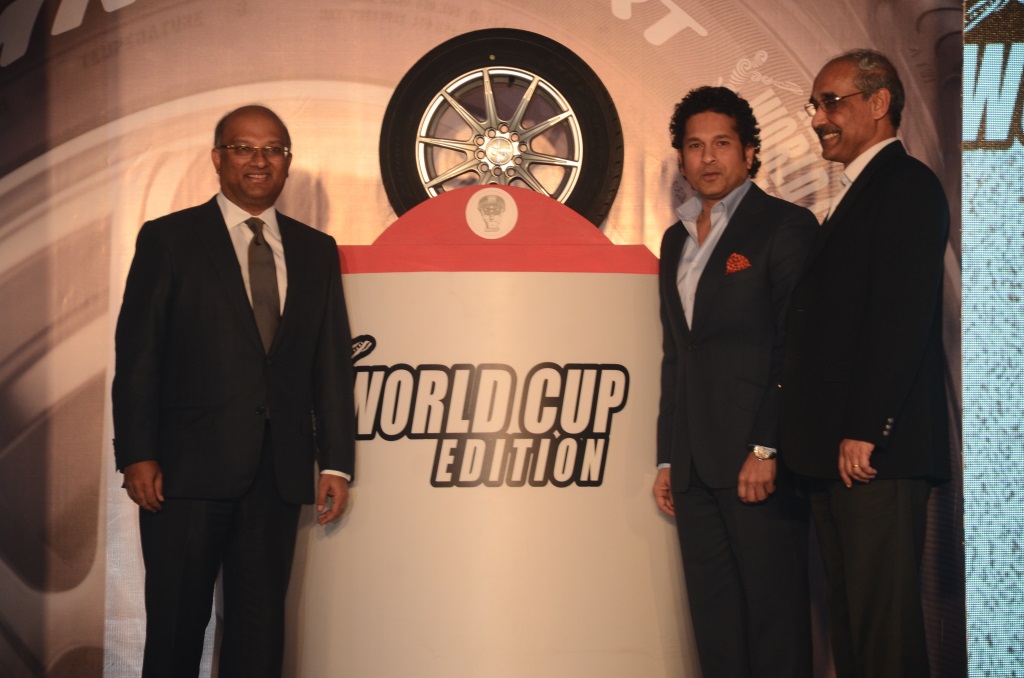 Mr. Arun Mammen, Managing Director, MRF Limited said, "MRF is extremely proud about its long-term association with cricket and excited about being a Global Partner of the ICC World Cup2015. The launch of this unique product is just a testimony to our commitment to the game. This is a global first by MRF and we are confident that this product will connect instantly with Cricket lovers."
While the announcement featured a performance by Anushka Manchanda and Band, a great deal of excitement surrounded the felicitation of Pace Try-out winners and the MRF NV Series Contest Winners.
Legendry cricketer Sachin Tendulkar addressed the audience that was waiting to hear from the master blaster. "I am delighted to be a part of this and it is really heart-warming to see the excitement around the Cricket World Cup. MRF through the years has always believed in nurturing talent for Cricket and the ZSPORT World Cup Limited edition tyre and initiatives such as Pace Tryouts are a strong tribute to MRF's passion for the game."
Commenting on the new launch, Mr. Koshy Varghese, Executive Vice President, Marketing at MRF Limited said, "The ZSPORT is a superior product with great handling and braking in wet and dry conditions. MRF enjoys strong brand equity in the commuter segment and we want to increase our brand salience in the mind of the youth segment. Our premium products are all about delivering high performance and reliability and this association will further strengthen the relationship which we enjoy with all customer segments and key stakeholders across the world.
MRF has had a long standing association with cricket for over 27 years and has contributed monumentally to the development of the game in the subcontinent through several path-breaking initiatives, the prime one being the MRF Pace Foundation.
About MRF Limited
MRF Limited is India's Market Leader in Automotive Tyres for over quarter of a century and is the only Indian tyre company ranked amongst the top 16 global tyre companies, with a turnover of over Rs. 14,000 Crores ( approx. USD 2.5 Billion). MRF is ranked amongst the top 10 fastest growing companies in India.
MRF manufactures a wide range of tyres from its 9 manufacturing plants and is represented across India by a wide network of dealers and service offices. Internationally, MRF exports to over 80 countries and has offices in key markets.
MRF is the recipient of the J. D. Power Award for Customer Satisfaction for OE Tyres, for a record of 11 times and has been the consecutive recipient for the last 5 years. MRF has been conferred a special award 'Recognising Excellence in Customer Satisfaction' by J.D. Power Asia Pacific in 2014.
MRF has won a slew of other awards and is ranked amongst the most admired companies in the automotive component categories by leading magazines and opinion polls.
MRF tyres are approved for fitment on several leading Global OE Manufacturers in India for cars, two-wheelers, farm, commercial and off-the-road vehicles.
In the cars and two-wheelers segment, MRF is a brand leader in India with products such as MRF Wanderer, MRF ZVTS, MRF Z.L.O., MRF Mogrip and MRF Zapper and the recent NV Series of Premium Tubeless tyres. It is the first and only manufacturer of motorcycle radials in India.
MRF makes a wide range of tyres for an extensive range of applications – from tyres for the legendary Sukhoi MKI Military aircrafts to speciality tyres for mass transportation projects like the recently introduced Mumbai Mono Rail.
About MRF's involvement in cricket
MRF's association with the game of cricket goes back many decades.
The MRF Pace Foundation, brain child of the late Mr.  Ravi Mammen, was started in the year 1987 with the famous Australian pace bowler, Mr. Dennis Lillee, as Director.  The MRF Pace Foundation is a unique institution and its sole purpose is to select, nurture and scientifically develop the cricketing skills of youngsters from India.
Under the leadership and able guidance of Mr. K. M. Mammen, Chairman and Managing Director of MRF Limited, MRF Pace Foundation has also opened its door to other countries such as Sri Lanka, Australia, New Zealand, Bangladesh, England and West Indies.
Over the years, 16 players who trained at MRF Pace Foundation have played for India and won laurels. Now after the retirement of Mr. Dennis Lillee, Glenn McGrath, another legendary Australian fast bowler, has taken over the mantle and is continuing its commitment to the development of pace bowlers in India.
In 1989, MRF sponsored a major international cricket tournament called 'MRF World Series' for the Jawaharlal Nehru Cup, which still remains one of the most spectacular events held in the country.
Over the years, cricket legends like Sachin Tendulkar, Richard Hadlee, Brian Lara, Steve Waugh and Rohit Sharma have been MRF's brand ambassadors. The current brand ambassadors are Virat Kohli, Shikhar Dhawan and Sanju Samson.
About the ICC Cricket World Cup 2015
The ICC Cricket World Cup 2015 will start on 14 February with New Zealand taking on Sri Lanka in a day match in Christchurch, and Australia going head-to-head with England in a day/night match in Melbourne. Melbourne will also host the final on 29 March.
A total of 49 matches will be played across 14 venues, 7 in New Zealand (Auckland, Christchurch, Dunedin, Hamilton, Napier, Nelson and Wellington) and 7 in Australia (Adelaide, Brisbane, Canberra, Hobart, Melbourne, Perth and Sydney).
The format of the tournament is the same as the ICC Cricket World Cup 2011, i.e. two groups of 7 sides each, quarter-finals, semi-finals and the final. All the knock-out stage matches will have reserve days.
Apart from the 10 full members, 4 qualifiers – Afghanistan, Ireland, Scotland and the United Arab Emirates – will take part in the tournament.