Overwhelming response to new facility bringing together major motorsport businesses, racing teams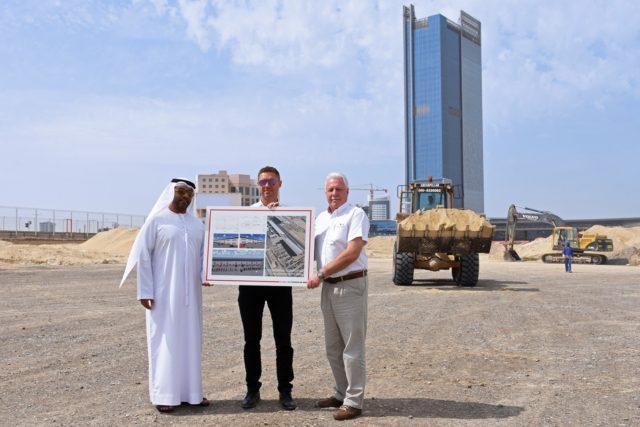 Dubai, UAE, 27 March 2017:  Work is under way on a new hub for the UAE motorsport industry as part of the commercial transformation of MotorCity and its showcase venue, Dubai Autodrome.
Developed by Union Properties and Multilink Contracting, the 6,000 square metre Motorsport Business Park, located in the centre of the 5.39 kilometre race circuit, will bring together all of the major UAE motorsport businesses and racing teams.
Due for completion in December 2017, the project will complement the recently established Grandstand Retail Plaza, which accommodates an array of shops overlooking the main straight at Dubai Autodrome, and The Ribbon Mall.
It is the latest phase of development adding an ever-expanding range of apartments, shops and restaurants to the MotorCity community which has been growing steadily around Dubai Autodrome since 2004.
The new Motorsport Business Park will house multiple companies and teams in units of 200 and 420 square metres, and even before ground was broken on site recently the level of demand for space has made an extension likely.
Ryan Trutch, Dubai Autodrome Special Projects Manager, said: "This bespoke facility will be a game changer for the motorsports industry in Dubai as it brings the major stakeholders involved in UAE motorsports together under one big roof.  It will give these businesses easy access to our circuit, whether for testing or customer experiences."
Richard Birch, Dubai Autodrome General Manager, added: "We have been overwhelmed by interest in the new project and have even contemplated a phase two for 2018.
"But first we want to concentrate on getting phase one built. We had to overcome some frustrating delays in the past eight months, but I'm very pleased to say we have finally broken ground on the project and moving forward quickly."
In a 2016 survey conducted by Service Market, residents voted MotorCity as the best place to live in Dubai.
The recent opening of the Grandstand Retail Plaza in the grandstand area of Dubai Autodrome added a range of cafes, motorbike shops, a gym and other outlets, all overlooking the circuit, which hosts a busy season of race meetings headlined by the Hankook 24H Dubai, one of the world's top endurance events.
Ryan Trutch said: "We have been selective in attracting only those businesses having good synergies with our own commercial operations and neighbouring business.
"With the opening in recent months of the Ribbon Mall and the Retail Plaza the focal point of MotorCity has shifted, creating a new buzz in the local community for residents and visitors."