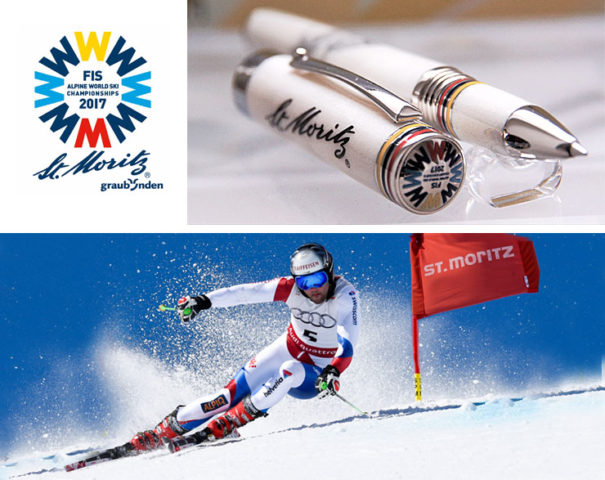 Montegrappa, always supportive of the most beautiful, inspiring sports disciplines, including football, motorsport and other endeavours, has a special love for skiing. For Montegrappa, its championship competitions present an opportunity to provide much-appreciated partnership.
To be held 6-19 February 2017, the FIS Alpine World Ski Championships 2017 is the latest in a biennial series that dates back to 1931. It was interrupted by WWII, but was resumed in 1948 and has now represents a gathering of 68 participating nations. This year, it returns to St. Moritz for only the fifth time in its history.
As the greatest events deserve a special souvenir to recall the competition and the exceptional performances of the participants, Montegrappa  – the official supplier of these championships  –  has created a Limited Edition Rollerball to mark the occasion. To represent 44 occurrences of the World Ski Championships and the 68 nations participating in 2017, Montegrappa will produce only 44 examples in Black resin and 68 in pearlised "Snow White", with the individual series number engraved on each writing instrument.
Both editions are trimmed in shiny palladium, and further embellished with coloured rings in resin crowning the cap top and pen body, representing the official colours of the championship. Decorated with the impression of a stylised skier, the pens feature the FIS symbol on the pen's top, repeated in the limited edition's exclusive packaging. The side of the cap is laser-cut with the legends "St. Moritz" and the sports' event year and venue.
As the numbers are so limited, ski enthusiasts take note: The race is on.
AVAILABLE ONLY AT MONTEGRAPPA'S AUTHORISED DEALERS IN SWITZERLAND, GERMANY AND AUSTRIA.
1