71% of organizations have a mobility policy while only 42% have a BYOD policy
New Delhi, India – To map out the latest enterprise mobility trends in India, BlackBerry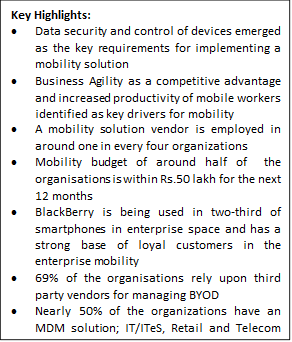 Limited (NASDAQ: BBRY; TSX: BB) and CMR today announced the findings of the first-of-its-kind survey report titled 'India Enterprise Mobility'. The report highlights that enterprise mobility and BYOD (Bring Your Own Device) have gone beyond discussion forums as mobility emerges as a top priority for most organizations. Indicating this shift, BlackBerry-CMR survey finds that 71% of the organisations surveyed either have a mobility policy or are currently in the process of drafting one. Selecting the right platform and developing an enterprise-wide mobility strategy emerged as key challenges for implementing a mobility solution. Telecom expense management, packaged apps for mobile collaboration and MDM – spell out MDM in first reference solutions featured in the three key areas of investment in enterprise mobility for India.
The report analyzes the continuous growth and evolution of the mobility market, driven primarily by the requirements of consumers rather than enterprise buyers.  However, with BYOD initiatives, both the worlds are coming together. Though BYOD is a prevalent trend across sectors, only 42% of the organizations surveyed have a BYOD policy in place with the IT/ITeS vertical leading the pack, followed by BFSI & Telecom, and Media & Entertainment. Across all sectors, data protection followed by device security emerged as the biggest concerns while implementing BYOD policy.
Apalak Ghosh, Lead Analyst, Emerging Technologies, CMR said, "The era of mobile enterprise has arrived. An entire ecosystem needs to be developed to support enterprise mobility. Design, development, deployment and maintenance of devices and applications will assume critical importance in this process. The report presents exciting opportunities for enterprise mobility vendors and attempts to provide a direction to enterprises to align their mobile policy to address the new requirements."
"As the perenial Gold Standard in enterprise mobility solutions, BlackBerry is constantly looking at new opportunities and avenues to further strengthen our enterprise offerings and address the growing complexities and risks of mobile communication. We believe this report will highlight the disruption taking place in communication across enterprises as it offers compelling insights as well as a future roadmap for the industry at large. Mobility as an enabler for enterprises has become a business imperative and BlackBerry is uniquely positioned to offer end-to-end mobility solutions," said Sunil Lalvani, Managing Director, BlackBerry India.
Additional highlights from the report:
BYOD
More than 20% of employees use their personal devices to access work related information on a regular basis in around one-third of organizations
Top usage refers to email, specific app & calendaring when it comes to company information access
BYOD policy adoption is at a fairly nascent stage. Of the organisations which have adopted, 25% created in last 6 months and 60% in last one year; Even the highly regulated BFSI has seen traction in the last 6 months
Back-up, restore and protection of personal data figures high on policy priority
Social media sites are at the top of the restricted list
Lost devices, maintenance and procurement and security of enterprise data on employee mobile devices are the key concerns with BYOD implementation
Security, policy compliance and ability to support multiple mobile platforms are the top three factors taken into consideration by organisations while implementing BYOD
More than three-fourth of the organizations surveyed remain sceptical about benefits outweighing the risks for BYOD
More than half of the organisations are aware of the more flexible and evolved version of BYOD policy like COPE (Corporate Owned Personally Enabled); highest awareness levels in IT/ITeS and Telecom sectors
MDM, Apps & Cloud
Security compliance and back-up & restore emerged as the top priorities for MDM
Email, Sales Force Automation and Social networking for collaboration emerged as the top three enterprise application used
One in every eight organisations explores customised enterprise apps for their mobile workforce. Manufacturing and BFSI lead this space.
Around 50% of the organizations are considering a move to cloud for their mobility requirements, especially in Telecom, Media and Entertainment followed by Healthcare vertical
About BlackBerry
A global leader in mobile communications, BlackBerry® revolutionized the mobile industry when it was introduced in 1999. Today, BlackBerry aims to inspire the success of our millions of customers around the world by continuously pushing the boundaries of mobile experiences. Founded in 1984 and based in Waterloo, Ontario, BlackBerry operates offices in North America, Europe, Middle East and Africa, Asia Pacific and Latin America. The Company trades under the ticker symbols "BB" on the Toronto Stock Exchange and "BBRY" on the NASDAQ. For more information, visit www.BlackBerry.com