BURLINGAME, CA — April 12, 2018 — Today, Misfit announces the newest addition to their line of hybrid smartwatches, Misfit Path, is available for sale. Path is an advanced timepiece that seamlessly blends the iconic design of a classic analog watch with the powerful connectivity of a smartwatch. It is the brand's smallest and most minimalist hybrid smartwatch yet and brings both versatility and elegance to a traditionally technology-focused wearable.
Featuring a sleek and delicate stainless steel case with matte finishing, Path discreetly conceals its tech behind a watch face that is modern, chic and traditional, and is the brand's most fashion-forward hybrid thus far. Available with gold tone details and silicon sport straps in fresh, soft colors, Path also boasts the interchangeable strap functionality, which allows for endless style possibilities with a wide range of 16mm strap options.
Like it's hybrid predecessors, Path automatically tracks steps, calories burned, distances traveled, and sleep duration and quality via a 3-axis accelerometer. Users can also create and receive customized call, text, email, and app notifications, so they can stay connected without ever having to look at a screen. Path users can also leverage auto-update time and date functionality, set a second time zone, and create vibration alarms and movement reminders. Path also features a smart button that acts like a remote control and lets users play music, take a picture, connect to other smart devices, and ring their phone. Like Misfit's other hybrid smartwatches, Path is swimproof and water resistant up to 50 meters, is non-charging and features a replaceable battery that lasts up to 6 months.
Misfit Path is available in four versatile colorways: Stainless Steel, Rose Tone, Gold Tone, and Stainless Steel with Gold Tone Accent. Path starts at $149.99 and is available now on misfit.com.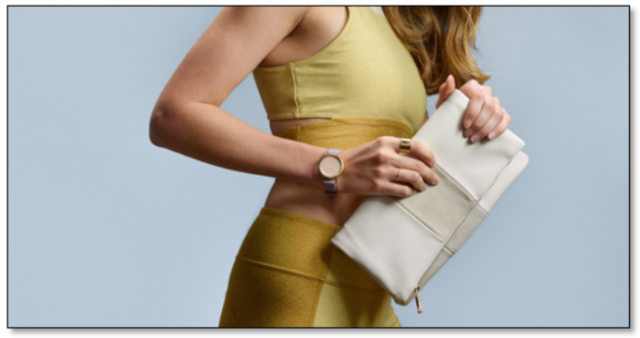 About Misfit
Misfit makes design-forward wearables including Vapor, Command, Phase, Ray, Shine 2, and Flare. Misfit brand products are available at misfit.com and fashion and consumer electronic retailers around the world. To learn more about Misfit, a Fossil Group (NASDAQ: FOSL) brand, visit http://misfit.com/media
1