On 11.9.2013 the Ahmedia Gallery in Dubai opened its warm doors to showcase the Art works of more than 20 artists, of varied nationalities. It was enthralling to see enthusiastic and talented artists from Scotland, Lebanon and India. Their art works depicted various styles, techniques, expressions and perspectives. It was a scrumptious feast for art lovers, art aspirants and art enthusiasts. Among these artists, was an unconventional participant, an Indian writer, unleashing her ardor for art with unrestrained abandonment, for the very first time.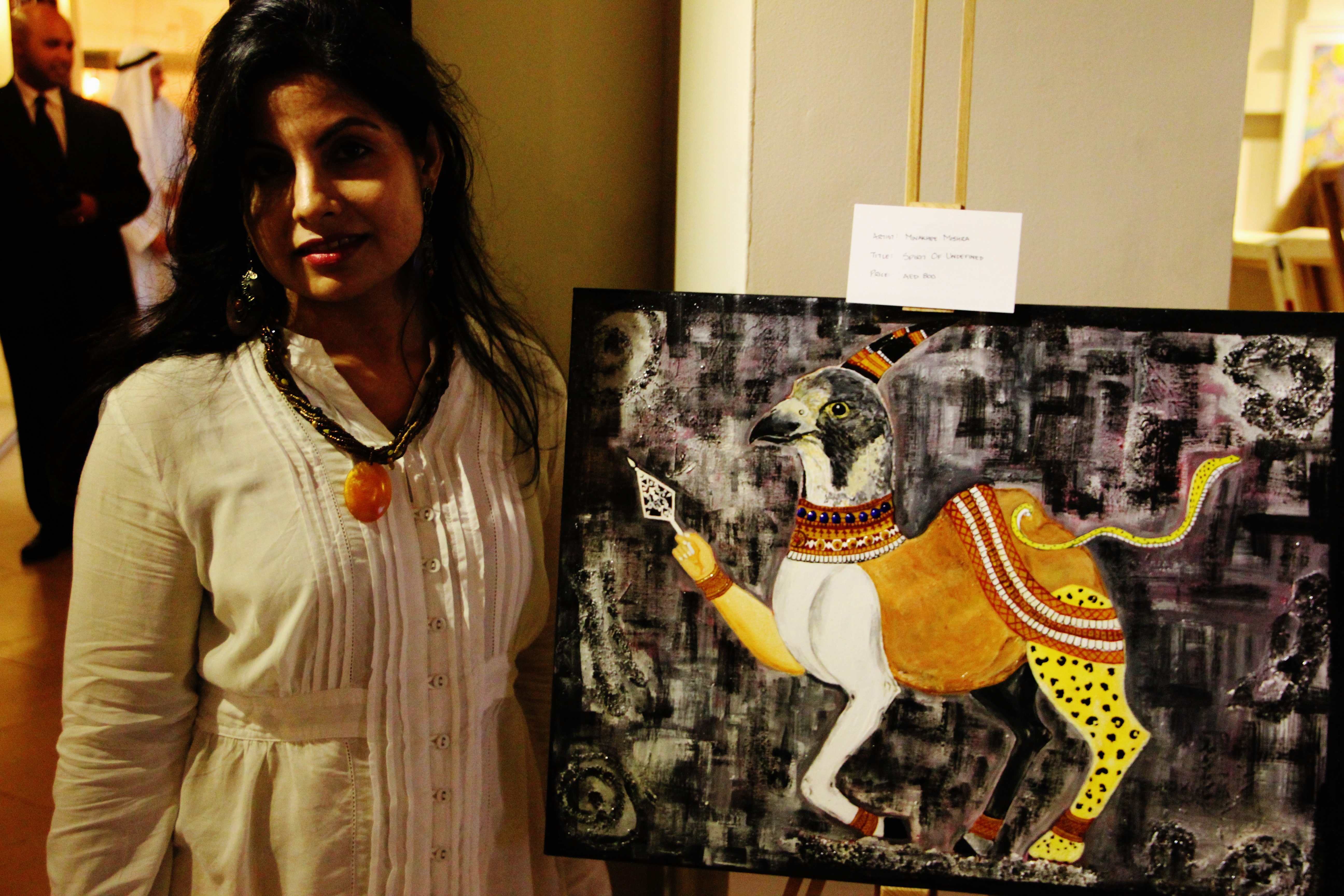 After 5 years of stay in the desert kingdom of Dubai it has become a second home for her.  The world of colors and shapes always transported her to a fascinating and magical world from childhood. Her creative energies were fanned by her mother. In school she excelled in art but never took any fine arts training. The rush for academic excellence, career and family had driven her creative impulses into some deep recesses.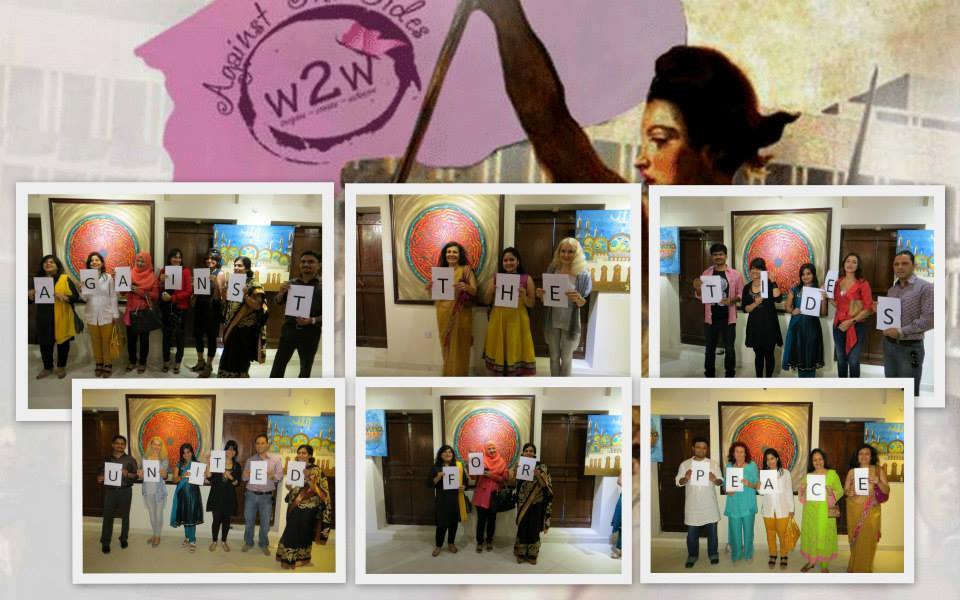 Her resolve to follow her passion in art gathered strength recently when she got a wonderful opportunity to display her art works at an Art Gallery in Dubai – Ahmedia Art Gallery. The opportunity came through Against the tide, an event by W2W (an event management company), providing a platform to young and emerging talents in UAE. Over 20 artists from varied cultural background came together to unite in peace and put up their art works.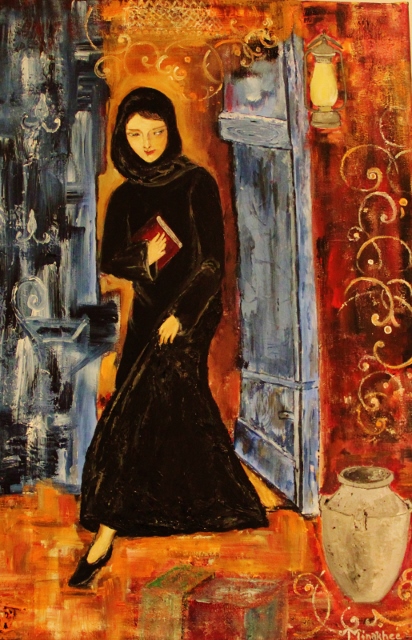 The theme for the exhibition was Arabic culture and heritage. According to Zareen Khan , CEO and founder of W2W "There were 2 main reasons for having this show, one was to find talented Artists in the region to showcase their work to the public and second was highlighting the positive side of the Arabic region through Art. This event aimed to reflect the United, the tranquil, the tolerant and peaceful side of the Arabic territory."
The exhibition that kick-started on 11th September 2013 was a four day celebration of color and art. Archana R D an event manager and artist corroborated – "9/11 that changed the world's perspective on the Arab region has continued to stay. So as intelligent artists representing a conscious population the art movement each year takes up a burning issue. This year with Syria and Egypt on the forefront it was inevitable that Against the Tides, United for Peace."
Speaking about her art works Minakhee says – "I love to make a mix of realism and abstract elements. At present I am in a very experimental stage and ready to try out various things. Much of my Indianess both in perspective and art got ingrained in my art sub-consciously. Viewing this aspect objectively I am amazed at the degree of commonality between India (South East Asian Countries) and the Arab world. The parallels between the traditional role of women, their struggles and their evolution through the modern times, are especially glaring.  This was reflected in my first painting Expanding Boundarie.UAE has seen amazing development in a span of few years. In my second painting titled Spirit of United, I tried to bring about this spirit and zeal for progress." Zareen Khan the curator for this event is of the view – "I loved Minakhee's work, for the main reason, that it was so different and unique from what I have seen. It was expressive and bold – I loved that it was honest about her reflection of the topic."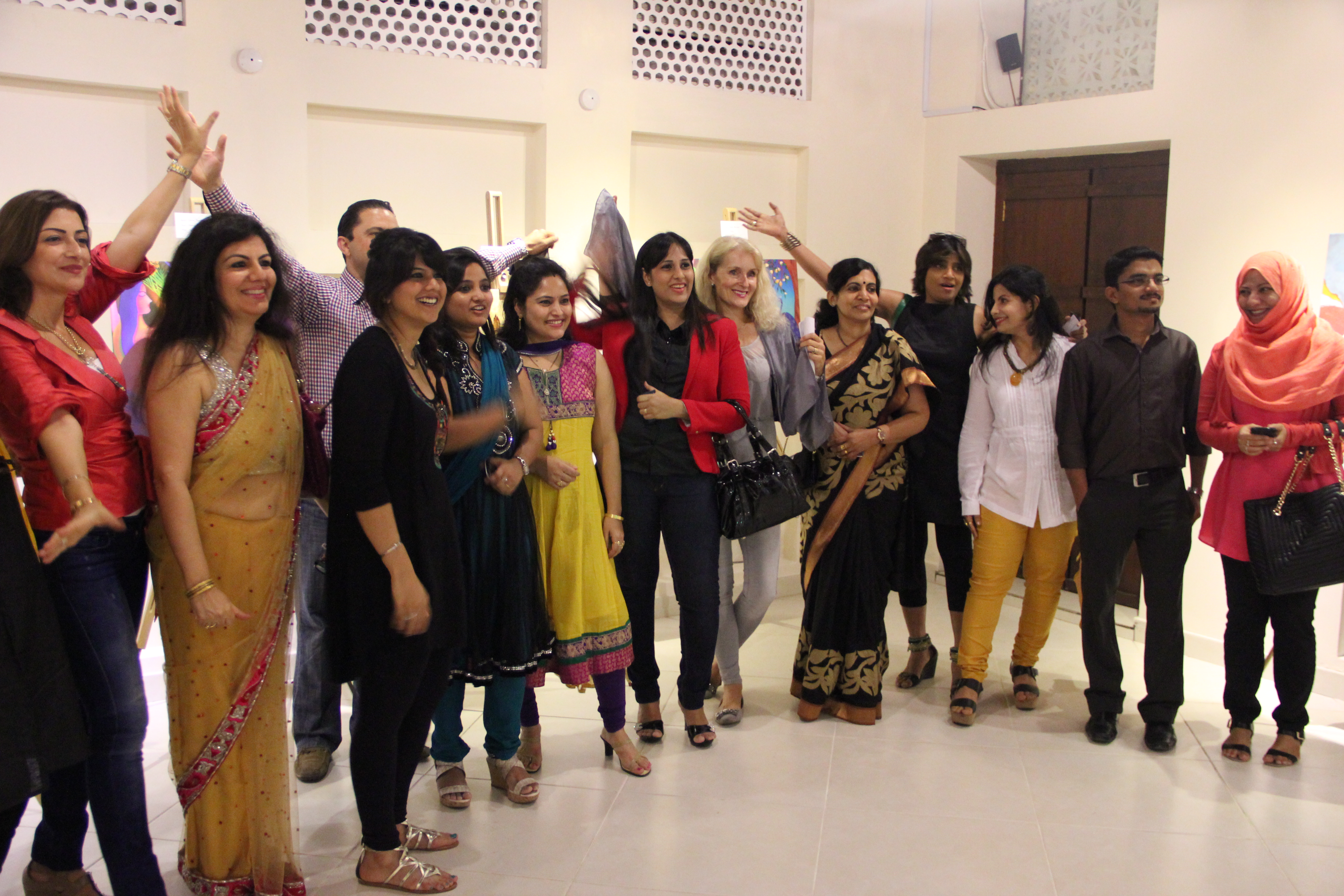 To have a glimpse of Minakhee's foray into art and creative writing visit her page –
https://www.facebook.com/pages/Minakhee-at-Buzzingtales/157162544295160?ref=hl
Minakhee is a freelance content writer with about 9 yrs of experience and a self taught artist. Despite being a Post-Graduate in Advertising and Marketing Research, MA in Sociology and a Montessori trained teacher her  twin passion for writing and art laid out a distinct chart for her. Many of her contributory articles have been published in various leading publications like Times of India, Friday, Thursday (Oman based Magazine), Woman's Era, Femina and Pravasi Today. Due to her continued interest in contributing write-ups, she has been awarded the title of First Brand Ambassador of TOI in the NRI section.
She also hosts a blog to satisfy her creative out pour in writing