Targets to be the largest services company in India
India's first indigenous phone manufacturer with 4 functional manufacturing plants by 2017 and 100 percent local manufacturing
Fastest growing mobile brand and a complete consumer electronics player – Launches 20 new smart devices across smartphones, Tablets and LED's 
Unveils new brand philosophy and logo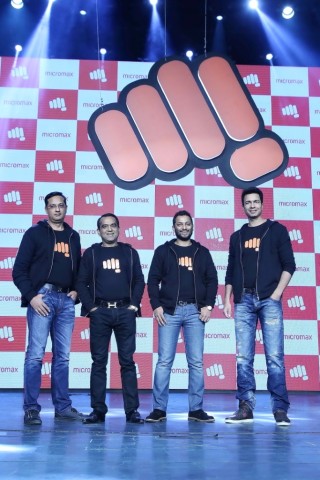 New Delhi, April 13th, 2016 – Micromax Informatics Ltd. today refreshed its corporate, brand and product strategy with the launch of "Micromax 3.0" and a vision to be the top player in the Indian smart devices category and to enter the top 5 club of global handset manufacturers.
Micromax also unveiled a new brand identity with the launch of its new logo and brand philosophy 'Nuts: Guts: Glory'. The new philosophy is a re-articulation of Micromax's DNA that underscores its pioneering status as company that has challenged accepted notions and brought market leading innovations to connect millions of Indians. The new brand identity presents Micromax as a company that is bolder, modern, agile and armed with a winning attitude to take on the global smart devices market. The new logo is an evolution from the existing Micromax punch but a much more modernized version keeping in mind the global design language that appeals to the youth across the globe.
In its next phase of growth as Micromax 3.0, the company looks to further consolidate its leadership status to be the top devices and services company in India. As it continues its focus on building a stronger and deeper connect with its consumers, Micromax announced its aim to be the first Indian company to build a complete services' ecosystem to complement the seamless experience over 100 million connected devices by end of 2017. The company also announced a complete product enhancement of both its mobility and non-mobility segments to lead with world class products as well as its entry into newer product categories to create the same magic it did with LED TV and tablet segment.
Commenting on the announcement, Mr. Rahul Sharma, Co-Founder, Micromax Informatics said, "Today marks a significant milestone and new era for brand Micromax as we take a new guard to propel our brand to the Numero Uno position. We are proud to be the first Indian brand to be in the top 10 brands globally and today we embark on our journey to be amongst the top 5 players in the world. Being a leader in our space we also strongly believe that it is on us to enable an ecosystem that eventually brings world class devices powered by relevant services at the convenience of consumers. With our aim of achieving 100 million connected devices in the next two years, we want to make Micromax, the largest services company in India, consolidate our leadership position in overseas markets we are present as well as enter new markets. We would also continue to invest in different service categories which interest our consumers to create a strong ecosystem within our brand for the most compelling and seamless experience."
Innovation has always been at the heart of Micromax's products. Services will now be a critical aspect in the company's refreshed strategy with a number of built-in capabilities and partnerships coming in to play. A key part of the services strategy would be to have an equity level partnership in some of the services start-up ecosystem in India and across the world. Micromax is now looking to invest in passionate entrepreneurs who have built solutions that will delight its customers while its VAS division will focus on building an eco-system of content, applications, services and software experiences by partnering with the best across the globe to build a powerful suite of innovations and native experiences to enhance and add value to its range of Smart Devices.
For the past few years Micromax has tested a few international markets including countries in SAARC and Russia, and established itself among the top 3 in all markets. Getting to No. 3 position in Russia in under 2 years has been a very critical aspect in this journey as the brand gears for its entry into other CIS countries and the Eastern European markets. Success in Russia has also helped the organization to acquire sales strategies of evolved markets. It is definitely an exciting time at Micromax as it embarks on new clusters systematically with a vision to be amongst the world's top 5 by 2020.
Mr. Vikas Jain, Co-Founder, Micromax Informatics said, "We are committed to make Micromax as a clear leader in smart devices in the coming year. Therefore, we would be looking at further consolidation into newer product categories (LED TV and tablets) to bring in newer set of consumers into the Micromax brand and transform into a complete consumer electronics company. One of our key focus areas in this journey will be to 100% make in India. With an already functional plant at Rudrapur, we are now looking at adding 3 more plants with an investment of Rs 300 crores as well as creating job opportunities for over 10,000 people by 2017".
While Services will now be a critical aspect of Micromax 3.0, the company also announced its refreshed product strategy to lead in critical product segments and sub segments. As a part of its product refresh, Micromax announced 20 new smart devices, right from smartphones, tablets and LED TVs. The focus will be to have an entire range of mobiles, tablets and LED TVs in different series at different price points to cater to the consumer needs across categories. Additionally, Micromax recently invested in three new manufacturing units in India to ramp up domestic production and reduce dependence on imports. The company will have functional manufacturing units in Telangana, Madhya Pradesh and Rajasthan by 2017.
For more information, please visit www.micromaxinfo.com
You can also connect with us at – f – Micromax or @Micromax_Mobile

About Micromax Informatics Ltd:
Micromax Informatics Limited is one of the leading consumer electronics company in India and the 10th largest mobile phone player in the world (Counterpoint Research). Over the past 5 years, Micromax has pioneered the democratization of technology for masses by offering affordable innovations through their product offerings and removing barriers for large scale adoption of advanced technologies. Micromax is currently the largest mobile vendor in India with a market share of 22 percent in Q3 of 2014 (Canalys Report). The brand's product portfolio embraces more than 60 models today, ranging from feature rich, dual – SIM phones, 3G Android smartphones, tablets, LED televisions and data cards. The company also has many firsts to its credit when it comes to the mobile handset market including the 30-day battery backup, dual SIM phones, QWERTY keypads, universal remote control mobile phones, first quad-core budget smart phone etc. The company has its operations across Russia and SAARC markets. Micromax sells more than 3 million Mobility Devices every month, with a presence in more than 560 districts through 1, 30,000 retail outlets in India. With presence across India and global presence in Russia and SAARC markets, the Indian brand is reaching out to the global frontier with innovative products that challenge the status quo that Innovation comes with a price.